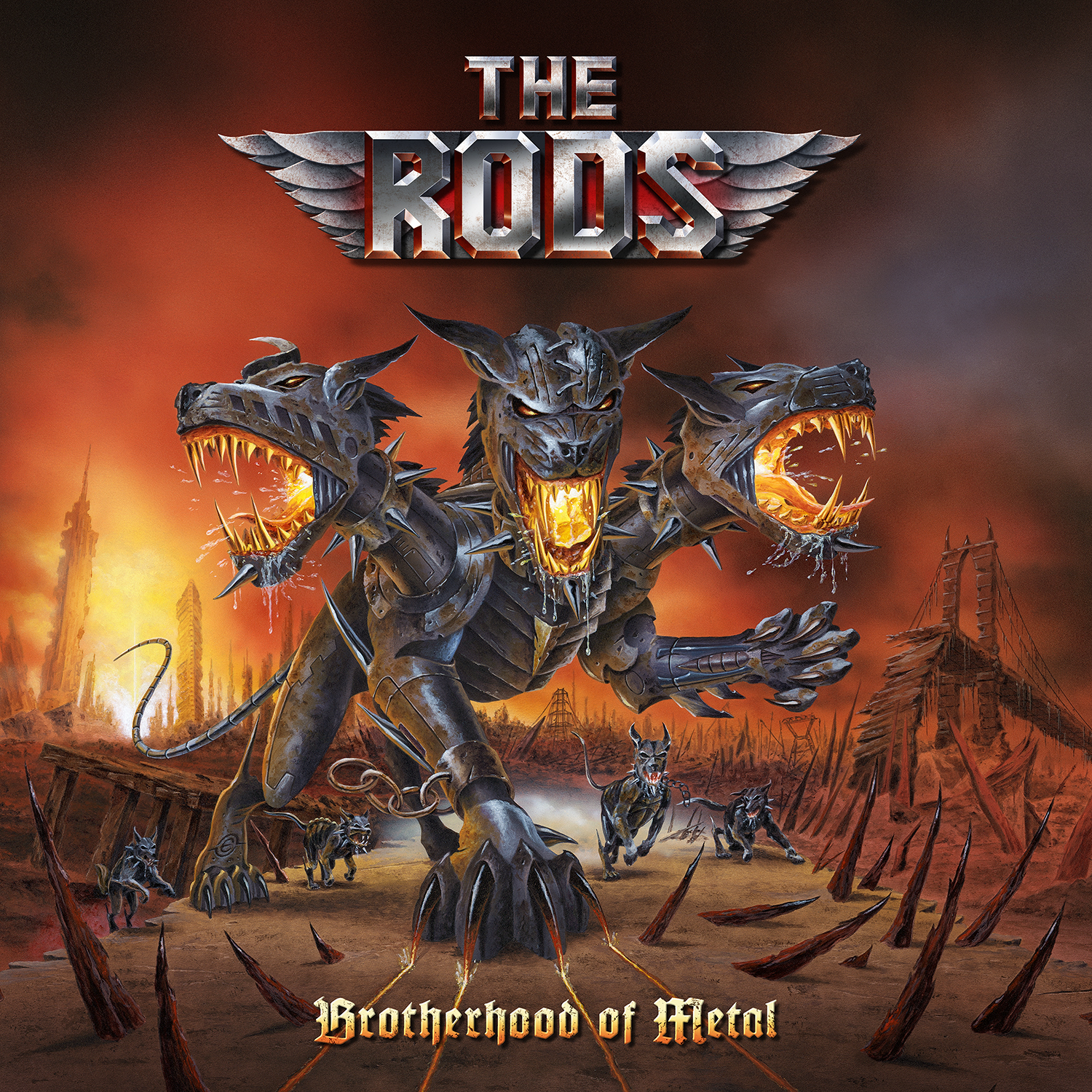 America's hard rock power trio known as The Rods will release their seventh studio effort titled Brotherhood of Metal on Friday, June 7, 2019 through Steamhammer / SPV Records.
The 11-track album which originally was going to be released under the title of Louder than Loud features David "Rock" Feinstein (guitars, vocals), Carl Canedy (drums) and Gary Bordonaro (bass). It marks the first studio offering from the band since their 2011 release title Vengeance through Niji Entertainment Group.
Left to Right:
Gary Bordonaro (bass), Dave "Rock" Feinstein (guitars and vocals), Carl Canedy (drums)
Photo by: Roger William Theise
The hard rock and fist clinching music The Rods have become known for remains the same on Brotherhood of Metal. The only difference is the song writing album has matured as evident with the title track and disc opener Brotherhood of Metal which has the potential to become the band's anthem. One wouldn't anticipate from the musical history of The Rods a slight deviation with the piano introduction leading into the title track, but that's what happens and it works.
This mere fact is the piano shouldn't deter fans. There's still plenty of the denim and leather and 'ride free' vibe throughout the disc on tracks such as "Tonight We Ride", "Tyrants King", "Hell on Earth", "Louder than Loud" and "1982″ which is probably the most hard rock track of the album.
The track "1982" is an historical account of the band during their Wild Dogs era which was released in 1982 through Arista Records and saw the band sharing the stage with many notable metal bands of the day. Some of which are still relevant 37-years later.
The cover art for Brotherhood of Metal by Belgian artist Eric Philippe, puts a new spin on the band's cult metal classic cover of Wild Dogs featuring a three-headed rabid dog-like beast. Courtesy of Philippe, the beast is now more ferocious with fire, fury, metallic body armor with smaller one – headed beast in tow.
Brotherhood of Metal will be released in several formats to include a CD digipack and double gatefold, 180g on red vinyl. It includes the bonus track and rerecording of "Crank It Up", the band's first ever single released in 1980.
The studio silence from The Rods since 2011 has been at times frustrating but life happens. It is safe to say with the release of Brotherhood of Metal, fans will be satisfied with the trio's hard rock and heavy metal offering.