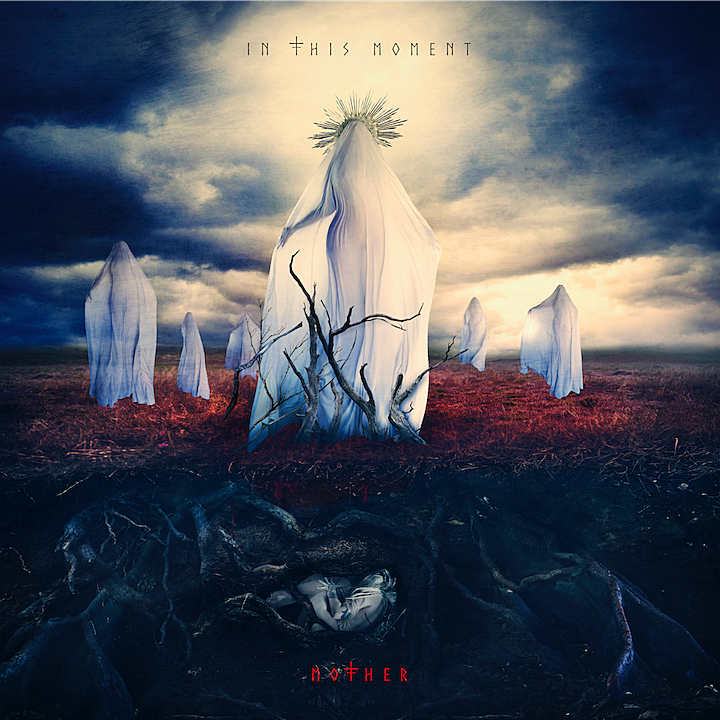 Los Angeles based band In This Moment are releasing their seventh album "Mother" on March 27 with Atlantic/Roadrunner Records. The album was produced by Kevin Churko (Ozzy Osbourne, Halestorm, Five Finger Death Punch) at The Hideout in Las Vegas. This five-piece seems to be ever-evolving while simultaneously experimenting with different themes and sounds. "Mother" is an eerie, dark, and seductive album that is sure to please long time fans.

"Mother" starts out with a haunting interlude that invokes the feeling of the listener being summoned from far off. Lead vocalist, Maria Brink, then whispers an invitation that sets the tone to the entirety of the album- to consider the contrasts that often plague our ideologies and how the concept of a mother can bring balance.

The first single, "The In-Between," was released October 31, 2019. "The In-Between gives the listener a great preview of what to expect from this album. The lyrics cleverly reference back to hits from In This Moment's catalog but brings a musical intensity not felt from previous albums. The music video was released on January 22.

As front-woman and the face of the band, Maria Brink can often distract fans with her charming looks and theatrical stage presence, and rightfully so. However, it deserves to be noted that fellow band members, Chris Howorth (lead guitar), Randy Weitzel (rhythm guitar), Travis Johnson (bass), and Kent Diimmel (drums) have written some of their best work on "Mother."

Two of the stand out tracks on the album are the cover songs, "Fly Like An Eagle" (Steve Miller Band), and "We Will Rock You" (Queen). Honestly, I find that most bands can never pull off good covers but In This Moment nailed it on both. Although the lyrics are familiar, "Fly Like An Eagle" has such a dark ambiance it feels like a different song. "We Will Rock You" features guest vocals by both Lzzy Hale (Halestorm) and Taylor Momsen (The Pretty Reckless). These three rock queens make the song feel both gloomy and atmospheric. This will surely be a fan favorite and a live staple.

"As Above So Below" has an extremely catching chorus and showcases Maria's dynamic skill in switching between beautiful singing and ferocious screams. "Holy Man" starts out with a muffled organ but soon transitions to a cadenced beat that carries throughout the song. "Hunting Grounds" features Joe Cotela (Ded) and Maria fluctuating back and forth, taunting each other singing, "One of us is going down." Closing the album, and coming in at nearly seven minutes long, "Into Dust" conjures a ghostly mood and a longing for more of what this band has to offer.

A mother can often be described as passionate, creative, and strong. Ironically, the "Mother" that In This Moment presents to us can be described the same way. This album is arguably the best in their fifteen year career.