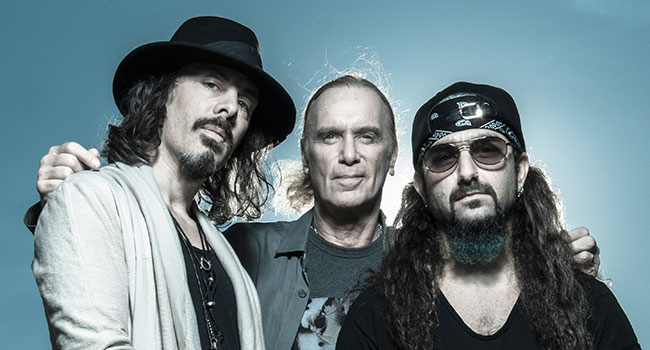 The Dogs are back and we are STOKED! After a 3-year break with each member working on various other projects (Richie Kotzen solo tour, Sons of Apollo, Mr. Big, and many more) Richie Kotzen, Mike Portnoy, and Billy Sheehan came together for a month-long run ending in L.A.
It was a Friday night in L.A. and yes – the traffic sucked! But we were in for a night of music making it well worth it. It was to be a night of clean funky bass lines, thunderous drums, soaring guitar fills, and divine vocals.
The night began with relative new-comers ZFG. While I heard many different ideas what that stood for, vocalist Jules Galli admitted to the audience it stood for Zero Fucks Given, which may be the best band name EVER. To prepare for the show I had looked up ZFG on YouTube so I had a small idea what to expect after watching their video for "Special." But these guys blew my expectations completely out of the stratosphere. They were primed and ready to get this night started. With a cool mix of pop, alternative, funk, and good old-fashioned rock, ZFG has a unique vibe that will take them far in this business. They have the talent (and yes ladies the looks) to take the music world by the balls. Remember, these names folks: Trev Lukather–lead guitar, Sam Porcaro – bass (both sons of Toto royalty) Josh Devine (One Direction) – drums, and Jules Galli – vocals. We will hear great things from them.
With the crowd all warmed up, The Winery Dogs took the stage. It was clear from the first note they were here to slay and remind us why we love them. Even though the Saban Theater is a gorgeous venue filled with comfy seats, the crowd was on their feet from the second the guys came out. The energy in the room was palpable, and the band was eating it up and giving it right back. From the moment Kotzen, Portnoy, and Sheehan hit the stage, it was as if no time had passed, let alone 3 years since they had shared a stage. The chemistry these 3 share on the stage is incredible and the crowd can't help but join in the fun. The Dogs kept the audience on their feet and singing along with a set full of upbeat tunes including 'Captain Love,' 'Hot Streak,' and 'Time Machine.'
Following what I can only describe as a humanly impossible bass solo, Richie slowed things down at the keyboard long enough for the crowd to catch their breath singing his song 'The Road.' For the encore TWD 'Fooled Around and Fell in Love' with how much adoration they were receiving from the room, they decided they weren't done yet. We were treated to 'My Love is Alive' and a rendition of 'Desire' with excellent audience participation. Mike and Ritchie both promised a new album and tour and we will hold them to it!