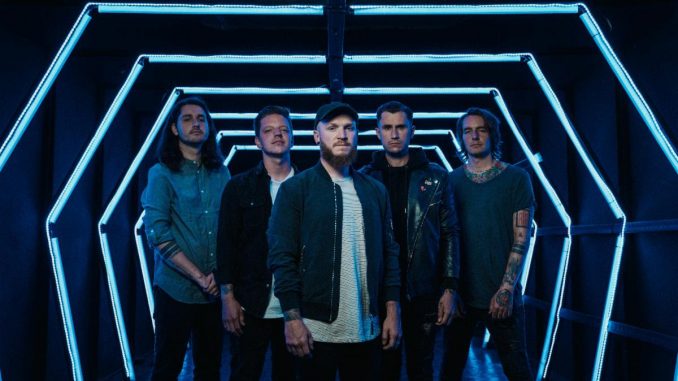 Wednesday, June 22nd, 2022 – Metalcore legends, We Came As Romans have today announced the long awaited release for their new album, 'Darkbloom', their first new album in five years, set to drop on October 14th, 2022 via Sharptone Records. The band have launched pre-orders of a very special run of vinyl, limited to only 1000, featuring an exclusive layout with a 10-page booklet available now from
iamdarkbloom.com
. Fans can pre-save the album
HERE
.
Today's announcement is highlighted by the release of brand new single "Plagued" and its accompanying visualizer. Stream the track
HERE
and watch the visualizer
HERE
or by clicking the image below.
Speaking on the highly anticipated news of the release of their new album, We Came As Romans guitarist, Josh Moore shares
Speaking on their brand new track, "Plagued", We Came As Romans guitarist Josh Moore shares
"We are so excited to finally be able to announce the release of our next record Darkbloom. This will be our first record in five years, and we want to thank you all for being patient with us as we were figuring out if we could, and how we could continue moving forward as a band. We wrote this record about all the feelings we felt, and all the emotional places we lived in, navigating the loss of our brother Kyle. Every song is about a different part of our lives over the past few years, an insight to the struggles we had, and how we were able to make it to where we are now. We hope you all can take a deep dive into these songs and connect with us – and if you're feeling any of the ways we did, we hope these songs can help you push forward.
This record is dedicated to Kyle – we'll never forget you, and we will never stop saying your name."
Speaking on their brand new track, "Plagued", Moore continues
"We've been waiting forever to release this song, and we're stoked to finally put it out! We finished writing Plagued in January 2020, so it's great to finally share it with our fans. My friend who I do a ton of writing with, Nick Sampson, texted me a little video of this idea for a riff he was working on – and I loved it. So I drove over to his place and we finished the song together – and then our friend Ryan Leitru came in and we all sat down and wrote the vocals to it. Over a year later, when we were in the studio recording the album with Drew Fulk – we smoothed out just a few parts and the song was done! And now here we are – over two years later, able to share Plagued with you!
Lyrically, Plagued was about a part in the grieving process we all went through – feeling like the anguish you're dealing with, then anger you're dealing with, is turning you into a different person. That you're watching yourself change into someone you don't want to be – being consumed and overwhelmed by your grief. It's an incredibly difficult thing to live with, and I hope this song can help anyone who's feeling the same way."
We Came As Romans

Darkbloom

Album Track Listing

5. Golden

6. One More Day

7. Doublespeak

8. The Anchor

9. Holding the Embers

10. Promise You
We Came As Romans have a busy touring schedule ahead. Starting on July 15th in Harrisburg, PA and culminating in Long Island, NY on August 27th, the band will hit the road for for a 34-date run with August Burns Red, Hollow Point and Void of Vision. They will then hit the road again for a further -date run with Architects and Like Moths To Flames, beginning on September 9th in Chicago and ending in Los Angeles, CA on October 7th. They will also perform at Blue Ridge Rock and Louder Than Life festivals. Info and tickets can be found at
iamdarkbloom.com/pages/tour
. Full routing below:
July 15 – Harrisburg, Pa. @ HMAC

July 16 – Sayreville, N.J. @ Starland Ballroom

July 17 – Providence, R.I. @ The Strand Ballroom

July 19 – Rochester, N.Y. @ Anthology

July 20 – Hartford, Ct. @ The Webster

July 22 – Baltimore, Md. @ Ram's Head Live

July 23 – Norfolk, Va. @ Norva

July 24 – Asheville, N.c. @ Orange Peel

July 25 – Knoxville, Tenn. @ The Mill & Mine

July 26 – Columbia, S.C. @ The Senate

July 28 – Birmingham, Ala. @ Iron City

July 29 – New Orleans, La. @ Republic

July 30 – Austin, Texas @ Emos

July 31 – Corpus Christi, Texas @ Brewster Street Icehouse

Aug. 2 – Tucson, Ariz. @ Encore

Aug. 3 – San Diego, Calif. @ Soma

Aug. 4 – Santa Cruz, Calif. @ Catalyst

Aug. 5 – Sacramento, Calif. @ Ace of Spades

Aug. 6 – Portland, Ore. @ Roseland

Aug. 8 – Seattle, Wash. @ Showbox Market

Aug. 9 – Spokane, Wash. @ Knitting Factory

Aug. 10 – Boise, Idaho @ Knitting Factory

Aug. 12 – Great Falls, Mont. @ The Newberry

Aug. 13 – Billings, Mont. @ Zoo Montana

Aug. 14 – Fargo, N.D. @ Fargo Brewing Outdoors

Aug. 16 – Minneapolis, Minn. @ Fillmore

Aug. 18 – Lincoln, Neb. @ Bourbon St

Aug. 19 – Des Moines, Iowa @ Val Air

Aug. 20 – Milwaukee, Wis. @ The Rave

Aug. 21 – Bloomington, Ill. @ Castle Theater

Aug. 23 – Ft. Wayne, Ind. @ Piere's

Aug. 24 – Cincinnati, Ohio @ Bogarts

Aug. 25 – Louisville, Ky. @ Mercury Ballroom

Aug. 27 – Long Island, N.Y. @ Paramount

9/10 Alton, VA – Blue Ridge Rock Festival

09/09 Chicago, IL – Riviera Theatre

09/10 Columbus, OH – Newport Music Hall

09/12 Indianapolis, IN – Deluxe

09/13 Cleveland, OH – Agora Theatre & Ballroom

09/15 Royal Oak, MI – Royal Oak Music Theatre

09/16 Toronto, ON – Rebel

09/17 Montreal, QC – MTelus

09/20 Boston, MA – House Of Blues

09/21 New York, NY – Terminal 5

09/22 Philadelphia, PA – The Fillmore

09/23 Silver Spring, MD – The Fillmore

09/24 Louisville, KY – Louder Than Life Festival

09/27 Raleigh, NC – The Ritz

09/30 Atlanta, GA – Heaven, The Masquerade

10/01 Tampa, FL – Jannus Live

10/03 Dallas, TX – Granada Theater

10/04 San Antonio, TX – Aztec Theatre

10/06 Tempe, AZ – Marquee Theatre

10/07 Los Angeles, CA – The Novo By Microsoft
ABOUT WE CAME AS ROMANS
Since the release of their milestone debut album, 2009's To Plant a Seed, diehard fans depend on We Came As Romans to deliver intimate, confessional, and autobiographical anthems, each one challenging, triumphant, and passionate. Darkbloom is a bright light in the darkness with the strength of every WCAR album before it. Singer David Stephens, guitarist Joshua Moore, bassist Andy Glass, guitarist Lou Cotton, and drummer David Puckett usher in an ambitious, courageous new era, while honoring the legacy and memory of their fallen bandmate,
co-vocalist and keyboardist Kyle Pavone.
We Came As Romans' initial ascent was quick and assured, catapulting the band (who met as teens) into the hearts of devoted fans immersed in the metalcore, post-hardcore, and Warped Tour subculture. Their hook-filled heavy music carries an uplifting message and connects with even greater urgency live. The increasingly diverse catalog of metallic might, melodic strength, and electronic atmosphere soars in clubs, theaters, and fests. They've supported tastemaker acts like Bring Me The Horizon, I Prevail, Bullet For My Valentine, and The Used.
Conquering a myriad of impressive milestones since their formation – including topping Billboard's Independent Albums chart, and accumulating over 500 million catalog streams worldwide – WCAR have no intention of slowing down anytime soon.