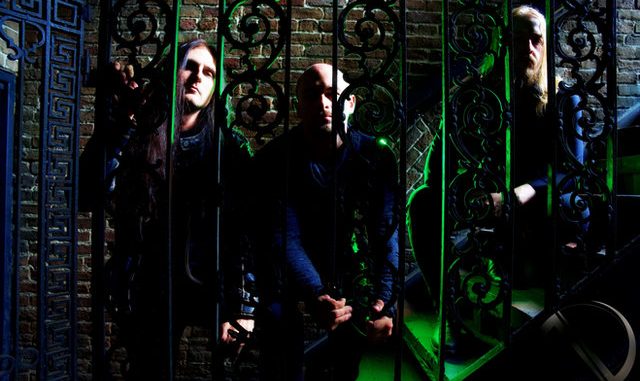 Los Angeles, CA (Friday, September 22nd) – Started in 2017 by Tom Noir, October Noir transcends the genres of goth, doom, metal, and rock altogether, to create a truly one-of-a-kind sound. Formed in Pensacola, Florida, October Noir features drummer Tyler Fleming, keyboardist Doug Lane, guitarist Trey Ozinga, and of course, lead vocals and bassist, Tom Noir.
With three full length albums out to date and nine singles, October Noir harnesses a unique sound that combines elements of synthy eighties rock with a more modern, metal twist. Comparable to bands like Echo and the Bunnymen, October Noir utilizes nostalgic influence from anthemic, melodic rock, and 80s Hair Metal, while putting their own dark and doomy twist on it all. With inspirations all the way from The Cure to Type O Negative and My Dying Bride, October Noir harnesses a thundering, deeply nuanced sound that can only be understood through listening.
Their new album, "Letters to Existence" will be released on September 22nd. The track list includes a wide range of songs that explore themes of loss, pain, love, death, and a deep connection to spirituality. The group dove into the making of this album, to explain its intrinsic link to nature, and its flow through the seasons of nature, and of life. Starting with the standout track "Spring", drummer Tyler Fleming describes, "It lives up to the feel of Spring. It starts pretty mellow and then slams into its own. Here comes the album."
Simultaneously inspiring, uplifting, and yet full of doom, "Letters to Existence" sounds like you are transported back to the 80s in a deeply spiritual way. This album takes you on a journey all the way from its most dark, thundering moments, to lighter, perhaps even pop-y moments. There is a really special, nostalgic quality to October Noir's music. Especially in the song "Endless Lonely" – metallic riffs take and its "quintessential Tom Noir ballad" take us through a sense of yearning, and feature those powerhouse, raspy vocals we all know well from doom and goth rock. Only four songs later, the group takes on an upbeat, melodic sound that is reminiscent of The Cure's "Friday I'm In Love" in fan favorite "Clench" midway through the album.
"Letters to Existence" also features a link to many easter eggs with samples from readings of Dante's Inferno in "A Halo Hung From Horns," as well as nods to many other legends throughout history. "For Honor" has been described by band members as "the most transparently 80s sounding track off the album." Tyler describes it as the bands' "Def Leppard song" for its heavy metal influence. And at the same time, in the words of keyboardist Doug Lane, it's "gut-wrenching and torturously emotional slog in the best possible way."
It all comes to a perfect end with the final track "Winter" – a deeply emotional ending that plays off colorful and melodic tones before arriving at the bleakness of winter and the album's end that leaves us wanting more.
The album spans all types of emotional discovery, from betrayal and infidelity, loss, and eventual healing, "Letters to Existence" takes listeners on a journey through the seasons of life, and in turn, of the human experience.