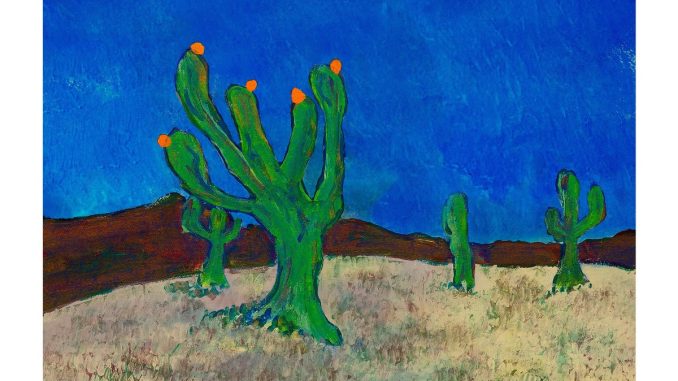 Today L.S. Dunes — vocalist Anthony Green, guitarist Frank Iero, bassist Tim Payne, guitarist Travis Stever, and drummer Tucker Rule — unveil a dazzling new psyche-metal track entitled "Benadryl Subreddit." It's the post-hardcore band's first new music since the release of their landmark debut album, 2022's Past Lives. Get "Benadryl Subreddit" HERE.

In the track's trippy new video, a mischievous ice-cream truck guy (aka Anthony Green) serves up some magical treats to unsuspecting clientele.

Watch the clip, directed by Nick and Pat Demarais, HERE and HERE.

"Benadryl Subreddit" was produced by Alex Newport (Mars Volta, Frank Turner, City & Colour) and recorded at Rancho De La Luna in Joshua Tree, CA. L.S. Dunes joins a long list of renowned artists who have found inspiration at the famed high-desert studio including Arctic Monkeys, Kyuss, Queens of the Stone Age, Foo Fighters, Afghan Whigs and Iggy Pop, and many others. To pre-order the special L.S. Dunes "Benadryl Subreddit" 7-inch single, visit the band's website HERE.

"'Benadryl's' title comes from a conversation that Mikey Way (My Chemical Romance) and I were having one night on tour about sober guys finding out legal ways of getting high without doing actual drugs and messing with their sobriety," says Iero. "The music for this song came about when I knew we were going into the desert to record with Alex Newport at Rancho De La Luna. I had just received a new guitar in the mail from Ben Wasser at Guitarworks called 'The Shaft' and I got to thinking about the desert and what I thought that guitar should sound like in that setting. That riff came out immediately. 'Benadryl Subreddit' represents the heat of the day out in the desert, sweating bullets and going fast." In the early stages of the demo, it was clear this song needed to be recorded and released sooner than many of the other songs we've been working on," shares Stever. "It captures energy for the moment. It's hard to keep hold of the energy and aim from the demo to the final recordings. I feel like with Alex Newport we did it!"Rule concurs, saying, "Frank sent this infectious riff, and I immediately knew what I was going to play. The chemistry of this band is undeniable, and I love it so much."

Earlier this month, the band released another ingenious new video ⏤ a glorious send-up of '70s Japanese Sci-Fi horror flix for fan-favorite "Grey Veins."  WATCH HERE. 

L.S. Dunes recently announced an extensive run of new summer tour dates across North America beginning with five dates on the Sad Summer Festival tour: Jacksonville, and Clearwater FL, on July 6 and 7, Alpharetta, GA on July 8, Portsmouth, VA on July 11 and Baltimore, MD on July 12. The acclaimed post-hardcore band's headline tour begins July 9 with a show at the Basement East in Nashville, TN., and is set to hit topflight venues such as The Opera House in Toronto on July 13, NYC's Irving Plaza on July 17, Saint Andrew's Hall in Detroit on July 22, Portland's Crystal Ballroom on August 1, and The Showbox in Seattle on August 2, before returning to California for a string of shows that include The Fonda Theatre in Los Angeles on August 6, The Fillmore Auditorium in San Francisco August 9and The Garden Amphitheatre in Garden Grove, CA on August 11. Get TICKETS HERE.  
"A staggering collection of progressive-rock and post-hardcore songs" — Alternative Press

"A tour-de-force of post-hardcore" — Heavy Consequence

"An urgent and flat-out fantastic record" — Brooklyn VeganPraise has come from all corners of the globe including year-end accolades from Guitar World, Revolver (Best New Bands of 2022), Loudwire, Kerrang, Alternative Press (55 Best Albums of 2022), Brooklyn Vegan: (Best Punk Albums of 2022), Rock Sound (cover), Stereogum, Loudwire (Best Rock + Metal Debut LPs 2022), New Noise (cover), Line of Best Fit, Heavy Consequence, AllMusic, and many more.

L.S. DUNES ON TOUR:
7/6 — Jacksonville, FL — Sad Summer Fest
7/7 — Clearwater, FL — Sad Summer Fest
7/9 — Nashville, TN — The Basement East
7/11 — Portsmouth, VA — Sad Summer Fest
7/12 — Baltimore, MD — Sad Summer Fest
7/13 — Toronto, CAN — The Opera House
7/15 — Providence, RI — The Strand
7/17 — New York NY — Irving Plaza
7/20 — Pittsburgh, PA — Mr. Smalls Theatre
7/21 — Cincinnati, OH — Bogart's
7/22 — Detroit, MI — Saint Andrew's Hall
7/24 — Milwaukee, WI — The Rave Bar
7/25 — Des Moines, IA — Wooly's
7/26 — Omaha, NE — The Waiting Room
7/28 — Fort Collins, CO — Washington's
7/30 — Boise, ID — Knitting Factory
8/1 — Portland, OR — Crystal Ballroom
8/2 — Seattle, WA — The Showbox
8/6 — Los Angeles, CA — The Fonda Theatre
8/9 — San Francisco, CA — The Fillmore
8/11— Garden Grove, CA — The Garden Amphitheatre