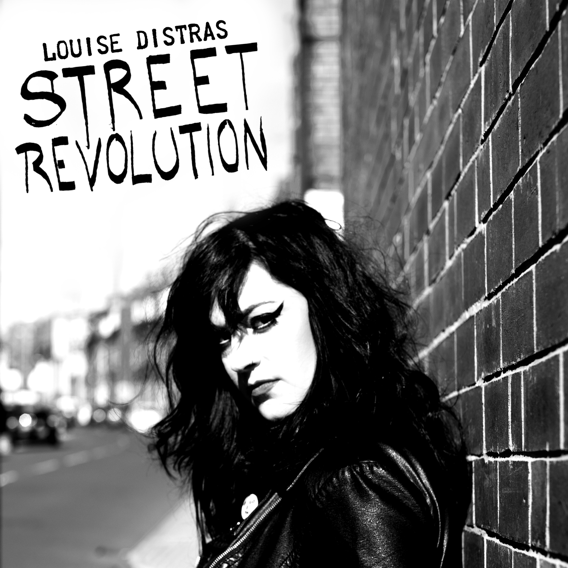 STREET REVOLUTION EP
OUT TODAY
PERFORMING AT
PUNK ROCK BOWLING FESTIVAL
LAS VEGAS, MAY 24 – 27TH
"The UK's answer to Joan Jett!" – Rodney Bingenheimer, SiriusXM
"I love this chick! So good, so truly punk rock!" – Linda Perry
"Putting punk and protest back into the mainstream" – The Guardian
Friday January 11th 2019 – Acoustic punk songstress Louise Distras has released her brand new EP
Street Revolution
. A collection of four straight-to-the-point, socially-aware anthems that speak out for the new generation and prepare for an exciting year ahead.
Louise comments
"This collection of songs is a small taste of what to expect from the upcoming album, out later this year. I'm so excited to hit the road next week in the UK. It's going to be just me, my guitar and my songs. I can't wait to see you and finally share everything I've been working on. See you in the pit!"
In support of the EP, Louise will be heading out on a UK headline tour next week, where she will be raising money for Crisis Charity in conjunction with Musicians Against Homelessness. Having had first-hand experience of being homeless through her teenage years and finding refuge through the power of music, Louise was inspired and committed to give something back.
The core of Street Revolution is fuelled by Louise's inspiring and outspoken persona, imploring people to stand up and stand together to make a change. Laden with pop hooks, punk attitude and folk elements, it is a bold yet mature, intelligent body of work.
The rabble rousing
title track
opens the EP and is "an anthem for the new underground movement of working class kids" says Louise, which was immediately made John Kennedy's 'X-posure Hot One' on Radio X.
It's followed by 'New World In Our Heart', a track inspired by a time in history when ordinary working class people stood internationally against Franco and his regime during the Spanish Civil War.
The latest single
'Poor Man'
is a rework of a song written nearly ninety years ago, reimagined for a new generation, reflecting on aspects of society that haven't changed in nearly a century, as well as posing a question as to why this is still the case.
Closing the EP is 'Solidarity', an interpretation of Little Steven's 1984 classic, with a homage to Bob Marley's 'Redemption Song' accentuating the song's call to action.
Street Revolution is an introduction of much more to come from Louise, with a brand new album coming later this year which she has worked on alongside producers Steve Whale of The Business and Ross Petersen (Bruce Springsteen, Goo Goo Dolls) in the US.
With huge support in the UK already coming from the likes of Kerrang, Louder Than War, Vive Le Rock, Clash and more and having appeared on the likes of Channel 4, BBC Radio 1 and Radio 5's Pienaar's Politics, The Guardian and also the Benefit compilation for Chelsea Manning, it is clear why Louise has been dubbed as the voice for punk's new generation.
Having already performed at Glastonbury and supported the likes of Billy Bragg, Buzzcocks, The Damned and Stiff Little Fingers, Louise follows the upcoming UK tour with a show in support of 'International Women's Day' in Glastonbury on March 8th plus has plans to announce US tour dates as well as her previously announced performance at the legendary Punk Rock Bowling Festival in Las Vegas alongside the likes of The Stranglers, The Damned, The Specials, The Hives, Rancid,Refused, Descendents and many more.