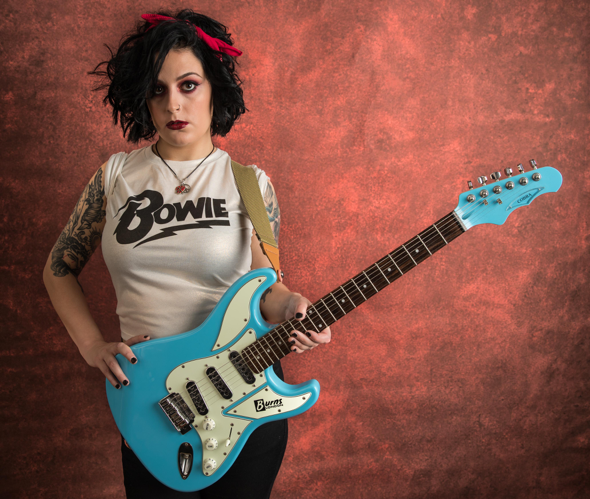 Releases New Video For
'Solidarity'
Track Gets Seal of Approval From Stevie Van Zandt
THE NEW EP STREET REVOLUTION IS OUT NOW
Playing at Punk Rock Bowling on Saturday May 25th
Also added to
Punk Rock Bowling Presents
Piñata Protest, Amigo The Devil, Bridge City Sinners and Louise Distras
"The UK's answer to Joan Jett!" – Rodney Bingenheimer, SiriusXM
"I love this chick! So good, so truly punk rock!" – Linda Perry
"Putting punk and protest back into the mainstream" – The Guardian
Monday February 25th 2019 – Following the release of her Street Revolution EP, punk singer Louise Distras has shared the video for the track
'Solidarity'
.
The video captures Louise's feisty performance in a bold black and white picture, while featuring footage from her recent time on the road where her direct and passionate showmanship fueled stages and excited fans across the UK.
'Solidarity' is Louise's unique interpretation of Little Steven's 1984 classic, which includes a homage to Bob Marley's 'Redemption Song' accentuating the song's call to action.

Stevie Van Zandt aka Little Steven took to twitter upon the track's release to tweet his approval, stating

"Wow. This is great! What an honour to be mashed up with Bob Marley! Love it!"

Louise explains

"We all walk on common ground, as Little Steven said in his classic track. Redemption is the act of being saved from sin and "everybody just wants to be forgiven" is a heartfelt observation that everyone around the world can identify with."

It's one of four fist raising anthems that form the

Street Revolution EP

that came out earlier this year. Upon its release, Street Revolution peaked at #10 on the iTunes singer-songwriter album chart and received critical acclaim from the likes of Kerrang who said "Louise Distras has the kind of voice that could charm the paint from a car".
The rallying title-track was immediately championed at Radio X being made John Kennedy's 'X-posure Hot One' as well as airplay support from BBC Radio London where radio DJ Gary Crowley praised the track as "A song for our times. It leaps out of the radio". Watch the video for 'Street Revolution'
here
.
After starting the year off with a headline tour around the UK, Louise's next show will be at The King Arthur, Glastonbury in support of International Women's Day. She is also branching out to the US audiences and will be playing at this year's Punk Rock Bowling Festival in Las Vegas on Saturday May 25th with headliners Rancid and will also be performing on Friday May 24th at the Punk Rock Bowling warm up show at the Beauty Bar in Vegas along with Piñata Protest, Amigo The Devil and Bridge City Sinners. With more US headline dates to be announced in the coming weeks.
Despite her demanding live schedule, Louise has been working on brand new material with her follow up album already in progress. For this record, she has been working alongside producers Steve Whale of The Business and Ross Petersen (Bruce Springsteen, Goo Goo Dolls) in Oakland, CA and will see her back performing with a full band.
Poised as an exciting punk voice of the generation delivering anthems for the outcasts, and spreading essential awareness of subjects such as homelessness, Louise Distras has a very exciting year ahead with tours, new music and some other special projects on the horizon.
WHAT THE MEDIA HAVE TO SAY
""The 21st century Joe Strummer who personifies punk rock spirit and renegade soul" – New Noise Magazine
"The most exciting voice in UK punk-rock right now!" – Kerrang!
"The female Frank Carter, the Brody Dalle of the North of England" – Trash Magazine
"Given the Frank Turner stamp of approval Louise whips up a storm of passionate, political punk'n'roll, somehow conjuring up both Kathleen Hanna and Roy Orbison." – John Kennedy, Radio X
"Alternative rock's best kept secret" – Louder Sound