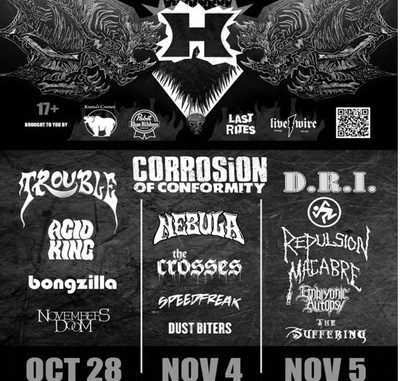 Plus After Shows, Additional Activities &
Launch Of Exclusive Posters Designed By Steve Walters (Screwball Press)
Speedfreak, Dust Biters & Embryonic Autopsy
Join Previously Announced Bands
Corrosion Of Conformity, D.R.I., Repulsion, Trouble & More
October 28, November 4 & November 5 At
Chicago's Avondale Music Hall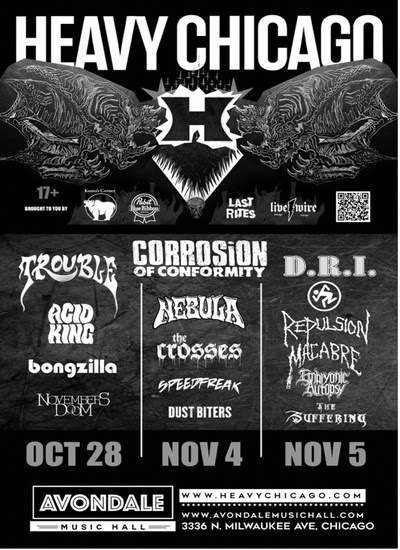 For Immediate Release
Chicago, IL – Wednesday, July 26, 2023 – After seeing incredible demand and interest for the brand-new Heavy Chicago festival, coming to Avondale Music Hall this Fall, organizers have announced even more acts, after shows and additional activities for metal fans to enjoy on and around official show dates – October 28, November 4 and November 5.
In addition to previously announced bands Corrosion Of Conformity, Chicago's own Trouble (in their first show in five years), crossover thrash D.R.I., the only 2023 worldwide show date for grindcore legends Repulsion and The Crosses featuring Die Kreuzen singer Dan Kubinski for an "all Die Kreuzen" set, additional acts Speedfreak, Dust Biters and Embryonic Autopsy have now been added to the lineup.
As well, Heavy Chicago will host a series of after shows and extra activities in the week between the two festival weekends. That includes a pre-party on October 27, Metal Blade Monday on October 30, Halloween night with the heaviest KISS tribute act in the world, PHAT KISS, a Heavy Local night (featuring all Chicago bands, curated by Jeremy Wagner of Broken Hope) on November 2 and a wrap party November 5 with DJ Lenzig of Cephalic Carnage and other special guests. Many of the events will be held at Avondale Music Hall's sister venue, Live Wire.
In addition to the music, Kuma's will be onsite selling burgers (including a new November burger of the month made especially for Heavy Chicago) and there will be PBR drink specials at all events.
Tickets are on sale now at
www.HeavyChicago.com
. Options include limited 3-day passes for $100, 2-day passes for November 4-5 for $80 and a special 2-day pass for October 28 and November 4 for $70. Single night tickets are also available now.
Fans can get ready for Heavy Chicago now with the launch of exclusive limited-edition, hand-screened posters created by the renowned Chicago artist Steve Walters (Screwball Press) who's been a staple of the local music scene for 30-plus years. Each poster is numbered and available now at
www.HeavyChicago.com
. Soon, additional merch will be available at the official website as well.
The full rundown of activities is as follows (subject to change):
OCTOBER 27
Official Heavy Chicago Pre-Party @ Live Wire
OCTOBER 28
Heavy Chicago Show Date #1 with
Trouble, Acid King, Bongzilla and
Novembers Doom @ Avondale Music Hall
Official Heavy Chicago After Show with
Something Is Waiting & Motherless (featuring members of Atlas Moth
and Without Waves) @ Live Wire
OCTOBER 29
More Details Coming Soon!
OCTOBER 30
Metal Blade Monday with guest DJs, giveaways and more @ Live Wire
OCTOBER 31
Halloween Night with the heaviest KISS tribute band in the world,
PHAT KISS @ Live Wire!
NOVEMBER 1
November Heavy Chicago Burger Release @ Kuma's
NOVEMBER 2
Heavy Local featuring all Chicago acts
(curated by Jeremy Wagner of Broken Hope) @ Live Wire
NOVEMBER 3
Secret headliner bonus show @ Live Wire
NOVEMBER 4
Heavy Chicago Show Date #2 with
Corrosion Of Conformity, Nebula, The Crosses,
Speedfreak and Dust Biters @ Avondale Music Hall
Official Heavy Chicago After Show @ Live Wire
NOVEMBER 5
Heavy Chicago Show Date #3 with
D.R.I., Repulsion, Macabre, Embryonic Autopsy and
The Suffering @ Avondale Music Hall
Official Heavy Chicago After Show Wrap Party hosted by Chicago Metal Factory
with DJ Lenzig of Cephalic Carnage and special guests @ Live Wire
For more information on Heavy Chicago, visit: