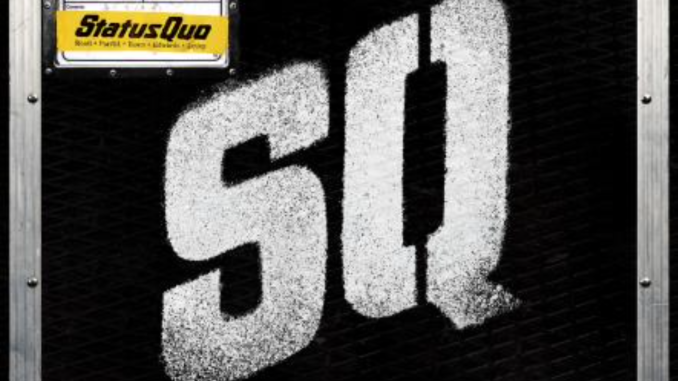 SERIES FEATURES A CURATED SELECTION OF ICONIC STATUS QUO PERFORMANCES
The iconic Status Quo has release the first volume of the new "Official Archive Series" brought to you by earMUSIC. Vol. 1 — Live In Amsterdam is available from today, August 11 on strictly limited and numbered CD and vinyl editions, as well as on digital formats. As with each forthcoming release in this series, this official and fully endorsed recording features a carefully curated selection of iconic Status Quo performances, including classic hits spanning their extensive catalog, deep cuts, and fan favorites. Each track is a testament to the band's enduring popularity and musical prowess. The next volume will be released in November and was recorded in London, so keep your eyes peeled!
The "Official Archive Series" will offer exceptional sound quality and great packaging throughout, featuring photography by Christie Goodwin. The series has been freshly mixed and mastered by Eike Freese and Laurin Halberstadt at Chameleon Studios Hamburg.
Vol. 1 — Live In Amsterdam was recorded in the Dutch capital on October 19, 2010 on the band's "Pictures Exposed World Tour." The setlist at the Heineken Hall was representative of the rest of the "Pictures Exposed World Tour" with the line-up of Francis Rossi, Rick Parfitt, Andrew Bown, John "Rhino" Edwards, and Matt Letley delivering an avalanche of Quo classics, as befitted a tour celebrating "40 Years of Hits."
Get it and listen to it here.
The first release sets the bar high for what is due to follow, but each album in the Status Quo "Official Archive Series" captures the raw energy and infectious enthusiasm of a Status Quo live performance; no matter where in the world. With their trademark sound, powerful guitar riffs, and irresistible hooks, the band delivers an unadulterated rock 'n' roll experience, and this collectible series is a great way to celebrate one of the greatest live acts ever.
For more information, go here.
FORMATS:
Ltd. 2CD Digipak
Ltd. 3LP (Black Vinyl/180g/Gatefold) Digital
VOL. 1 LIVE IN AMSTERDAM TRACK LISTING:
CD 1:
"Intro"
"Caroline"
"Something 'Bout You Baby I Like"
"Rain"
"Don't Drive My Car"
"Mean Girl"
"Softer Ride"
"Beginning Of The End"
"Hold You Back"
"The Proposing Medley"
"The Oriental"
"Creepin' Up On You"
CD 2:
"Living On An Island"
"In The Army Now"
"Drum Solo"
"Roll Over Lay Down"
"Down Down"
"Whatever You Want"
"Rockin' All Over The World"
"Junior's Wailing"
"Rock 'N' Roll Music/Bye Bye Johnny"
VINYL SIDE SPLIT:
A: 1-4; B: 5-8
C: 9-11; D: 12-15 E: 16-18; F: 19-21