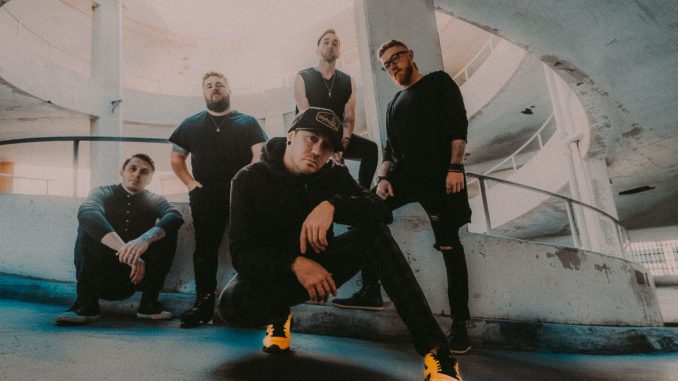 Memphis, TN quintet S.A.M (aka Savage After Midnight) have released an intense action video for scorching track "Remedy" featuring Asking Alexandria's Danny Worsnop on Guest Vocals.
The video was shot in and around Jacksonville, Florida with Director Christian Lawrence over 2 days. S.A.M.'s Shi Eubank explains "Danny and I had a VERY rough concept of what we wanted to say in visual form for "Remedy" but decided that letting the concepts organically come to life was the way to go. I flew down to Jacksonville with Christian, some gear and away we went creating. Taking a less scripted approach to a video was actually a super cool experience, and it all just worked".
Worsnop says "We let the whole concept be a meeting of minds, going in with nearly nothing scripted and using what we had in the moment to piece it together on the fly. It was a really special opportunity to push and test ourselves, while spending time with friends trying to make something unique we could be proud of. We wanted to create something huge out of spontaneity".
For the creation of the song Eubank says "On 'Remedy" not only did we get to create with producer Andrew Baylis (Bad Omens, Vrsty) and Jayden Panesso of Sylar – but we were able to co-write with my buddy Jack Fowler of Sleeping with Sirens. The song was sounding amazing on its own, but I felt like there was an opportunity to take it a step further. I reached out to Danny about singing with me on the track".
Worsnop adds "Shi hit me up about "Remedy" and thought it would be a good fit for me. I think his songwriting is great and we've been good friends for a while now – this kind of stuff has always been my favorite part of this job. I jumped in my car and drove up to the studio through a huge storm and we just got to work. I think the final results are awesome and was a real testament to when it's right, it's right – it just flowed naturally".
"Remedy" is off to a blistering start with playlist adds at Spotify Rock Hard, New Metal Tracks, All New Rock & Loudwire Weekly Wire; Apple Music Breaking Hard Rock & New in Rock; Amazon Music Fresh Rock, Breakthrough Rock & Rock Arena; Pandora New Rock Now, New Rock Radio & This Year In Rock Radio; and Napster Rock Rotation.
Before the pandemic lockdown of 2020, S.A.M. was on a serious roll: the "11:59″ EP, an energized, emotional collection of songs – yielded big results for a first release: debut single "10 Feet Tall" made it into regular rotation @ SiriusXM Octane and Music Choice Rock while establishing the band at Active Rock Radio, peaking at #35 on the BDS and Mediabase charts. Key playlist placements @ Spotify, Apple and Pandora grew their profile even more. The band's fortunes reached new heights when "10 Feet Tall" was used in promos for the 2019 ESPY awards, and aired as bumpers throughout the ABC telecast of the show. Follow-on singles "Heartless Machine" and "Unleash" helped S.A.M.'s fanbase grow, with positive press support from Loudwire, Alternative Press, Metal Injection, Tattoo.com, UPROXX, AXS and Hard Rock Daddy, among others. The band received stellar reviews for their live shows from tours with Shinedown, Papa Roach, Sick Puppies, Pop Evil, New Years Day and Memphis May Fire.
Despite the break in 2020, the band hasn't missed a step and "Remedy" has them firing on all cylinders again. Tour dates are being planned for the 2nd half of the year, with additional singles and an EP now in the works.
S.A.M. is:
Shi Eubank– Vocals
Jeremiah Lipscomb– Guitars
JT Shaheen – Keyboards, Vocals
Landon Fox – Bass
Derek Bjørnson – Drums