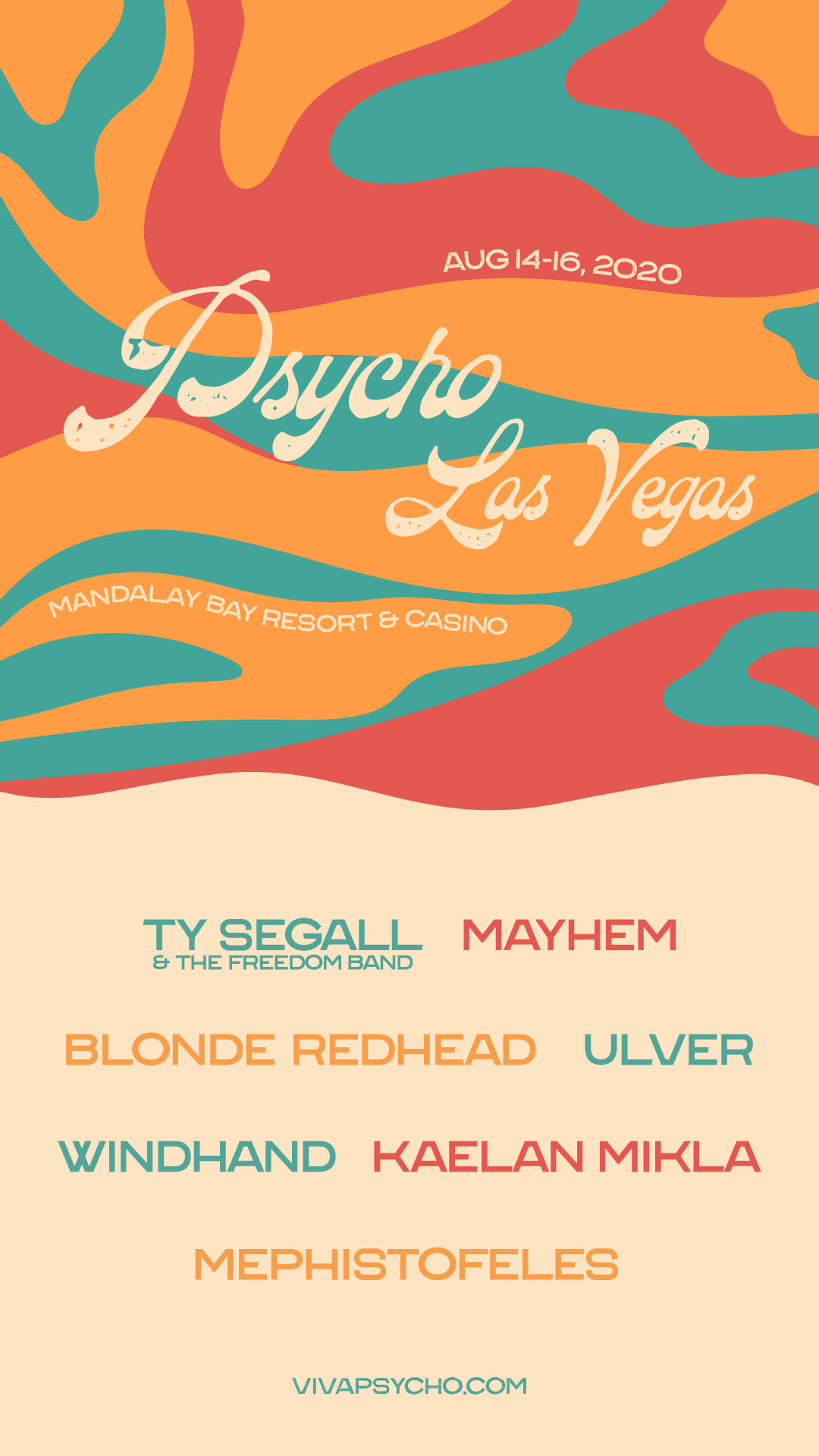 PSYCHO LAS VEGAS 2020: First Round Of Artists Announced Including Ty Segall & The Freedom Band, Mayhem, Ulver, Windhand, Blonde Redhead, And More; Tickets On Sale Now!
America's rock n' roll bacchanal, PSYCHO LAS VEGAS, will return to Mandalay Bay Resort & Casino for a second consecutive year August 14th through August 16th 2020. Set to commence with a pre-party at Daylight Beach Club on August 13th, PSYCHO LAS VEGAS remains the premier rock festival destination offering fans one of the most unique and immersive festival formats in the world.
Now approaching its fifth year in the swirling neon decadence of Las Vegas, the resort-wide takeover will utilize four stages including the world-class Mandalay Bay Events Center, the iconic House Of Blues, Mandalay Bay Beach, and Rhythm & Riffs Lounge located at the center of the casino floor. With its signature mix of grit, grime, and grandeur, PSYCHO LAS VEGAS 2020 will continue to redefine America's conception of what a music festival can be.
The curators of the event are pleased to unveil the first round of artists to grace the PSYCHO stages with California garage rock icons Ty Segall & The Freedom Band, New York alternative noise rock veterans Blonde Redhead, Virginia doom metal unit Windhand, and Massachusetts psyche metallers Elder (scheduled to play the pre-party), as well as Norwegian black metal legends Mayhem, long-running Norwegian dark ambient collective Ulver, Icelandic synth punk trio Kaelan Mikla, and Argentinian dark electric "mausoleum music" makers Mephistofeles.
Tickets for PSYCHO LAS VEGAS as well as the PSYCHO SWIM pre-party, which requires a separate ticket from the main festival pass, are on sale now!
PSYCHO LAS VEGAS offers several pricing tiers and payment plans starting with a $20 deposit. 3-Day GA Weekender passes start at $199 (excluding tax and fees). Limited VIP 3-Day High Roller passes – which sell out annually – are available for $499 (excluding tax and fees) and include:
— VIP access for all three days of the festival + entry to the Thursday pre-party
— VIP hotel and festival check-in at Mandalay Bay
— Dedicated lines for expedited entry to all stages of the festival
— Private viewing areas, seating, restrooms and bars at three stages of the festival
— Limited edition and exclusive merch item for 2020 High Rollers only
Meticulously curated, PSYCHO LAS VEGAS has gained worldwide recognition for consistently delivering lineups that grow increasingly diverse and eclectic with each passing year, the magnitude of which have yet to be seen in North America. From post-rock, to black metal, to world music and even electronica, PSYCHO's wide-ranging allure has expanded ceaselessly since its inception, bringing together musicians and artists from seemingly immiscible corners of the musical world.
Wrote Las Vegas Weekly in a retrospect of 2019's event, "PSYCHO LAS VEGAS 2019 was a dream…PSYCHO's organizers deserve major credit… for continuing to program the festival in a unique and interesting way (where else in North America can you witness the dream-pop of Beach House and the prog-metal of Opeth back-to-back on the same stage?)…not much needs fixing, from a fan perspective, at a festival where you can sleep just upstairs from the stages, duck into Hubert Keller and Akira Back restaurants for dinner and never have to hear the words Porta-Potty. If that's not the future of music festivals, we're not sure what is."
Championed Metal Injection, "PSYCHO LAS VEGAS 2019 can be summarized in two words: Holy Shit. This annual party in the Mojave Desert has grown from a simple gathering of doom-centric, riff enthusiasts, into a monster three day [four, if you make it for the Thursday night kickoff], casino resort hijacking, destination music festival. PSYCHO's first year at its new home at Mandalay Bay proved to be a match made in heaven." Hailed Consequence Of Sound, "With over 70 bands on four stages throughout the property, the event has reached new heights and offered something for everyone in attendance… By the time it was all said and done, this year's PSYCHO LAS VEGAS was a smashing success, and has officially established itself as one of the premiere festivals for heavy music in America." Added Mxdwn, "Nobody is putting together bills like this and simultaneously challenging and rewarding fans for coming along for the ride. The look of enthusiasm on everyone's face alone is worth the price of admission."