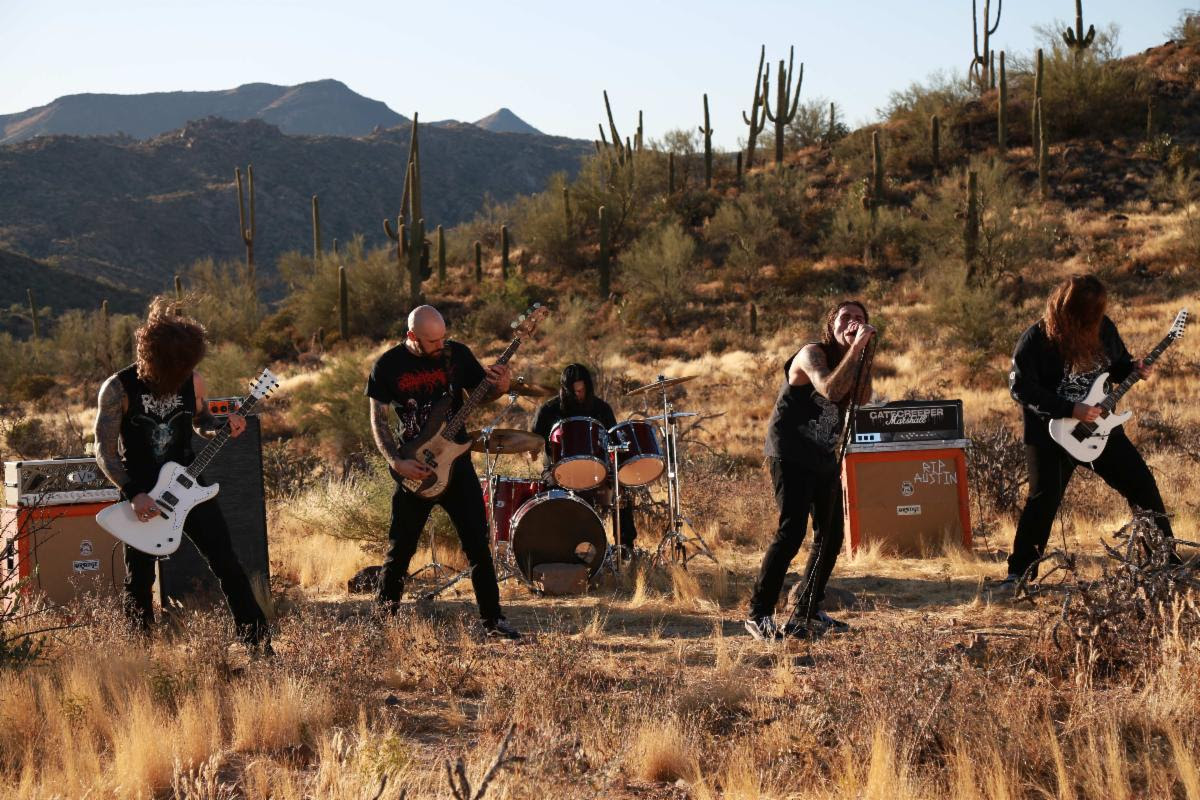 "Coming from the desert, Gatecreeper clearly intend to serve as an oasis, not a mirage – and Deserted is destined to prove to the scene at large that the band's aim is true." – Decibel Magazine
Critically acclaimed Arizona death metal band GATECREEPER share a music video for the new track, "From The Ashes". Watch the full, Ian Shelton directed video on YouTube
HERE
. "From the Ashes" appears on GATECREEPER's forthcoming, highly anticipated sophomore album, Deserted.
GATECREEPER vocalist Chase Mason comments:
"From The Ashes is the most anthemic song we have ever written. Although we have flirted with the idea in the past, there are more melodic guitar leads in this song than ever before. I'd say this one is primed and ready for the European Metal Festival circuit."
Additionally, GATECREEPER recently announced a Fall co-headlining tour with labelmates EXHUMED. The tour begins on October 31 in Austin, TX and ends December 4 in Las Vegas, NV. Additional support by Necrot & Judiciary. Tickets are on sale now.
Deserted is due out October 4th on CD/LP/CS/Digital. Physical packages are available for pre-order via Relapse.com
HERE
. Digital Downloads / Streaming Services are available
HERE
.
Listen to the previously released songs "Boiled Over"
HERE
and "Everlasting"
HERE
. Earlier this Summer, GATECREEPER released the Adult Swim Single "Anxiety" and is now available on all streaming services
HERE
.
Deserted was recorded at Homewrecker Studios in Tucson, where GATECREEPER co-produced the album with engineer Ryan Bram. CONVERGE guitarist Kurt Ballou handled the mix at Godcity in Salem, MA, and Brad Boatright mastered the album at Audiosiege in Portland, OR. Deserted's hallucinatory cover art was created by Brad Moore (TOMB MOLD, MORPHEUS DESCENDS, and more.)
GATECREEPER are featured on the cover of Decibel Magazine's November issue! Secure a copy now, stream the exclusive flexi song "Social Decay" and more information
HERE
.
GATECREEPER Tour Dates:
Oct 25 Los Angeles, CA Zebulon *Record Release Show*
Oct 26 Phoenix, AZ Crescent Ballroom *Record Release Show*
— October 31 – December 04 w/ Exhumed, Necrot & Judiciary —
Oct 31 Austin, TX Barracuda
Nov 01 Dallas, TX Club Dada
Nov 02 Houston, TX The Secret Group
Nov 04 Tampa, FL Crowbar
Nov 05 Miami, FL Churchill's
Nov 06 Winter Park, FL The Haven Lounge
Nov 07 Atlanta, GA The Masquerade – Hell Stage
Nov 08 Lexington, KY Cosmic Charlie's
Nov 09 Columbus, OH Ace of Cups
Nov 10 Baltimore, MD Ottobar
Nov 11 Philadelphia, PA The Foundry @ The Fillmore
Nov 12 Brooklyn, NY Brooklyn Bazaar
Nov 13 Somerville, MA ONCE Ballroom
Nov 15 Lancaster, PA Chameleon Club
Nov 16 Lakewood, OH Foundry
Nov 17 Hamtramck, MI Sanctuary
Nov 18 Madison, WI The Crucible
Nov 19 Minneapolis, MN 7th St. Entry
Nov 20 Chicago, IL Empty Bottle
Nov 21 Omaha, NE Lookout Lounge
Nov 22 Denver, CO Marquis Theatre
Nov 23 Salt Lake City, UT Urban Lounge
Nov 24 Boise, ID Neurolux
Nov 25 Bozeman, MT The Eagles Ballroom
Nov 27 Bellingham, WA The Shakedown
Nov 28 Vancouver, BC The Fox Cabaret (No Exhumed/Necrot)
Nov 29 Seattle, WA Substation
Nov 30 Portland, OR Dante's
Dec 01 Arcata, CA Rampart Skatepark
Dec 02 San Francisco, CA Rickshaw Shop
Dec 03 Sacramento, CA Harlow's
Dec 04 Las Vegas, NV Bunkhouse Saloon
Dec 13 Santa Ana, CA Decibel Metal & Beer Fest: Los Angeles
Deserted, a furious mix of snarling guitars and driving, rhythmic pummeling takes death metal from its 80's Floridian roots and 90's Swedish expansion straight into the here and now. In fact, the vanguard of death metal in 2019 can be found under Arizona's searing sun. That's where GATECREEPER members—Chase Mason, guitarist Eric Wagner, bassist Sean Mears, drummer Matt Arrebollo and guitarist Nate Garrett—make their homes.
Of course, the band nodded to their scorching home state with the title of their 2016 full-length debut, Sonoran Depravation. The theme continues on Deserted, which boasts songs like "Sweltering Madness," "Boiled Over" and the double-meaning title track.
You can hear the results on "From The Ashes," a crushing cut primed for the European festival circuit. Over on side two, "Boiled Over" fuses classic BOLT THROWER with the pulverizing power grooves of sludge titans CROWBAR. Album closer "Absence Of Light" upholds GATECREEPER's tradition of finishing their records with a deathly doom dirge.
GATECREEPER are:
Chase Mason – Vocals
Eric Wagner – Guitar
Sean Mears – Bass
Matt Arrebollo – Drums
Nate Garrett – Guitar
Official Links: