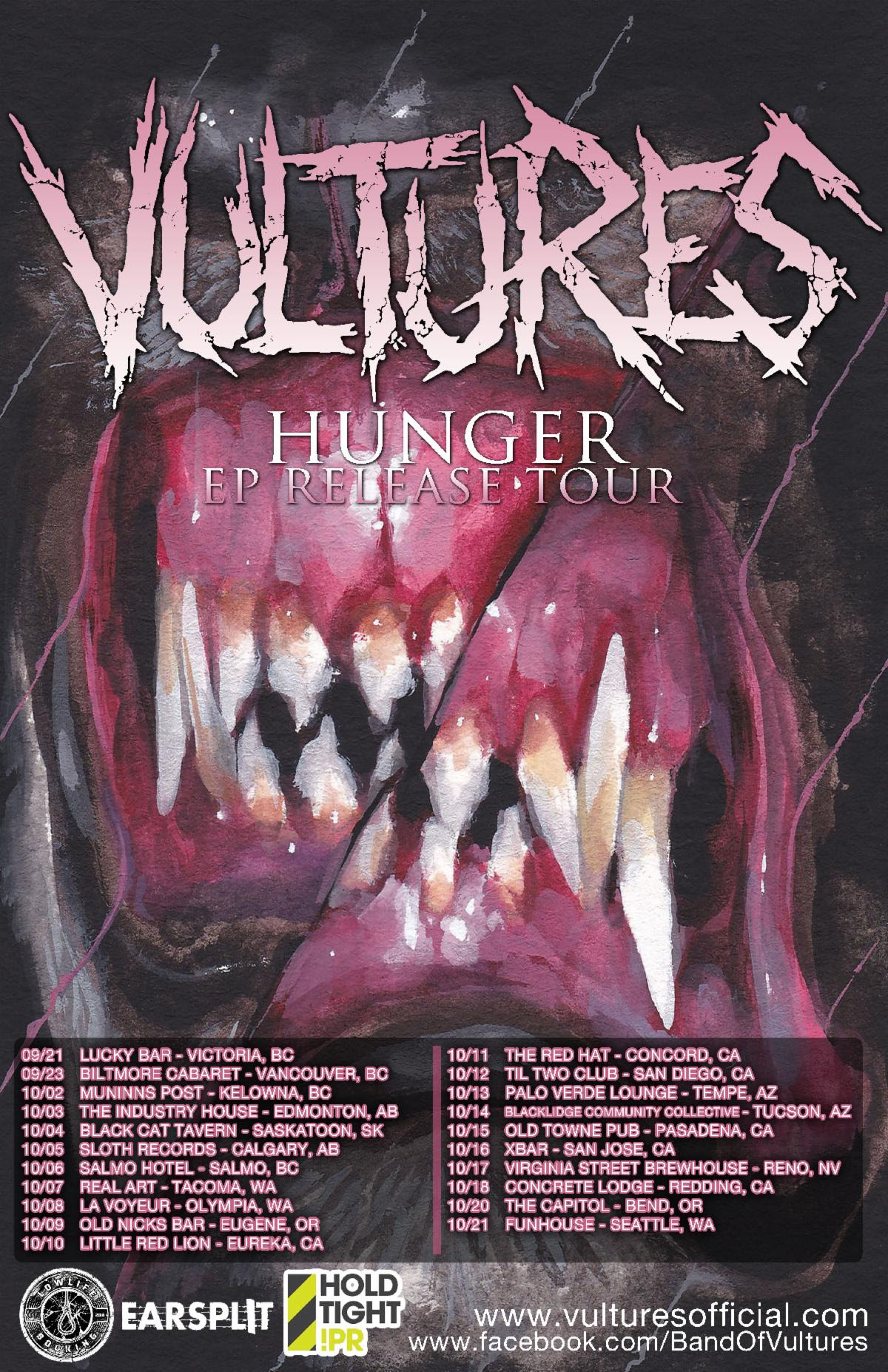 VULTURES: "Bitter Breath" Premiered Through Heavy Blog Is Heavy; Hunger EP Nears Release + West Coast North American Tour Begins
[photo by Kyle Joinson Photography]
As Victoria, British Columbia-based metallic hardcore quartet VULTURES prepares to release their Hunger EP next week, in conjunction with their West Coast North American tour, Heavy Blog Is Heavy is hosting the premiere of the new single, "Bitter Breath."
Delivering six tracks that put forth an attack of driving riffs and incendiary finger-pointing in just under twenty minutes, VULTURES' second EP Hunger was produced, mixed, and mastered by Tim Creviston (Misery Signals, Spiritbox), and fitted with artwork created by Dusty Ray and arranged by Kevin Moore of Soft Surrogate. The EP also includes a guest vocal feature from Larissa Stupar (Venom Prison, Wolf Down).
VULTURES' Graham Scanlon states, "'Bitter Breath' is Hunger's resident slow-burner track. We would describe it as pensive, melancholy, and coarse, though like any artistic medium that will be subject to personal interpretation. This track represents a compositional intermission in forgoing the more chaotic sonic elements present within its EP counterparts, instead emphasizing a more minimalistic quality of instrumental delivery influenced by acts like Defeater. 'Bitter Breath' was something of a unique songwriting experience for us in terms of how it utilizes reprise and motif, and the track also saw significant compositional input from producer Tim Creviston, who can be credited with really bringing this track to life. We chose this song as our third EP single as we believe it embodies a musical quality that acts as a strong counterpoint to the existing singles, and demonstrates our approach to a slower and more emotive form of hardcore."
Heavy Blog Is Heavy reports, "'Bitter Breath' takes a little from the band's fellow countrymen Cancer Bats and twists and shakes it with a double shot of Buffalo's Every Time I Die, with the drum and vocal break during the track's first act particularly reminiscent of ETID. VULTURES' influences aren't as directly present as I might be making them out, but years of being fans of the likes of those two bands have obviously helped this band find their voice in 'core adjacent music. As the longest track on Hunger, 'Bitter Breath' has more room for the band to move around and show off their skills as songwriters, on top of being able to write crunchy, jagged riffs. It's a testament to their youth and vigor that they deserve these kinds of comparisons."
Stream VULTURES' "Bitter Breath" only through Heavy Blog Is Heavy RIGHT HERE.
VULTURES
will self-release the
Hunger
EP on CD and all digital platforms next Friday, October 4th. Preorders packages are available at the band's website
HERE
. Also view the "Push" video
HERE
and the Claymation "Rat King" video
HERE
.
In conjunction with the release of Hunger, VULTURES is now performing live, having supported Cancer Bats and Despised Icon in recent days. The band now embarks on their largest tour yet in support of the EP, with a West Coast run taking them into the United States for the first time, running from October 2nd and through October 21st.
VULTURES – Hunger Release Tour:
10/02/2019 Munnins Post – BC
10/03/2019 The Industry House – Edmonton, AB
10/04/2019 Black Cat Tavern – Saskatoon, SK
10/05/2019 Sloth Records – Calgary, AB
10/06/2019 Salmo Hotel – Salmo, BC
10/07/2019 Real Art Tacoma – Tacoma, WA
10/08/2019 La Voyeur – Olympia, WA
10/09/2019 Old Nicks Bar – Eugene, OR
10/10/2019 Little Red Lion – Eureka, CA
10/11/2019 The Red Hat – Concord, CA
10/12/2019 Til Two Club – San Diego, CA
10/13/2019 Palo Verde Lounge – Tempe, AZ
10/14/2019 Blacklidge Community Collective – Tucson, AZ
10/15/2019 Old Towne Pub – Pasadena, CA
10/16/2019 Xbar – San Jose, CA
10/17/2019 Virginia Street Brewhouse – Reno, NV
10/18/2019 Concrete Lodge – Redding, CA
10/19/2019 East Side Bar And Grill – Portland, OR
10/20/2019 The Capitol – Bend, OR
10/21/2019 Funhouse – Seattle, WA
VULTURES
conveys an unapologetic and visceral energy through their brand of hardcore. With sonic inspirations that include the likes of
Converge
, Dead And Divine, and The Dillinger Escape Plan, the band combines the technicality and bite of metal with the attitude of hardcore punk in order to deliver performances with unrivaled potency and aggression.