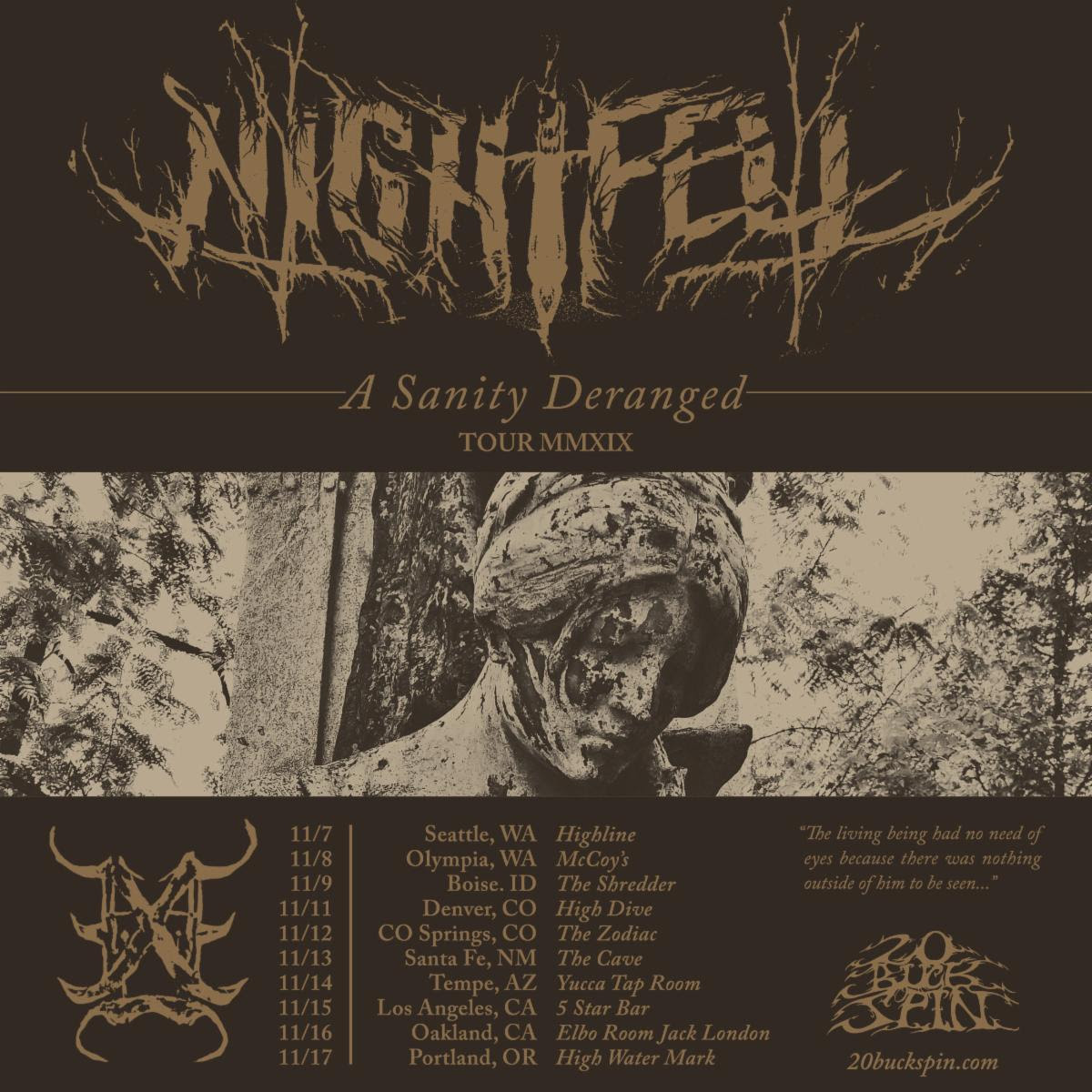 NIGHTFELL Announces November Western US Tour Dates; A Sanity Deranged Full-Length Out Now Through 20 Buck Spin
Portland, Oregon's NIGHTFELL today announces a run of tour dates across the Western edge of the US for November in support of their third LP, A Sanity Deranged, released earlier this month through 20 Buck Spin.
In the studio, all NIGHTFELL music is written and performed by Todd Burdette (Tragedy, His Hero Is Gone, Warcry) and Tim Call (Mournful Congregation, Sempiternal Dusk, Weregoat), the live lineup is fleshed out with Vince Blank and Derek Willman. Following a one-off hometown show in August, NIGHTFELL will shroud the Western United States with a ten-date tour. Running from November 7th through 17th, the A Sanity Deranged Tour MMXIX will pillage Seattle, Olympia, Boise, Denver, Colorado Springs, Santa Fe, Los Angeles, Oakland, and Portland.
NIGHTFELL is also confirmed to play Total Death Over México III in México City in March 2020 and is plotting additional US tour dates to be announced in the coming months.
Recorded and mixed together with Greg Wilkinson at Earhammer Studios (High On Fire, Asunder, Vastum, Ulthar) with additional instrumentation and vocals tracked by Billy Anderson (Neurosis, Melvins), and mastered by Brad Boatright at Audiosiege (Sunn O))) Mournful Congregation, Noisem), NIGHTFELL evokes their most dense and dynamic recording yet with A Sanity Deranged. A sharpened blade of iron and steel forged in the fires of tumult, the album is the annihilating vanguard for the end times now upon us all. Fans of Bolt Thrower, Misthyrming, Mayhem, Amebix, Tragedy, Primordial, and Neurosis should not miss A Sanity Deranged.
A Sanity Deranged is available on LP, CD, and digital formats through 20 Buck Spin at Bandcamp
HERE
and through the label webshop
HERE
. A special limited gold/brown galaxy color vinyl variant is available in retail stores.
NIGHTFELL A Sanity Deranged Tour MMXIX:
11/07/2019 Highline – Seattle, WA
11/08/2019 McCoy's – Olympia, WA
11/09/2019 The Shredder – Boise, ID
11/11/2019 High Dive – Denver, CO
11/12/2019 The Zodiac – Colorado Springs, CO
11/13/2019 The Cave – Santa Fe, NM
11/14/2019 Yucca Tap Room – Tempe, AZ
11/15/2019 5 Star Bar – Los Angeles, CA
11/16/2019 Elbo Room Jack London – Oakland, CA
11/17/2019 High Water Mark – Portland, OR
3/13-16/2020 Total Death Over México – México City, MX [
info
]
The first new NIGHTFELL material since 2015's highly regarded Darkness Evermore LP, A Sanity Deranged delivers the band's most crucial and damaging music to date. Returning like a phantom four years after Darkness Evermore enveloped the planet, the all-consuming thunderstorm that is A Sanity Deranged is loosed upon a world in fractured turmoil. A dark metal dirge of madness, an anthem to those immemorial and a sonic bloodletting of vitriol and contempt, A Sanity Deranged is NIGHTFELL at its most spitefully deliberate.
A Sanity Deranged is a pinnacle to this point of the disparate sounds that shape the cohesive discordance of NIGHTFELL. Slicing ice cold texture cuts like obsidian glass amidst the monumental death crush and grim wallow of doomed dejection. The heart has remained as defiant and vigilant as ever, but the old flesh has been shed and a beast reborn rears forth – jaws dripping, teeth gnashing, shedding the withered exoskeleton for an adherent body.