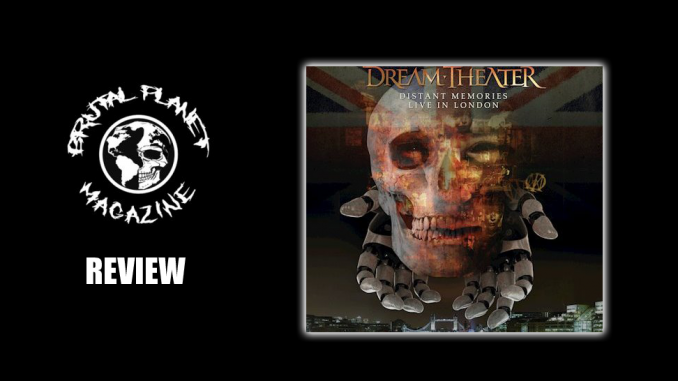 Most people will be fighting crowds (hopefully online) for those crazy Black Friday deals on 11/27/2020; Dream Theater Fans, however, will have the added bonus of watching the heavily anticipated Distant Memories: Live in London. I, personally, have been waiting for this DVD since I saw this tour in October of 2019. Dream Theater recorded the show over two nights at the Eventim Apollo in London in February 2020, just before the entire world turned upside down.
While all evenings with Dream Theater are pretty remarkable, this tour was special. This tour supported the well-received Distance Over Time album. It was also the 20th anniversary of the band's first EPIC concept album Metropolis Pt. 2: Scenes From A Memory.
The DVD is split into two discs, just like the night is divided into two acts with a short intermission, and is spectacularly directed by Pierre and Francois Lamoreux. The first disc/half is focused on the Distance Over Time album with a sprinkling of some of the past DT catalog. Before the band takes the stage, there is a cool shot of the graphics they had put together for this tour, which they always do such a fantastic job with; unfortunately, this is one of the few times we see them in the film.
The first set starts with "Untethered Angel," which gets the crowd on their feet and starts the night off right. Next up is "A Nightmare to Remember" (Black Clouds and Silver Linings), which is one of my personal favorites. One thing I feel I have to say is this song loses quite a bit of its darkness without the original growls and grit from Mike Portnoy (who I swore I was not going to bring up in this review) that have been replaced with what appear to be recorded backing vocals from Labrie. "Fall Into the Light" has a beautiful moment where the entire audience is singing in perfect harmony with John Petrucci's exquisite guitar solo. Fan favorite "Barstool Warrior" really just shows the extraordinary talent of this band when Petrucci, Myung, and Rudess are in perfect sync. Next, we are treated to "In The Presence of Enemies Pt.1" from, in my opinion, the very underrated Systematic Chaos. To close out the first set, "Pale Blue Dot" is that song that just shows DT can do it ALL, and they are here to show it.
Time to switch discs and get ready for the reason many people went to the original show and many will be picking up this live DVD if we are completely honest. It has been 15 years since Victoria Page and Nicholas's tragic tale, known as Scenes From a Memory, has been performed in its entirety live. The only thing I truly wish I could change from this disc is I would add an option to have the illustrations be seen on a smaller screen somewhere because they were absolutely incredible. This second disc does start off showing the illustrations that introduce the audience to the story's characters. They did also include a portion of it during "Through Her Eyes," where there are headstones of some of the greatest musicians we have lost in the graveyard Nicholas is visiting looking for Victoria's grave.
Unlike the first set, I am not going to go through the Scenes set song by song. Dream Theater fans know and love the album, and I don't want to ruin the story for anyone new, but let's hit some of the highlights. From the first note, you can feel the crowd's energy through the screen, as "Overture" sets the scene (no pun intended) and gives us a mash-up of the entire album. The aforementioned "Through Her Eyes" is a beautiful ballad that shows DT's softer side, while "Home" is a full-on metal attack. "Dance of Eternity" is a melt your face off all-encompassing prog epic that includes a shot of Petrucci and Myung together at the front of the stage where they are utterly in sync with every note and finger movement. It is an incredible, absolute mind-blowing thing to witness. "The Spirit Carries On" is a song that holds a special place in my heart as I am sure it does in so many Dream Theater fans in one way or another. It is just one of those songs that connects on such a deep level to everyone, no matter their religion or background.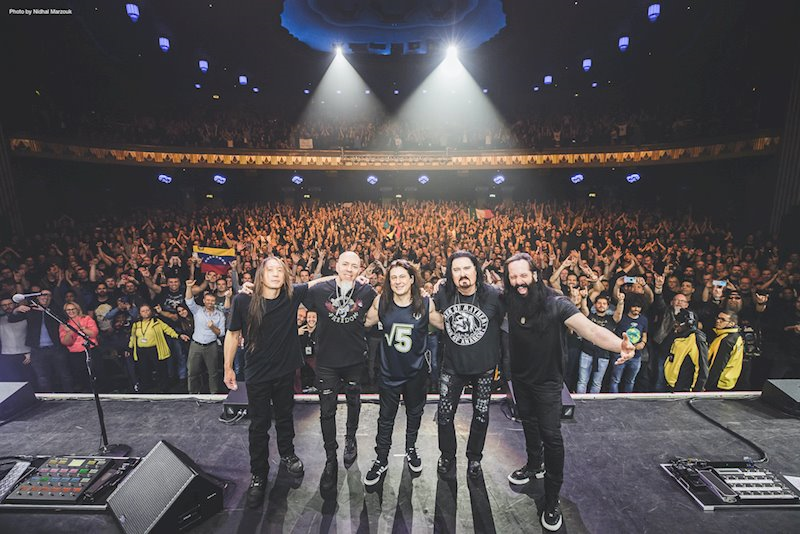 Coming full circle and returning to the Distance Over Time album for the encore, "At Wit's End" brings this evening of emotional ups and downs to an end.
The sound mix and visuals on this disc are outstanding as we have come to expect from Dream Theater, crisp and clear at all times. This album and DVD is absolutely something that needs to be in any music fan's library, so be sure to pick it up on November 27, 2020, via Inside Out Records. Make this your FIRST stop this Black Friday if you haven't already preordered your copy.