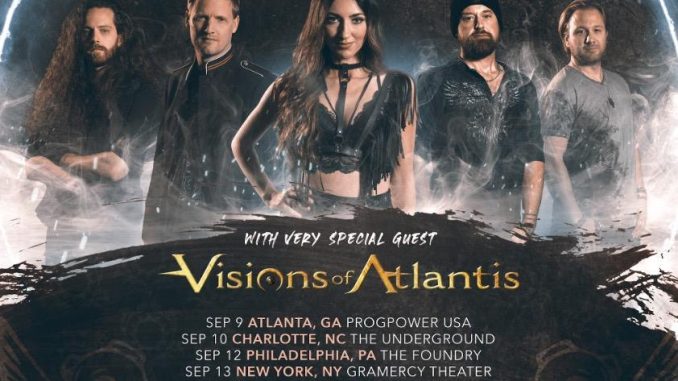 Featuring Support from Symphonic Pirate Metallers
VISIONS OF ATLANTIS
Beginning September 9, 2023
in Atlanta, GA at Prog Power USA
Tickets On Sale NOW!
Metal greats DELAIN recently released their highly-anticipated new studio album, 'Dark Waters', out now via Napalm Records! To celebrate their latest masterpiece, the band has just announced an exciting North American tour to take place this fall 2023. The tour will feature support from labelmates and fellow symphonic metal frontrunners VISIONS OF ATLANTIS, who will release their new live album, 'Pirates Over Wacken', on March 31, 2023.

Kicking off on September 9 in Atlanta, GA at Prog Power USA, the tour will visit several major cities across North America, ending in Los Angeles, CA on September 24. Tickets are on sale now – make sure to get yours soon before this hot ticket sells out!

DELAIN's Martijn Westerholt says:

"We can't wait to be able to perform again in the United States and Canada. After North American tours with Nightwish, Sabaton, Hammerfall, and Amorphis, we are immensely looking forward to be back with our new album 'Dark Waters'. We will perform both golden oldies, and new songs on our upcoming tour."

Clémentine Delauney of VISIONS OF ATLANTIS adds:

"We are delighted to reach more places in North America thanks to our friends from DELAIN. We had a wonderful time in February and we cannot wait to welcome more Sailors from overseas on board! So enroll now and bring your friends along."
DELAIN w/ support from VISIONS OF ATLANTIS:
9/9 – Atlanta, GA @ PROG POWER USA
9/10 – Charlotte, NC @ The Underground
9/12 – Philadelphia, PA @ The Foundry
9/13 – New York, NY @ Gramercy Theater
9/14 – Worcester, MA @ Palladium (Upstairs)
9/15 – Montreal, QC @ Foufounes
9/16 – Toronto, ON @ Velvet Underground
9/18 – Chicago, IL @ Bottom Lounge
9/20 – Denver, CO @ Bluebird
9/21 – Salt Lake City, UT @ Metro
9/23 – Mesa, AZ @ Nile Theater
9/24 – Los Angeles, CA @ 1720
DELAIN broke new ground with the announcement of their new studio album, 'Dark Waters', which was released in February 2023 and debuted at #9 on both the US Hard Music Albums chart and the Official German Album Charts.

DELAIN have been sharing their signature catchy melodic sound worldwide for over two decades now! Enchanting fans with their most famous hits like "We Are the Others" or "April Rain", the rockers gained millions of Spotify streams and video views. With six albums already under their belt, DELAIN charted multiple times with well-known records like 'April Rain' and 'Moonbathers'.

The band traveled around the globe with acts like Sabaton, Nightwish and Within Temptation, topped by various shows at the biggest European festivals like Wacken, Graspop, Download and many more. Without any doubt, DELAIN have carved their name in the scene and are ready to start this exciting next voyage.

DELAIN are:

Martijn Westerholt – keyboards

Diana Leah – vocals

Ronald Landa – guitars and backing vocals

Ludovico Cioffi – bass and backing vocals

Sander Zoer – drums
| | |
| --- | --- |
| Watch "Queen of Shadow" HERE | Watch "Moth To A Flame" HERE |
2023 is going to be a huge year for VISIONS OF ATLANTIS! As they excited fans with their recent release Pirates, the symphonic metal icons are now doubling down on the special experiences.

Along with an extensive tour throughout the USA and Europe last year, the symphonic metal visionaries captured the new era of VISIONS OF ATLANTIS as pirates for the fans at the legendary Wacken Open Air in summer 2022 – now available as their third live release, Pirates Over Wacken, out March 31! Free as the seven untamed seas, the symphonic metal outfit unleashed their rebellious side with Pirates and delivered their most confident and honest record so far.

During their voyage, they played an extensive tour in the USA supporting Dragonforce, and headlined in Europe, selling out several venues as well as multiple festival shows – making for the perfect time to capture their chart-storming album at Wacken Open Air in summer 2022.
VISIONS OF ATLANTIS are:
Clémentine Delauney – Vocals
Michele Guaitoli – Vocals
Dushi Duscha – Guitars
Herbert Glos – Bass
Thomas Caser – Drums
FOLLOW VISIONS OF ATLANTIS: