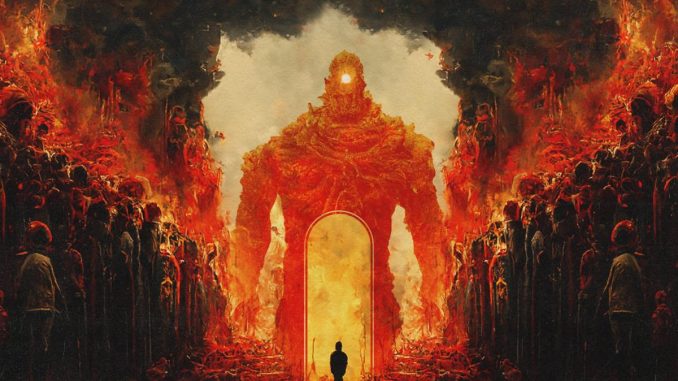 From Upcoming EP Can't Save Us All
Dropping August 25 on Shattered Earth Records
Texas metal band Born in Blood is excited to release their next single, "Inferno" off of the upcoming EP, Can't Save Us All. "Inferno" delves into the aftermath of crawling out of the depths of your self-inflicted misery. The next stage of accepting failure and despair is your own "Inferno," trapped deep beneath the dark soil that becomes a welcoming embrace. "Welcome to my inferno" comments drummer, Stephen Bonilla, "'Inferno' is an excellent single for the upcoming EP. It starts to bridge the gap from the last album, Misery, and the new one, Can't Save Us All. 'Inferno' is unrelenting and filled with the rage of the current situation you're in. A perfect synopsis of our time when we were writing it during the pandemic."

Metal Injection writes, "Born In Blood is now streaming their mosh-worthy new single 'Inferno'

off the coming EP Can't Save Us All. And really, if this bit around 2:50 doesn't get the crowd moving, then either everyone's actually glued to the floor or they're dead."

Watch "Inferno" at Metal Injection here:

https://metalinjection.net/video/born-in-blood-throws-down-with-new-single-inferno
Video by Seth Small of Havran.Digital
The music and lyrics for Can't Save Us All were written by Anthony Rendon, Royce Vick, Stephen Bonilla, Talmage Crumholt IV and Dave Chavarri and recorded by Russell Hollar, at Nomad Recording Studio. The EP was mixed and mastered by Lanc Prenc of Prenc Audio.
Stream, download, pre-save & pre-order/purchase here:
"Inferno" Single: https://distrokid.com/hyperfollow/borninblood/inferno
Can't Save Us All EP: https://distrokid.com/hyperfollow/borninblood/cant-save-us-all-ep
About BORN IN BLOOD:
Born in Blood is a brutal amalgam of dissonance and melody. The band performs fast and heavy music filled with intricate guitar riffs, punchy bass lines, and driving double bass. Born in Blood are a 4-piece American Metal band from Fort Worth, Texas. Stephen Bonilla, Drummer, and Anthony Rendon, Guitarist, met at a warehouse and quickly bonded over their love of music. The two decided to meet at a jam space and work on some music for fun. That night they wrote 2 full songs and immediately noticed the musical chemistry. Talmage Crumholt IV, Vocalist, was brought in by Stephen, since they were in a band together, and added lyrics to the songs the same night. The three formed a band and started the search for a bass player. After working with a few bass players, the three brought Royce Vick, Bassist, to come join. With the band at its strongest, Born in Blood began working on making a name for themselves by donning blood and putting on energetic shows best described as "controlled chaos". Born in Blood has worked with Ill Niño, King 810, Incite, and have opened for multiple touring bands including Soulfly, Sepultura, Mushroomhead, Terror Universal, and more.
photo by David Parada
BORN IN BLOOD is:
Talmage Crumholt IV – Vocals
Stephen Bonilla – Drums
Royce Vick – Bass
Anthony Rendon – Guitar