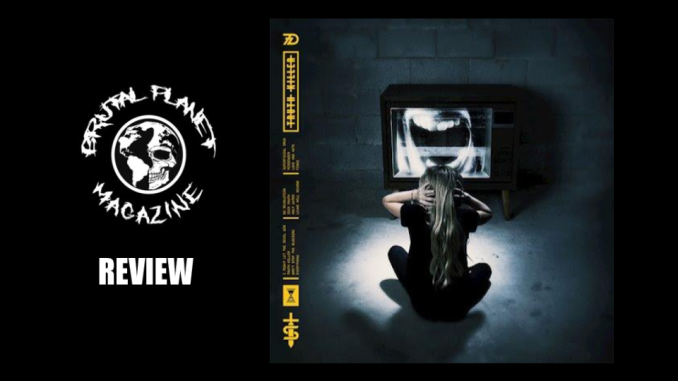 I purchased the self-titled debut album by Sevendust in 1997 and remember being blown away by the opening riff of "Black." Their second album, "Home" is one of my all-time favorite albums and the "Animosity" album was a perfect soundtrack to my last years in high school. The band has yet to put out an album that disappointed me and I would argue that they are one of the most underrated bands ever. They have continued to mature both lyrically and musically and their fourteenth album, "Truth Killer," reflects that growth. The album will be released on July 28th through Napalm Records.
"Truth Killer" opens with the thought-provoking track, "I Might Let the Devil Win." For the last decade, every Sevendust album has started with hard-hitting songs like "Dying to Live," "Dirty" and "Thank You" but "I Might Let the Devil Win" starts slow and eerily beautiful. The tension builds both musically and lyrically to the very end. The title track, "Truth Killer" features that classic Sevendust sound and Lajon Witherspoon's distinct vocals. One thing I love about Sevendust is their perpetual energy- something that you can experience in both their records and their live shows. These guys never slow down and their vitality to survive and thrive after nearly three decades is admirable.

The band released three songs prior to this album's release. The first official single, "Everything," came out on May 11 and the official music video has over half a million views on YouTube. It's a great single and I'd encourage you to check out the video if you haven't already. The band also released two promotional singles so far, "Fence" and "Holy Water." The former is a fast-paced banger– the staccato riffs combined with Lajon's aggressive vocal delivery bring me back to the early Sevendust days. The latter-mentioned song, "Holy Water" is still heavy, but not quite as aggressive. It features a catchy chorus you'll be singing along to in no time. 
The album's production is top-notch, allowing each instrument to shine. John Connolly and Clint Lowery's guitar work is exceptional, as usual, effortlessly blending heavy riffs with melodic hooks. I particularly love the complicated rhythms and time changes in "No Revolution" and "Love and Hate. The soaring choruses of the driving ballad, "Messenger" give the album a good dynamic, and with its repetitive "No prayer for the guilty" before a heavy breakdown, "Sick Mouth" is another song that is sure to please.
All in all, this album isn't a big step from the last several albums, but to be honest, at this point in the band's career, I'm not sure I would want them to veer away from the "norm." Unlike most of their peers, the Atlanta-based band has been surprisingly consistent in their lineup, touring schedule, and incredible music. I love having a band I can always count on to deliver the absolute best.
It's been an honor for me to have been a fan of the band since their first album until now. Sevendust's discography spans 25 years and it's no lie saying the band's work has influenced countless musicians. This latest release, truthfully, is "killer." Whether you're an old-school fan like me or a younger fan of the genre, this is one album you won't want to miss.