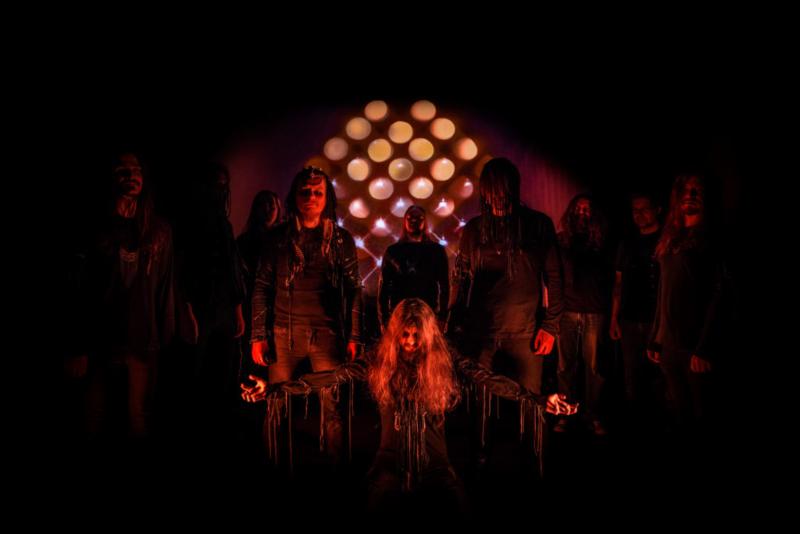 WASTE OF SPACE ORCHESTRA Unveils "Seeker's Reflection" Video; Syntheosis Full-Length To See Release This April Via Svart Records
[Photo by Maija Lahtinen]
View / Share
WASTE OF SPACE ORCHESTRA's
The mention of either cosmic black metal alchemists Oranssi Pazuzu or ritualist doom metal conjurors Dark Buddha Rising – as separate entities – is enough to get excited at the mention of new music, so when their forces combine into WASTE OF SPACE ORCHESTRA, we know all too well what kind of a treat we're in for.
This distinctive "X factor" is exactly why they were prime candidates to be the first to grip the baton for Roadburn's commissioned pieces series which started in 2018. The ensemble toiled away in secret, in Finland, for months; what would eventually manifest as WASTE OF SPACE ORCHESTRA was shrouded in mystery. When this particular behemoth lumbered into view on the 013 MainStage that year, it was truly breathtaking. For seventy magical minutes an audience was enraptured by what unfolded. A mere two hours into the festival, and with jaws eventually scraped off the floor, many heralded it the set of the weekend – a claim that plenty stood by four days later. The psychedelic darkness divined during this particular set resonated long after the festival detritus was swept away and the Tilburg streets were empty once again.
Luckily, plans were afoot to commit this unholy, progressive maelstrom to tape; Syntheosis will be released on April 5th via Svart Records. Syntheosis is not a live recording but a carefully prepared studio interpretation on which the ten musicians worked over the spring and summer of 2018. The offering was recorded and mixed by Julius Mauranen, who also worked on Oranssi Pazuzu's Värähtelijä. The album can be digested as a challenging, engaging psych metal record or as a dimension-spanning, one-hour performance consisting of nine parts. The work recounts a story of three beings and their deep search for knowledge:
The Shaman (Vesa Ajomo) is seeing oppressing visions from the bleak future of mankind.
The Seeker (Juho Vanhanen) is searching for the truth from unknown dimensions with secret methods.
The Possessor (Marko Neuman) corrupts the other individuals, manipulating them into his own sinister plan.
In advance of its release, WASTE OF SPACE ORCHESTRA has unveiled the official visual accompaniment to "Seeker's Reflection." The clip was shot, directed, and edited by Kalle-Erik Kosonen. Offers Ajamo, "After seeing through the Shaman's eyes, The Seeker begins his journey from altered states of reality. The Syntheosis is like a black hole; once The Seeker is within the gravitational pull, there is no return."
View
WASTE OF SPACE ORCHESTRA's
"
Seeker's Reflection" video at THIS LOCATION.
WASTE OF SPACE ORCHESTRA:
Vesa Ajomo – voice of the shaman, guitar
Toni Hietamäki – bass guitar
Niko Lehdontie – guitar, effects
Ville Leppilahti – keyboards, effects
Marko Neuman – voice of the possessor
Jukka Rämänen – drums
Petri Rämänen – deep bass guitar
Jussi Saarivuori – electronics
Jarkko Salo – drums
Juho Vanhanen – voice of the seeker, guitar