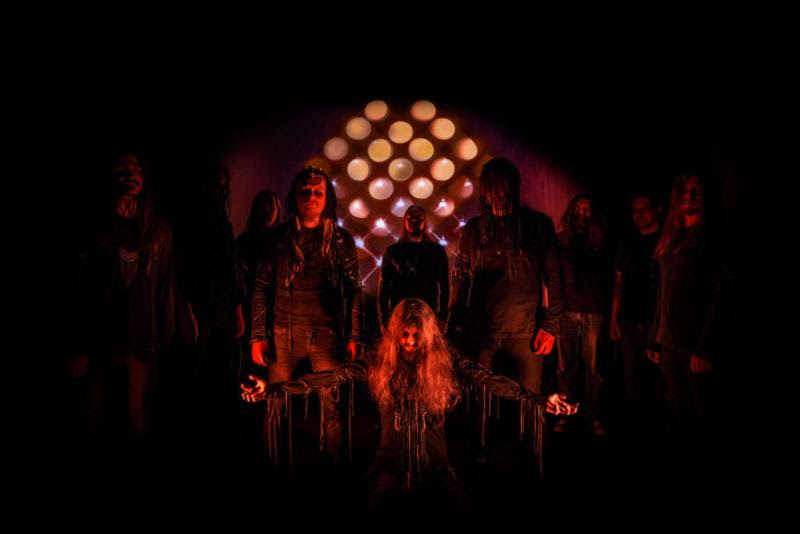 WASTE OF SPACE ORCHESTRA: Decibel Magazine Debuts "Wake Up The Possessor" Video From Musical Union Between Oranssi Pazuzu And Dark Buddha Rising; Syntheosis Full-Length Nears Release Via Svart Records
[Photo by M. Lahtinen]
"'Wake Up The Possessor' introduces the one who seduces senses and corrupts minds. Dismantle your psyche and let the poison run freely through your whole existence."  
— WASTE OF SPACE ORCHESTRA
View / Share WASTE OF SPACE ORCHESTRA's "Wake Up The Possessor" Video At THIS LOCATION
Syntheosis is the anticipated full-length debut from WASTE OF SPACE ORCHESTRA, the enigmatic ensemble featuring a collision of sonic forces between cosmic black metal alchemists Oranssi Pazuzu and ritualist doom metal conjurors Dark Buddha Rising.
The record began as a commissioned piece prepared for the 2018 edition of Roadburn and when this particular behemoth lumbered into view on the 013 MainStage of the fest that year, the outcome was truly breathtaking. For seventy magical minutes an audience was enraptured by what unfolded and the psychedelic darkness divined during this particular set resonated long after the festival detritus was swept away. Syntheosis the album is not a live recording but a carefully prepared studio interpretation on which the ten musicians worked over the spring and summer of 2018. The offering was recorded and mixed by Julius Mauranen, who also worked on Oranssi Pazuzu's Värähtelijä and can be digested as a challenging, engaging psych metal record or as a dimension-spanning, one-hour performance consisting of nine parts. The disquieting and alluring work recounts a story of three beings and their deep search for knowledge:
– The Shaman is seeing oppressing visions from the bleak future of mankind.
– The Seeker is searching for the truth from unknown dimensions with secret methods.
– The Possessor corrupts the other individuals, manipulating them into his own sinister plan.
In advance of the release of Syntheosis, Decibel is pleased to debut the official video for "Wake Up The Possessor." Issues the band, "'Wake Up The Possessor' introduces the one who seduces senses and corrupts minds. Dismantle your psyche and let the poison run freely through your whole existence."
Adds Decibel, "The dreamy, progressive black metal is enhanced with a psychedelic video that uses abstract patterns and bright colors to set the tone."
View WASTE OF SPACE ORCHESTRA's "Wake Up The Possessor," shot, directed, and edited by Kalle-Erik Kosonen, via Decibel Magazine at THIS LOCATION.
View WASTE OF SPACE ORCHESTRA's previously-released "Seeker's Reflection" video at THIS LOCATION.
WASTE OF SPACE ORCHESTRA:
Vesa Ajomo – voice of the shaman, guitar
Toni Hietamäki – bass guitar
Niko Lehdontie – guitar, effects
Ville Leppilahti – keyboards, effects
Marko Neuman – voice of the possessor
Jukka Rämänen – drums
Petri Rämänen – deep bass guitar
Jussi Saarivuori – electronics
Jarkko Salo – drums
Juho Vanhanen – voice of the seeker, guitar