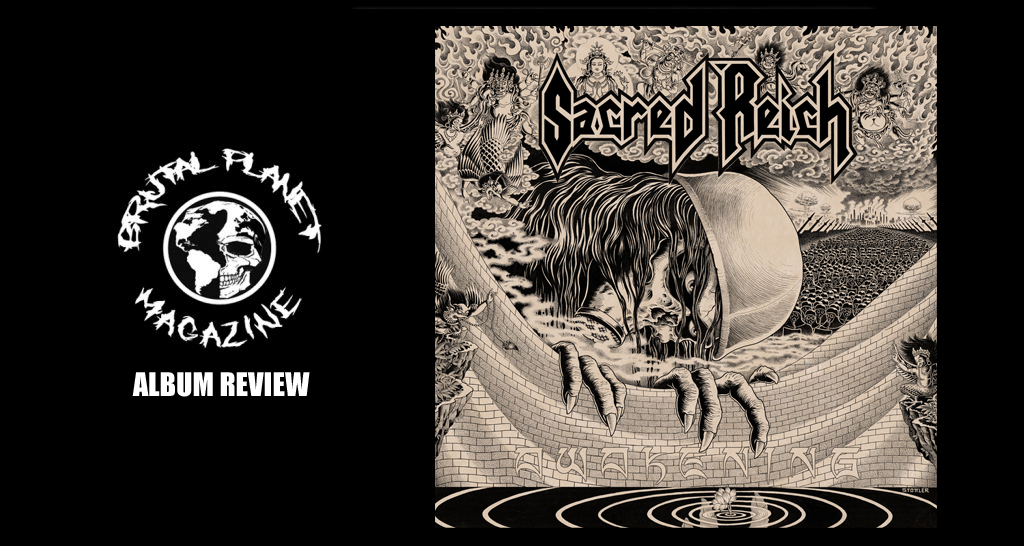 I may be dating myself but I specifically remember running out to the record store to buy Sacred Reich's album "Indepdendent." It was on cd and it was when they still had long boxes. That album was a great thrash record from the opening note to the end and that's what the Reich are great at doing. Crafting solid, foundational – classic thrash metal songs and records.
With their latest record "Awakening" out today (8/23/2019) on Metal Blade records they continue in this tradition. Bringing their fans exactly what they would expect – great classic thrash metal.
Formed in 1985, Sacred Reich were an integral part of the 80s and 90s thrash movement. The band released four albums before splitting in 2000. In 2018 that they began to work on new material.
"Over the last year, we wrote and demoed the songs for the new record. Our drummer Dave (McClain, ex-Machine Head) was still on tour with his old band so our buddy Tim Radziwill played drums on the demos along with his son, Joey, and they recorded it all at their studio. We wouldn't be here today without their help, they helped get down the basic framework of the songs. They rule, and the whole process of recording was so positive, cool and fun." Being very much aware of how their approach to the record affected the outcome definitely played into the finished product. "Leading up to it, we talked about the fact that you can't separate the process from the result. Everything you do, how you do it, your attitude while you do it, all comes out in the end. So we tried to do things the right way – and by the right way, I mean, being open to what came." says founding member – vocalist / bassist Phil Rind. "We wanted everything to happen naturally. We didn't want to force anything and we are super stoked with every song. It is easily the best thing we have ever done."
The first four tracks are your typical classic thrash-metal ragers – Awakening, Divide & Conquer, Salvation and Manifest Reality are exactly the type of songs fans would expect from Sacred Reich.
Once you get to track 5 Killing Machine though, things take a bit of a turn. This is a fantastic song that fits well with the classical thrash sound of the band but also has a bit more of a memorable hook. The song also just grinds really hard. Kudos to the band for branching out like this without sounding contrived or like they're trying to write for the radio.
Death Valley has a bit of the southern desert swagger you'd expect of a band that calls Phoenix, Arizona their home. Country thrash? Maybe the band just invented a new genre. Whatever the case, the cowbell is strong and the bluesy, country breakdowns give this song the feel of drinking whiskey at a desert saloon.
Revolution sounds like a punk song. Fast, blunt, heavy – quick and to the point. It's a great contrast to the bluesy country tone of the previous track. This type of diversity in songwriting is what has always set Sacred Reich apart from their peers. Songs like "31 Flavors" from the American Way record just come out of left field and let you know that these guys are serious musicians… not exclusively metal dudes.
Something to Believe rounds out the album perfectly diving headfirst back into the classic thrash sound that made the band famous. It also has a positive message and ends the record on a positive note.
All in all, fans of Sacred Reich are going to be very happy with this new release. It fits well into their discography… and hopefully the band will also grab some new fans in the process. If you're into classic thrash ala Metallica, Megadeth, Testament, Exodus, etc. Get out and pick up Awakening by Sacred Reich immediately… or open Spotify or Apple Music and stream it.
You know the deal.