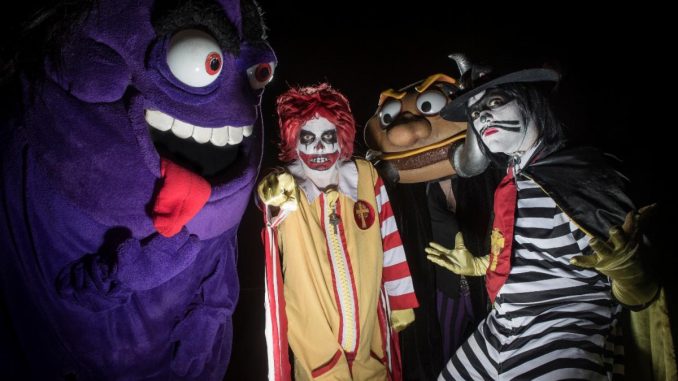 Photo: Jeremy Saffer
11/5 – Los Angeles, CA – MAC SABBATH -Teragram Ballroom
1234 West 7th Street – Doors 8 p.m. – Tickets: $20
w/special guests Hammered Satin
After being shut down by the Health Department for 18 months, MAC SABBATH will return to the stage November 5th at Teragram Ballroom in Los Angeles to bring fans a heaping helping of unhealthy – but irresistible – Drive Thru Metal, one of only two appearances in 2021.
MAC SABBATH issued the following statement regarding the postponement of their scheduled 2021 nationwide tour, "Due to global circumstances beyond our control, we regret to inform you: this year's POP-UP-DRIVE-THRU tour will be postponed. The instability zone is in full effect. An error has been created in the time space continuum and the gang has already leaped to 2022. We hope you can join them soon where everyone can achieve safety, happiness and hunger quenching satisfaction. Please hold onto your tickets while we recalibrate the tour over the next couple of weeks. If there are any changes or info specific to your city, the ticket provider will make contact with you once things are in place. 2022 dates to be announced soon. More will be added all the time as we play ketchup."
MAC SABBATH also recently revealed details on their first book, Drive Thru Metal, an innovative hybrid pop-up book that takes fans on a journey through a dystopian fast-food world polluted by its own waste. Available via Poposition Press, Drive Thru Metal features illustrations by Gris Grimly, well-known for his darkly whimsical children's books and the upcoming Netflix film adaptation of his Pinocchio book, and will be available in Regular and Special Editions. Both editions will be available in limited quantities, so be sure to order of this piece of Drive Thru Metal history! Details at
https://macsabbath.bigcartel.com/
.
Both editions of Drive Thru Metal include pop-up scenes highlighting "The Factory," "The Ascension" and "Utopia" and include a special vinyl surprise with seven MAC SABBATH musical stories, including "Organic Funeral," Sweet Beef" and "N.I.B.B.L.E." The Special Edition is a super limited version complete with a foil stamped cover, a Gris Grimly art print and ketchup and mustard splattered vinyl surprise.
About MAC SABBATH:
Mixing raucous comedy with borderline-horrific theatrics, the only thing more petrifying than impending health problems resulting from years of overeating is a MAC SABBATH show.
MAC SABBATH puts on a theatrical, multimedia stage performance – complete with a smoking grill, laser-eyed clowns, bouncing burgers and many more magical surprises…basically anything and everything an unwary show-goer could ever want in their wildest dreams.
The band has been named by
Buzzfeed
as one of the "13 Metal Bands You Didn't Know How to React To" and as LA's "Best Tribute Band" by
LA Weekly
.
MAC SABBATH online:
Tumblr: macsabbath
TikTok: @macsabbath