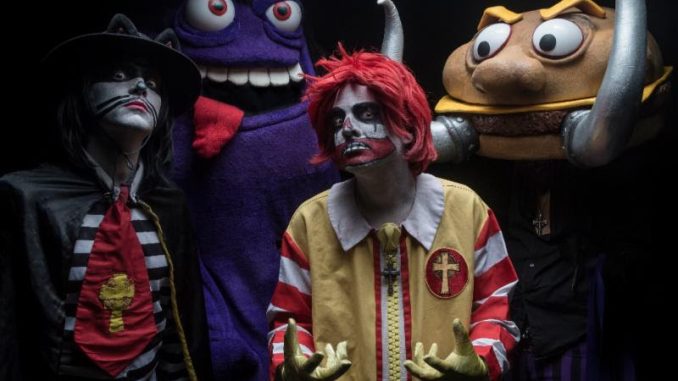 Drive-Thru Metal Pop-Up Book Featuring Illustrations by Gris Grimly
Available in Limited Quantities
Debut Full Length Album Out Now!
*10/22/22 The Vault Music Hall & Pub – New Bedford Show Cancelled. Club Closed.
7 Song Vinyl Debut Full Length Album Out Now!
Available at http://www.macsabbath.bigcartel.com
&
https://www.officialmacsabbath.com
"The waiting is over! I mean When it comes to "drive-thru metal", who needs waiters!?! With our debut album release we are about to "pop-up" all over the states for the first time in years! So head over for a triple decker helping of the cheese you need! on sale now!" – Ronald Osbourne
MAC SABBATH will return to the road this Fall to bring America another heaping helping of unhealthy – but irresistible – Drive-Thru Metal on the 2022 Pop-Up-Drive-Thru Tour, featuring special guests Speedealer, southern rock heavier and faster then anything this side of Motorhead and shoulders, and Lung, the electric cello and drums female duo, kicking off one heck of a party feast for the senses! A food fight to the death!
"MAC SABBATH will be popping up all over the States – just like in our debut release," says the band's perplexing clown faced frontman Ronald Osbourne. "Confusing the USA one more time!"
MAC SABBATH on tour:
09/27/22 Great American Music Hall – San Francisco, CA – with Speedealer and Lung – All Ages
09/28/22 Goldfield Trading – Sacramento, CA – with Speedealer and Lung – 21+
09/30/22 Dante's – Portland, OR – with Speedealer and Lung – 21+
10/01/22 El Corazón – Seattle, WA – with Speedealer and Lung – 21+
10/04/22 Urban Lounge – Salt Lake City, UT – with Speedealer and Lung – 21+
10/06/22 WAVE – Wichita, KS – with Speedealer and Lung – All Ages
10/07/22 Knuckleheads – Kansas City, MO – with Speedealer and Lung – 21+
10/08/22 Wooly's – Des Moines, IA – with Speedealer and Lung – 21+
10/09/22 Fine Line – Minneapolis, MN – with Speedealer and Lung – 21+
10/11/22 Shank Hall – Milwaukee, WI – with Speedealer and Lung – 21+
10/12/22 Afterlife Music Hall – Lombard, IL – with Speedealer and Lung – 21+
10/13/22 Red Flag St. – Louis, MO – with Speedealer and Lung – 21+
10/14/22 Elevation – Grand Rapids, MI – with Speedealer and Lung – All Ages
10/15/22 Magic Bag – Ferndale, MI – with Speedealer and Lung – 18+
10/18/22 HI-FI Indy & HI-FI Annex – Indianapolis, IN – with Speedealer and Lung – 21+
10/19/22 Beachland Ballroom – Cleveland, OH – with Speedealer and Lung – All Ages
10/20/22 The Crafthouse Stage & Grill – Pittsburgh, PA – with Speedealer and Lung – 21+
10/21/22 Brooklyn Bowl – Brooklyn, NY – with Speedealer and Lung – 21+
10/23/22 Wall Street Theater – Norwalk, CT – with Speedealer and Lung – 21+
10/26/22 The Foundry – Philadelphia, PA – with Speedealer and Lung – All Ages
10/27/22 Black Cat – Washington, DC – with Speedealer and Lung – All Ages
10/28/22 Harrisburg Midtown Arts Center – Harrisburg, PA – with Speedealer and Lung – All Ages
10/29/22 The Underground – Charlotte, NC – with Speedealer and Lung -All Ages
10/31/22 The Grey Eagle Asheville, NC – with Speedealer and Lung – All Ages
11/01/22 EXIT/IN – Nashville, TN – with Speedealer and Lung – 18+
11/03/22 The Charleston Pour House – Charleston, SC – with Speedealer and Lung – 21+
11/04/22 42nd Street Tavern/Reggies – Wilmington, NC – with Speedealer and Lung – 21+
11/05/22 Jack Rabbits Live – Jacksonville, FL – with Speedealer and Lung – All Ages
11/06/22 Tuffy's Bottle Shop/Lounge/Music Box – Sanford, FL with Speedealer and Lung – 21+
11/08/22 Lafayette's Music Room – Memphis, TN – with Speedealer and Lung – 21+
11/09/22 Chelsea's Cafe – Baton Rouge, LA – with Speedealer and Lung – 18+
11/10/22 Zony Mash Beer Project – New Orleans, LA – with Speedealer and Lung – 21+
11/11/22 Come and Take It Live Austin, TX – with Speedealer and Lung – All Ages
11/12/22 Trees – Dallas, TX – with Speedealer and Lung – 21+
11/14/22 Paper Tiger – San Antonio, TX – with Speedealer and Lung – 21+
11/15/22 RockHouse Bar & Grill – El Paso, TX – with Speedealer and Lung – All Ages
11/16/22 Meow Wolf – Santa Fe, NM – with Lung – 21+
11/18/22 Marquis Theater – Denver, CO – with Speedealer and Lung – All Ages
11/19/22 Mesa Theater – Grand Junction, CO – with Speedealer and Lung – All Ages
12/16/22 Vinnie's Bar & Grill with TBA – Concord, CA – 21+
12/17/22 The Catalyst with TBA – Santa Cruz, CA 16+
MAC SABBATH has revealed details on their first book, Drive-Thru Metal, but don't expect a stereotypical biography from the fast food-themed parody kings. There's plenty of "juice" inside, albeit in the form of burgers cooking in the kitchen as the four members of MAC SABBATH take fans on a journey through a dystopian fast-food world polluted by its own waste in an innovative hybrid pop-up book.

Mysterious MAC SABBATH frontman Ronald Osbourne comments on the book, "What's that? A pop-up book is not what you were expecting? Well SUFFER! ….and you're welcome."

Available via Poposition Press, Drive-Thru Metal features illustrations by Gris Grimly, well-known for his darkly whimsical children's books and the upcoming Netflix film adaptation of his Pinocchio book, and will be available in Regular and Special Editions. Both editions are available in limited quantities,

so be sure to get your copy of this piece of "Drive Thru Metal" history!

Both editions of Drive-Thru Metal include pop-up scenes highlighting "The Factory," "The Ascension" and "Utopia" and include a special vinyl surprise with seven MAC SABBATH stories, including "Organic Funeral," Sweet Beef" and "N.I.B.B.L.E." The Special Edition is a super limited version complete with a foil stamped cover, a Gris Grimly art print and ketchup and mustard splattered vinyl surprise.

Drive-Thru Metal is available at https://macsabbath.bigcartel.com/
About MAC SABBATH:

Based out of Los Angeles, CA but born from the bowels of Outer Space,

Mac Sabbath is here, and it is time for a dinner rock revolution.

Vocals / Ronald Osbourne

Guitar / Slayer MacCheeze

Bass / Grimalice

Drums / the Catburglar
Mixing raucous comedy with borderline-horrific theatrics, the only thing more petrifying than impending health problems resulting from years of overeating is a MAC SABBATH show. MAC SABBATH puts on a theatrical, multimedia stage show – complete with a smoking grill, laser-eyed clowns, bouncing burgers and many more magical surprises… basically anything and everything an unwary show-goer could ever want in their wildest dreams. The band has been named by Buzzfeed as one of the "13 Metal Bands You Didn't Know How to React To", and as LA's "Best Tribute Band" by LA Weekly.

MAC SABBATH online:

https://twitter.com/macsabbath

www.instagram.com/officialmacsabbath

Tumblr: macsabbath

TikTok: @macsabbath