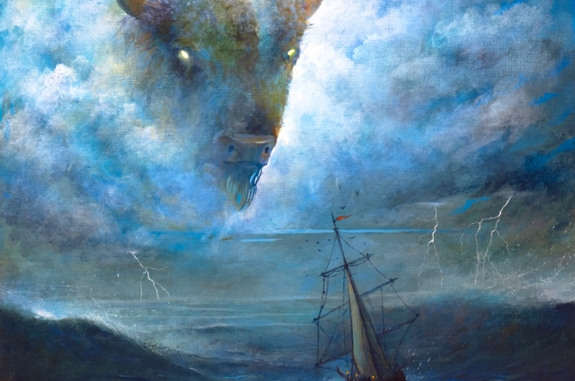 "WHITE BUFFALO" RELEASED TODAY WITH INSPIRING VIDEO AND PARCELED WITH 13-MINUTE MULTI-COMPOSITION, "THE ORACLE"

TORONTO SHOW ANNOUNCED FOR DECEMBER 1, 2021 AT THE AXIS CLUB

(FORMALLY THE MOD CLUB) TICKETS ON SALE

HERE

LISTEN TO "WHITE BUFFALO" & "THE ORACLE"

HERE

WATCH THE VIDEO FOR "WHITE BUFFALO"

HERE
"The first thing you notice when you listen to Crown Lands is the technical mastery the music demands. Comeau's guitar is wailing, unrelenting and mathematically complex. Bowles' voice howls their politically charged lyrics at a register reminiscent of the glory days of rock and roll." – Next Magazine
"Fusing the bite of The White Stripes with the brains of Rush, exploring social issues such as the plight of Canada's Indigenous people, and dressing like shamanic moonchildren on a mescaline trip, they could be rock'n'roll's next royalty." – Classic Rock
08 JULY 2021 (TORONTO, ON) – Juno Award-winning, powerhouse rock duo Crown Lands – Cody Bowles (vocals and drums) and Kevin Comeau (guitar, bass, and keys) – share two new tracks, "White Buffalo" and "The Oracle" today through Spinefarm Records/Universal Music Canada, the country's leading music company. Both tracks were recorded with three-time Grammy Award-winning, Toronto producer David Bottrill (Tool, Mastodon, Rush, Peter Gabriel).
"White Buffalo" arrives as a symbol of aspiration, in recognition of the resilience and strength of Indigenous communities to overcome injustice while manifesting a prosperous future. The big guitars, stomping baseline and pummeling drums barrel forward as if to conjure the movement of a giant buffalo.
Crown Lands were introduced to Grammy Award-winning producer David Bottrill after he produced the vocals for the band's last release, "Context: Fearless Pt. 1." Comeau recalls, "The riff for 'White Buffalo' came to me during the Context / Right Way Back session with Nick Raskulinecz back in February 2020. It felt addicting and special then. It was originally written in 13/8 and the chorus was in 7. It kept popping its head up in jam sessions, but we weren't sure how to make the chorus work. Enter David Bottrill." On working with the esteemed producer, Comeau continues, "Dave is one of the most meticulous and detail-oriented people we've worked with. His precision helped make these songs exactly what they needed to be."
ABOUT CROWN LANDS
Crown Lands' self-titled debut album, produced by Grammy-nominated Dave Cobb, was released in the summer of 2020, to widespread acclaim from the likes of Guitar World, Kerrang!, and American Songwriter; coverage from the BBC and the CBC. Crown Lands then stormed into 2021 with two songs, "Context: Fearless Pt. 1" and "Right Way Back," that returned them to their prog-rock roots and pointed the way to a limitless future, while also connecting the group to their legendary countrymen Rush after working with three prolific Rush producers – Terry Brown, Nick Raskulinecz and David David Bottrill – on the tracks. "Context: Fearless Pt. 1" and "Right Way Back" premiered with Rolling Stone and were named "Rockest Record of the Week" on BBC Radio 1. Most recently, Crown Lands received their first Juno Awards nominations, for Rock Album of the Year and taking home the award for Breakthrough Group of the Year. The band also signed a deal with Spinefarm Records, which will be working with Universal Music Canada to support their upcoming releases in the U.S. and U.K.
Hailing from Southwestern Ontario, powerhouse Canadian rock duo Crown Lands are a startling fresh jolt of energy, making music that brings together a range of influences from folk and blues to psychedelic prog rock. The group's name is indicative of their musical ambitions: "Crown Land" is territorial area belonging to the monarch—or, as Bowles (whose own heritage is half Mi'kmaw, an Indigenous tribe from Nova Scotia) puts it: "Crown Land is stolen land and we are reclaiming it."