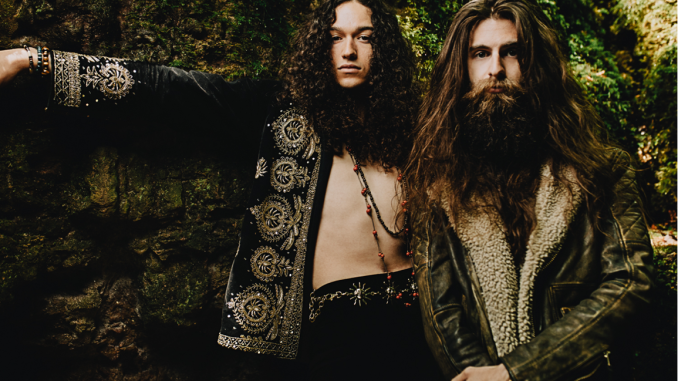 Release BBC Live Session Recorded at
Legendary Maida Vale Studio
Listen HERE
Cross-Canada Tour Dates with July Talk Close Out in April
"Punk spirit in a luxury prog package."
– Classic Rock
"They have the chops, the pipes and, perhaps most importantly, the ambition, heralding the arrival of their second album with an 18-minute single"
– Guitar World
"The group are at the forefront of a classic rock revival."
– Loudwire
"In a sphere dominated by a pantheon of aging legacy acts, CROWN LANDS show that there is still unoccupied space in the modern progressive landscape for this style of classic prog music."
– Everything Is Noise
March 31, 2023 (TORONTO, ON) – Following a stream of long, conceptual single releases, today Juno Award-winning, powerhouse rock duo CROWN LANDS – Cody Bowles (vocals and drums) and Kevin Comeau (guitar, bass, and keys)—proudly release their modern-day progressive opus, 'Fearless', their sophomore album, through Spinefarm Records/Universal Music Canada, the country's leading music company.

'Fearless' is available across all streaming platforms and on vinyl, presented as a 2 LP in standard black and deluxe colour variant both accented with a zoetrope design.
'Fearless' Track List:
1. Starlifter: Fearless Pt. II
2. Dreamer Of The Dawn
3. The Shadow
6. Reflections
7. Penny
8. Lady Of The Lake
9. Citadel
The nine-track album follows CROWN LANDS' self-titled debut (2020). It was recorded in 80A Studio at Universal Studio in Toronto with producer David Bottrill (Rush, Muse, Tool, Mastodon) and came together over a six-month period in short, intense bursts between tours. Where the debut record showcased CROWN LANDS' aptitude for raw blues rock, 'Fearless' embraces more of the band's earliest passions in prog-rock. The album is an unapologetically rich, ambitious work yet easily accessible, plus fans will notice some previously released tracks "Context: Fearless Pt. I" and "Right Way Back" that act as familiar touchpoints framing in the new soundscape.

CROWN LANDS describe, "'Fearless' is the culmination of all our years as a band. Everything we have worked on as writers and players is on full display here. I think we were both able to do what we wanted to do as artists for so long." Rather than clobber its audience with complexity, 'Fearless' creates a world you want to spend time in."

Bowles anticipates, "I hope that our playing on this record inspires people to kind of take up playing in that way. It's something that's not so common now, but when you get into it, it's just so beautiful."

'Fearless' is also a record of contrasts and dynamic textures. Nine tapestries of tone, where atmospheric swathes morph into strident guitars, dextrous polyrhythms and gnarly basslines – Bowles' strange, beautiful tenor soaring over the top like a bird over a mythological land. On the 18-minute lead single, "Starlifter: Fearless Pt. II", CROWN LANDS proclaim, "it is perhaps the most ambitious piece of music that we have written to this point. I suppose we intended it to be the centrepiece of this record." That first track throws down the gauntlet, capturing the whole 'Fearless' album experience.

"The rest of the album serves to continue the themes we explore on 'Starlifter: Fearless Pt. II'. It was an absolute pleasure to work with David Bottril. He is a true musical genius and a hell of a guy. We're so proud of this record. It's the best body of work we have assembled to date."

Elsewhere, "Reflections" turns the spotlight on CROWN LANDS themselves. Written mid-pandemic, it's a tender, stirring moment that finds Bowles and Comeau navigating a rocky period in their friendship – blending personal experience into the interstellar imagery that underpins the record.

Offering a ray of stripped-back sunlight, acoustic instrumental "Penny"– written years ago by Comeau, for his late grandmother – reflects the delicate atmospherics of John Butler (a huge influence on the guitarist).

"Citadel" offers velvety, piano-led closure, drawing 'Fearless' to an end in six gorgeously moody minutes. A folk-hearted ode to environmental defenders, it's a space where Pink Floyd meets Bob Dylan. "We wanted to flip the narrative and reinterpret the way people see people defending their land," Bowles explains. "Because they're depicted in the media as a thorn in people's sides, but they should be celebrated as heroes, because they're trying to save the last bit of land that is untouched and untainted by corporations."
Earlier this month, CROWN LANDS released their BBC Live Session, recorded last year at the legendary Maida Vale Studio with BBC Radio 1. The session includes live performances of three of the band's most notable tracks, "White Buffalo," "The Witching Hour (Electric Witch)" and "Context: Fearless Pt. I."

Listen to CROWN LANDS' BBC Live Session HERE

Watch the Recap HERE
CROWN LANDS continue to introduce themselves to the rest of the world through their high energy live shows. Last year, they joined Greta Van Fleet on the final leg of their "Dreams In Gold" world tour in the U.S..

CROWN LANDS close out a cross-Canada tour in April with fellow Canadian rock outfit, July Talk on "The Never Remember Tour."

See tour dates below, buy tickets on the band's website HERE
"The Never Remember Tour" 2023 w/ JULY TALK
April 1—Grey Eagle Resort and Casino—Calgary, AB (supporting July Talk)
April 4—Winspear Centre—Edmonton, AB (supporting July Talk)
April 6—Burton Cummings Theatre—Winnipeg, MB (supporting July Talk)
April 9—London Music Hall—London, ON (supporting July Talk)
April 10—National Arts Centre—Ottawa, ON (supporting July Talk)
April 11 – MTELUS – Montreal, QC (supporting July Talk)
ABOUT CROWN LANDS

CROWN LANDS are born storytellers. Advocates for the LGBTQ+ and indigenous communities. Counter-culturalists for the 21st century, informed by a cocktail of ancient voices, social injustice, science-fiction, and musical narrators from Rush to Paul Simon, Led Zeppelin to John Butler. Since meeting in 2015 at a band audition, singer/drummer Bowles (a reconnecting Mi'kmaq who identifies as Two Spirit) and guitarist/keyboardist Comeau have cultivated a diverse sonic and lyrical palette. Touchstones range from the mistreatment of Canada's indigenous population to Buddhist meditation master Chögyam Trungpa, the worlds of J.R.R. Tolkien and Dune author, Frank Herbert.

Originally, they got their foot in the door with raw blues rock, on their Juno-nominated, 2020 self-titled LP, working with Grammy nominated Dave Cobb. This paved the way for an introduction to three of CROWN LANDS' heroes: Terry Brown, Nick Raskulinecz, and David Bottrill – all prolific producers that worked with them on their breakthrough track "Context: Fearless Pt. 1," which premiered on Rolling Stone. After a steady stream of new music, the band's fresh approach and mission-driven catalogue garnered them the 2021 Juno Award for "Breakthrough Group of the Year."

CROWN LANDS ended 2022 with the release of their rendition of The Beatles' quintessential rally song, "Come Together," released in partnership with TSN as part of a campaign for the Canadian Men's National Team during FIFA WORLD CUP QATAR 2022,™ watch the commercial featuring the track HERE (track starts at 3:20).

With the latest installment of tour dates and their sophomore album, CROWN LANDS are ready to bring elegant, clever, progressive rock to the masses.