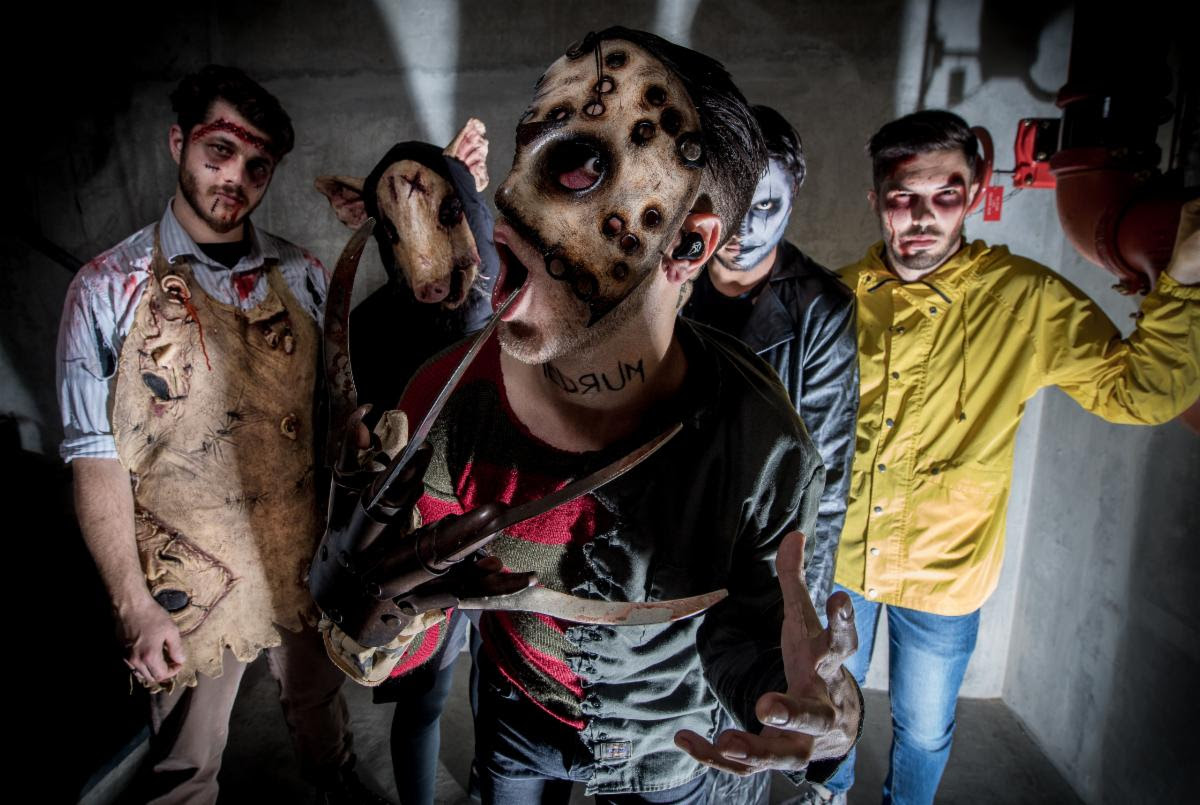 Wednesday, March 17th, 2020 – Horror themed theatricore outfit, ICE NINE KILLS have announced the release of a very special, limited edition T-Shirt today, a portion of proceeds from which will go towards organizations dedicated to helping musicians and their crews –
Sweet Relief
and
Music Cares-
after the Covid-19 virus has laid waste to the incomes of those working in the touring industry. Head to
ink-merch.com
to purchase.
Speaking on the special design and it's purpose, INK frontman and creative force, Spencer Charnas Says
" The world is a scary place right now for everyone. In our corner of the music industry we are seeing the touring personnel that work closely with INK and other bands like us, lose their entire income stream in a matter of days. But like a resilient young coed fighting back against a masked killer in a final act bloodbath, the music business isn't going out without a fight. Ice Nine Kills is proud to do its part, slashing back at the virus by partnering with two important charities — Sweet Relief and Music Cares — to release a special t-shirt which will generate income to send aid to those who need your help. A portion of the proceeds of this new, limited edition design will be donated to those charities and portion shall be used to support INK's own displaced tour crew. Let's mobilize the power of the amazing INK psychos to ensure the real carnage stays where it belongs – on The Silver Scream."
WATCH: Official Music Video For Savages
In a landscape littered with celebrity fakes and would-be influencers, ICE NINE KILLS stand apart. Visionary trailblazers and multimedia raconteurs, INK has steadily built a thrilling new underworld for a growing legion of devoted true believers, with theatrical shows, high-concept videos, and inventive band-to-fan communion.
ICE NINE KILLS summon the most captivating elements of metal, punk and hard rock and combine it with melody, cinematic obsession, and a literary fascination.
Loudwire hails them as "one of the most unique acts in metal right now," a declaration supported by the band's Billboard Hard Rock Albums chart topping slab, The Silver Scream.
The Silver Scream and the subsequent extended edition, The Silver Scream: Final Cut generated anthems for the disenfranchised and subculture obsessives, like The American Nightmare, A Grave Mistake and Savages and broke them into Active Rock radio, with hit track A Grave Mistake peaking at #9.
After a decade of studio wizardry and live theatricality, ICE NINE KILLS draws favorable comparisons to rock icons like Slipknot, Rob Zombie, and Marilyn Manson, via a likeminded synergy of music, lifestyle, and cult following reverence. With 1 million monthly listeners on Spotify, a combined social media reach of over 762k and over 70 million views on Youtube, the band are firmly cemented as one of modern metal's most ferocious forces.