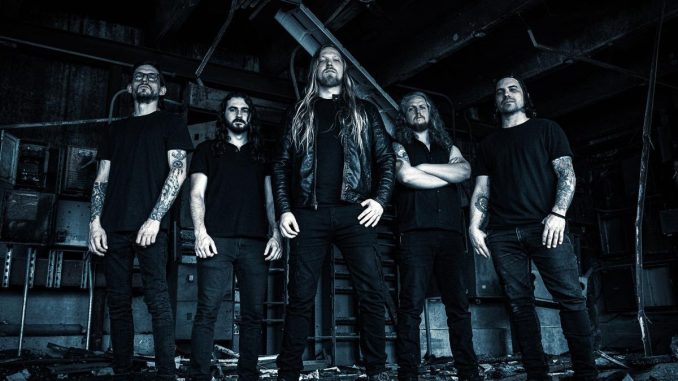 Out November 10, 2023 — Pre-Order HERE
Watch the New Official Music Video for
Grooving First Single,"Reverse The Code", HERE
European Tour with
WOLFHEART & BEFORE THE DAWN
Begins in November!
In 2018, Austin, Texas based melodic death metal unit HINAYANA ensnared the masses with their self-released debut, 'Order Divine', and later defied the pandemic with their subsequent 2020 release, the 'Death Of The Cosmic' EP. Now, the band returns with their long-anticipated sophomore full-length, 'Shatter And Fall', out November 10, 2023 via Napalm Records – and it proves well worth the wait.

Produced by frontman Casey Hurd and Kevin Butler with mastering by Dan Swanö at Unisound, 'Shatter And Fall' features guest contributions from melodic death metal purveyors and label mates Tuomas Saukkonen of WOLFHEART and Vincent Jackson Jones of AETHER REALM. Setting them apart from genre greats like Insomnium, Amorphis and Swallow the Sun, 'Shatter And Fall' incorporates modern, accessible elements, emerging as a fresh entry in this year's most unmissable metal offerings. The album serves as a darker, more solemn work in comparison to their debut, yet superior without question in songwriting, technicality and cohesiveness.

Today, the band kicks things off with groove-laden first single "Reverse The Code". Backed by an impressive official music video, the track boasts catchy chorus progressions, engaging verses and technical aptitude, blending progressive touches with punishing extremity.

Frontman Casey Hurd says about the track:

"Regrets and mistakes. 'Reverse The Code' is about our hopeless and futile desire to be able to go back in time and change things in our past. The single serves as a perfect introduction to the fierce evolution of our sound that is 'Shatter And Fall'."

Watch the Music Video for "Reverse The Code" HERE
'Shatter And Fall' not only proves itself as an impressive sophomore entry for HINAYANA, but a benchmark in the annals of American melodic death metal history.

Frontman Casey Hurd adds about the album:

"'Shatter And Fall' is about Karma, one's own fate, consequences, grief about our own actions, depression, loss of faith, yin and yang, light and dark, and our own unchanging nature as humans. It's darker, heavier, and more diverse than our previous releases. We're evolving and expanding on our sound to include more catchy and anthemic elements in addition to the darker, heavier material. This new album is a significant milestone for HINAYANA."
Introductory track "Slowly Light Collides" opens the heavy gates of 'Shatter And Fall' without hesitation, setting the stage for its impending intensity with a potent mixture of headbang-inducing heaviness and hair-raising melodies and harmonies. Second track "Mind Is A Shadow", featuring guest vocals from Vincent Jackson Jones of fellow American melodic death metal frontrunners AETHER REALM, hits equally hard with a gripping, chunky verse riff and searing chorus. Frontman Casey Hurd's deep growls juxtapose effortlessly with Jones's skyscraper screams before a seizing solo from Erik Shtaygrud marks the track's apex. Anthems like "How Many Dreams", "The Answer" and enthralling groove machine "Reverse The Code" – the latter boasting one of the album's most flourishing closer passages – march further into the icy depths, proving 'Shatter And Fall' as a multifaceted melodeath record.

Powerful "Spirit And Matter" and somber yet essential, spine-tingling "Triptych Visions" feature some of the album's most melancholic and introspective moments, traversing expansive peaks and valleys of deep metallic intensity and some of the album's most delicate, acoustic-driven moments. The implementation of diverse styles, showcased by the varied instrumentation and intensity of songs like touching interlude "From Our Darkest Moments", versus massive, crushing sonic saga "Lost To Flame", poise the band for undeniable recognition. All-consuming single "A Tide Unturning", featuring guest vocal contributions from Tuomas Saukkonen of Finnish melodic death icons WOLFHEART, shines as the most desolate summit of 'Shatter And Fall', serving as one of the most brutalizing yet pensive ballads of 2023. The album ends on the grimmest note of all with blackened closer "Taken", a re-recorded, renewed look back at a track originally released on the band's 2014 demo 'Endless' – marking an apt finish to an contemplative, emotional album tangling with themes of fate, grief and inevitable consequence.
'Shatter And Fall' Track List:
1. Slowly Light Collides
2. Mind Is A Shadow (feat. Vincent Jackson Jones)
3. How Many Dreams
4. Spirit And Matter
5. From Our Darkest Moments
7. Lost To Flame
8. The Answer
9. Triptych Visions
10. A Tide Unturning (feat. Tuomas Saukkonen)
11. Taken
'Shatter And Fall' will be available in the following formats:
=> 1CD Digisleeve
=> 1LP Gatefold BLACK
In other news, HINAYANA will join headliners WOLFHEART and fellow support act BEFORE THE DAWN on a tour of Europe and the UK this fall! The tour will take place all throughout November and will visit London, Paris, Budapest, Berlin and many more major cities! Don't miss this exciting lineup – see below for all dates.
WOLFHEART w/ HINAYANA and BEFORE THE DAWN | Europe/UK 2023:
11/3 (CH) Aarau // Kiff*
11/4 (BE) Louvain La Neuve // Mass Deathtruction Festival*
11/5 (UK) London // The Dome*
11/6 (NL) Rotterdam // Baroeg
11/7 (FR) Paris // Backstage By The Mill
11/8 (DE) Siegburg // Kubana
11/9 (DE) Trier // Mergener Hof
11/10 (NL) Helmond // Cacaofabriek
11/11 (DE) Essen // Turock
11/12 (AT) Innsbruck // Pmk
11/3 (SD) Liubliana / / Orto Bar
11/14 (DE) Munich // Backstage Halle
11/15 (HU) Budapest // Barba Negra
11/16 (AT) Vienna // Szene
11/17 (DE) Leipzig // Hellraiser
11/18 (DE) Weissenhäuser Strand // Metal Hammer Paradise
11/19 (DE) Berlin // Orwo Haus
11/20 (CZ) Prague // Futurum
11/21 (PL) Warsaw // Hydrozagadka
11/22 (PL) Krakow / / Kamienna12
11/23 (DE) Dresden // Chemiefabrik
11/24 (DE) Mannheim // Ms Connexion Complex
11/25 (DE) Hannover // Musikzentrum
11/26 (NL) Maastricht // Muziekgieterij
HINAYANA are:
Casey Hurd – Guitar/Vocals
Daniel Vieira – Drums
Erik Shtaygrud – Guitar
Michael Anstice – Keyboard
Matt Bius – Bass
FOLLOW HINAYANA: