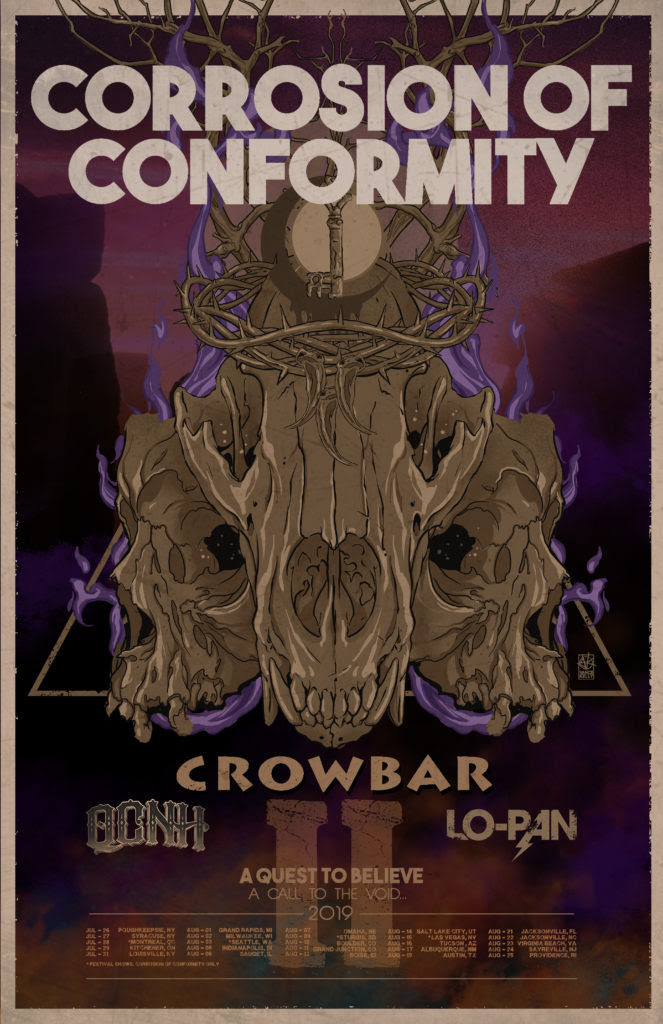 CORROSION OF CONFORMITY Announces North American Summer Headlining Tour With Crowbar + Band To Headline Psycho Las Vegas Pre-Party And More!
CORROSION OF CONFORMITY will kick off the second leg of their North American headlining tour this July. The A Quest To Believe, A Call To The Void II Tour will commence on July 26th in Poughkeepsie, New York and run through August 25th in Providence, Rhode Island. Support will be provided by their comrades in Crowbar as well as Lo-Pan and Quaker City Night Hawks. Tickets go on sale this Friday at all local ticket outlets.
CORROSION OF CONFORMITY will also play a special one-off show with country singer Cody Jinks next month in addition to festival appearances at Rocklahoma, Heavy MTL, KISW's Pain In The Grass, and a headlining performance at Psycho Swim, Psycho Las Vegas' annual pool-bound kick-off party where the band will be joined by Lucifer, Danava, ASG, Primitive Man, and more. In October, CORROSION OF CONFORMITY will appear on the inaugural MegaCruise alongside Megadeth, Anthrax, Testament, Overkill, and so many others with more shows to be announced in the months to come. See all confirmed dates below.
CORROSION OF CONFORMITY released the critically-adored No Cross No Crown full-length early last year via Nuclear Blast Entertainment. Recorded in North Carolina with longtime producer John Custer, the record marks the first studio recording with vocalist/guitarist Pepper Keenan in over a decade and, earning the #67 spot on the Billboard Top 200 Chart, #12 on the Billboard Top Current Albums Chart, and #3 on the Top Hard Music Albums Chart upon its first week of release, is the highest charting album of the band's career. Hailed Decibel Magazine of the release, "The record is filled with the kind of Sabbath meets Black Flag meets Lynyrd Skynyrd jams that were so infectious and wildly influential back when Bill Clinton seduced interns…COC doesn't try to change direction but instead revisits the approach that made the Keenan-fronted version so successful: powerful hooks, instrumental asides that will remind you of Sabbath's 'Planet Caravan' and a rich use of textures and dynamics."
Watch the band's video for "The Luddite" as well as their animated clip for "Wolf Named Crow" HERE.
CORROSION OF CONFORMITY:
5/09/2019 Coyote Joe's – Charlotte, NC w/ Cody Jinks
5/24/2019 Rocklahoma – Pryor, OK
w/ Crowbar, Lo-Pan, Quaker City Night Hawks:
7/26/2019 The Chance – Poughkeepsie, NY
7/27/2019 Westcott Theater – Syracuse, NY
7/28/2019 Heavy MTL – Montreal, QC *
7/29/2019 Dallas Nightclub – Kitchener, ON
7/31/2019 Mercury Ballroom – Louisville, KY
8/01/2019 Elevation – Grand Rapids, MI
8/02/2019 The Rave II – Milwaukee, WI
8/03/2019 KISW's Pain In The Grass @ White River Amphitheatre – Auburn, WA *
8/05/2019 Deluxe @ Old National Centre – Indianapolis, IN
8/06/2019 Pop's – Sauget, IL
8/07/2019 Slowdown – Omaha, NE
8/10/2019 Fox Theatre – Boulder, CO
8/11/2019 Mesa Theater – Grand Junction, CO
8/13/2019 Knitting Factory Concert House – Boise, ID
8/14/2019 The Complex – Salt Lake City, UT
8/15/2019 Psycho Swim @ Daylight Beach Club – Las Vegas, NV *
8/16/2019 Encore – Tucson, AZ
8/17/2019 Sunshine Theater – Albuquerque, NM
8/19/2019 Come And Take It Live – Austin, TX
8/21/2019 1904 Music Hall – Jacksonville, FL
8/22/2019 The Tarheel – Jacksonville, NC
8/23/2019 Elevation 27 – Virginia Beach, VA
8/24/2019 Starland Ballroom – Sayreville, NJ
8/25/2019 Fete Music Hall – Providence, RI
10/13/2019 MegaCruise 2019 – Los Angeles, CA *
* COC only