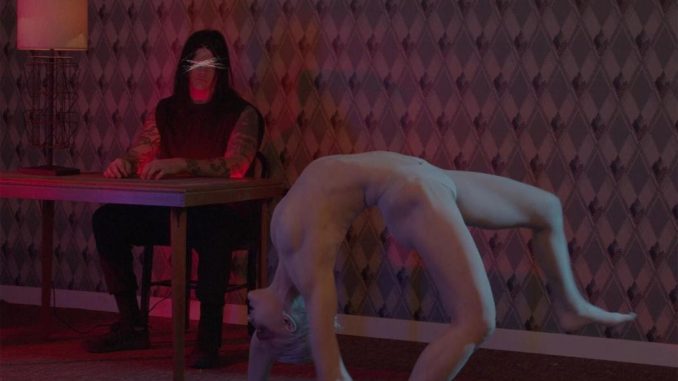 INDUSTRIAL ROCK OUTFIT
CONTRACULT COLLECTIVE
REVEAL GROTESQUE NSFW MUSIC VIDEO FOR LATEST SINGLE
"MEEK"
FOLLOWING REVOLVER MAGAZINE PREMIERE
Vice [n.] – 1) an immoral or evil habit or practice 2) a moral flaw or weakness 3) a minor or bad habit
Meek [adj.] – 1) quiet, gentle and easily imposed on; submissive 2) enduring in patience and without resentment 3) deficient in spirit and courage
Los Angeles industrial/hard rock outfit CONTRACULT COLLECTIVE deliver an uncompromising message of taking control of one's vices in their recent single "Meek," mastered by Arthur Rizk (Ghostemane, Power Trip) which was released digitally on November 26. The band yesterday (December 7) premiered a shocking, NSFW music video for "Meek" via
Revolver Magazine
who described the song as "an industrialized hard-rock banger," while stating the video "basically functions as a mini-horror movie with some awesome music soundtracking the scares."
Directed by Steven Anthony Roe at Media City Studios in downtown L.A., the "Meek" music video shows each band member being forced to confront a terrifying manifestation of their vices, played by contortionist/pole dancer Brynn Route (Kat Von D, Lucha VaVOOM). Watch it streaming via YouTube directly below or
HERE
.
"Industrial music has always tried to push the envelope of shock and horror, both lyrically and visually," CONTRACULT COLLECTIVE vocalist SVART states. "Contracult does the same, but with purpose and humility. The song 'Meek' is about the vulnerability of addiction and mental health with the lack of accountability for one's actions within this mental state."
He continues: "Since there is nothing more horrific than one's own personal demons, the band and director Steven Roe wanted to present a narrative which visually displayed ours. You will see our friend and talented contortionist/dancer Brynn Route force us to enact our vices of novelty and overconsumption of food and alcohol in a vacant motel room. While the content is triggering, we hope it proves to be as equally provocative as it is grotesque. You've been warned…"
CONTRACULT COLLECTIVE – "MEEK" Official Music Video
CONTRACULT COLLECTIVE was formed by SVART and guitarist CULTPRIT and includes BX on synth/backup vocals. The band—whom MetalSucks lauded as "your new favorite industrial band"—were originally signed to Roadrunner Records and in 2020 self-released two EP's, A Cult of Opposition and Follow, in addition to being featured in The Pit's mini-documentary series
What Burns in the Soul
discussing the relationship between BDSM subculture and heavy music.