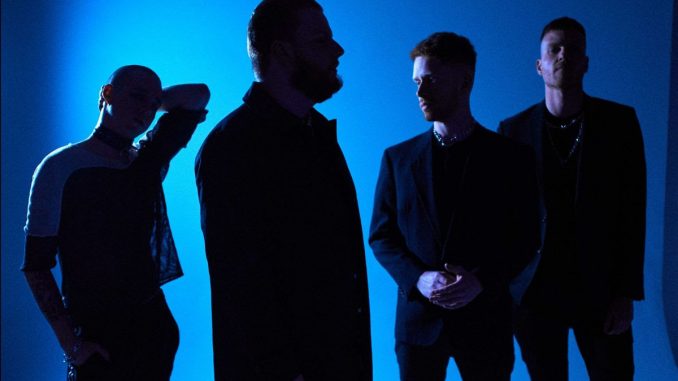 Fresh from the release of their 2021 EP
CHRONICLES I: LUST,
Australia's
Void of Vision
continue to take fans on a journey of twists and turns with the release of the video for their forward-thinking new single "
DOMINATRIX
."
Watch the video here.
Arguably their most adventurous song to date, "DOMINATRIX" takes the listener on a journey between crushing heaviness and light, ethereal vocals.
"The process began with that simple chorus vocal hook and ended up with our most adventurous attempt at a piece of work yet. I have never written, or attempted to pen a 'love song' before but this one just came extremely easily to me," says Void of Vision vocalist Jack Bergin. "The lyricism of 'DOMINATRIX', while quite foreign within a Void of Vision song, is really complimented here by the track's pace, flaunting a certain urgency, a longing for excitement and stimulation."
He continues, "The pre-production title for this track was funnily enough 'nightclub' so I think that the music video idea was always planted in my brain from the get-go. Despite several obstacles hindering shoot day, including myself only leaving hospital the night before and a fire engine call out within the first 30 seconds of shooting, it all came out exactly how we envisioned which we were so happy with."
https://www.youtube.com/watch?v=Om8pMa94wMwBergin finishes, "I really dialed in on the producer role for this video and I think it really gave me a LOT more confidence to take the idea of that role even further in the future. I really hope it puts people in the mindset we were in while creating this, and pushes forward a side of Void of Vision that people haven't particularly been introduced to properly yet. There's a lot more where this came from that definitely pushes the envelope of the idea of VoV as a collective."
Void of Vision kicked off 2022 playing Knight & Day festival, snuck in a handful of shows on their headline Australian run in January, accompanied with a blistering secret set at Alpha Wolf's Brisbane headliner, and recently supported The Amity Affliction. Stay tuned for more from the Void of Vision camp soon.
ABOUT VOID OF VISION:
Since their burst onto Australia's metal scene eight years ago, Melbourne's Void of Vision have used their platform as a projection of anger, apathy, darkness, and despair. Whether faithful fan or peripheral onlooker, the band's previous recorded, visual, and live performance elements made their bleak sentiments clear for anyone to see. Released in late 2021, the band's latest EP,
CHRONICLES I: LUST
, smashed this perception.
The four-track effort, first introduced by singles "THE LONELY PEOPLE" and "VAMPYR," found frontman Jack Bergin expressing himself with an openness, clarity, and purpose never before seen. While historically Void of Vision has been an outlet for his internal angst and self-loathing, LUST unraveled the beginning of a personal expedition to become a better human, embrace a new outlook on life, and at the same time, lift his focus towards the issues and injustices in the world around him.
Now on close to 1 million streams, CHRONICLES I: LUST sparked a new era in the VoV camp. With "DOMINATRIX" at hand and the band's creative juice flowing in all directions, Void of Vision are set to truly cement their mark on the heavy stage in 2022.