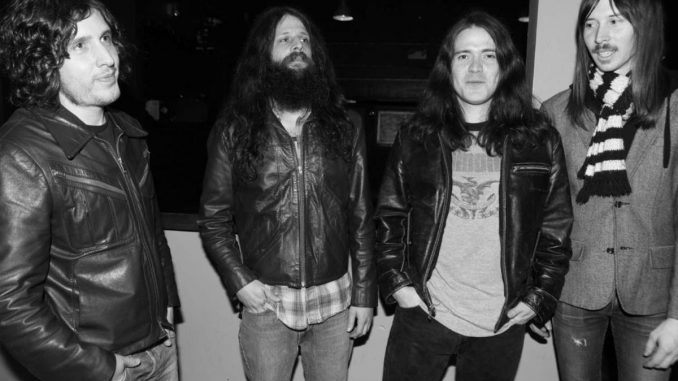 Boston-based classic rock revivalists TOWNSHIP continue to revisit what proved to be one of the most challenging and tumultuous parts of their history. Two weeks ago (Dec. 4) saw the release of the group's self-proclaimed "lost" studio album, titled 'Life Starts Tonight' (
out now
).
Fans can now hear what the band has dubbed the apex of the Life Starts Tonight chapter of their careers. 'Live at Mad Oak Studios', recorded in 2010, would serve as Township's deliberate effort to capture the tracks from 'Life Starts Tonight' in a live production setting, in addition to showcasing the contributions made to those tracks by guitarist Alejandro Necochea (who replaced Matt Smart). The record was masterfully engineered and mixed by Grammy-winning Benny Grotto and captures the band in full command of their truly realized "take no prisoners" moxy. 'Live at Mad Oak Studios' is out TODAY on the major digital/streaming platforms.
'Live at Mad Oak Studios' Tracklist:

1. Starlight, Motor Grease, and Beer

2. Life Starts Tonight

3. Ancient Creatures

4. Feel It

5. Eye of the Son

6. Garden of Our Love

7. Through the Fog

8. Gunnin' Thru The Nite

9. Beaver Fever

10. Burnin'

TOWNSHIP Lineup

Marc Pinansky – Vocals, Guitar

Alejandro Necochea – Guitar, Backing Vox

John Sheeran – Bass, Backing Vox

Greg Beadle – Drums
About 'Live at Mad Oak Studios':
2010 would prove to be a very rewarding, but also very trying and tumultuous year for the band, ultimately leading toward a near break-up and subsequent member exit. At the beginning of the year, the band was still breaking-in Alex, releasing Vol.1 through King Yum, and getting ready to undertake a 5-week tour that would go down as easily their craziest. The running joke was that the band went on tour to promote an unreleased album, and that proves accurate.
Township saw the LIVE AT MAD OAK STUDIOS opportunity as a chance to get down the LIFE STARTS TONIGHT songs with Alejandro on them (not on the studio version and had added quite a lot to them), hype up the Greatest Hits album, and show others (and ourselves) that we were ready to enter a new, take-no-prisoners phase. Shortly after that destructive March tour, Alex, John, and Marc spent countless nights working up new material while Greg was sidelined with knee and back injuries. When the trio finally had the songs for what would be ONE MORE SUMMER, all thoughts of 'Life Starts Tonight' seemed to fade in the broken taillights.
Upon rediscovery of this live set – masterfully engineered and mixed on the fly by Grammy-winning Benny Grotto, its seriousness is palpable. The band worked exceptionally hard in 2010 and by that fall were a force to be reckoned with (find Sept. 10th, 2010 @ Middle East Downstairs show on YouTube), but also at a serious crossroads. And as stated before, by the end of that year, this chapter in Township history would be over. This live album is the perfect, exciting apex to the LIFE STARTS TONIGHT journey. The last chapter in the first volume of Township history.