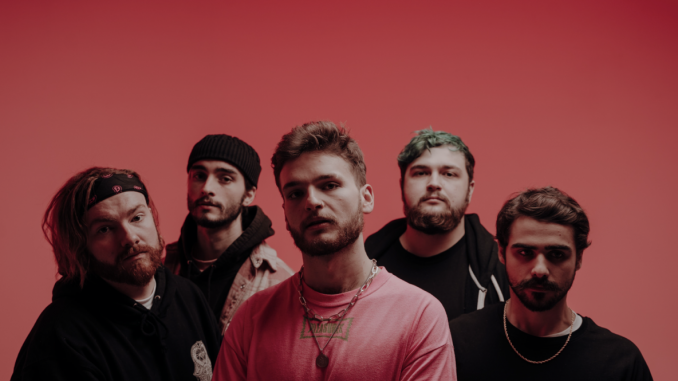 "OH MY LIFE! These guys are savage heavy"— Kerrang! Radio

"Metalcore at its most infectious" — Rock Sound

"Punches and soars in all the right places" — Kerrang

"Impassioned melodies and neck-snapping fervour" — Metal Hammer
Following the release of the video for the powerfully cathartic track "
Violent
" and the introduction of new vocalist
Oli
Duncanson
, London-based five-piece
THECITYISOURS
have announced their new album
COMA
, due out October 22 via
Arising Empire
. It will be available on CD and as colored vinyl.
The band has shared the video for the new song "Death of Me." Watch it here.
With this track, the band members are wearing their hearts on their sleeves to let people know that it's okay not to be okay.Guitarist/vocalist Mikey Page remarks, "'Death of Me' is an unapologetically honest account of going through a breakdown, as I battled mentally with the realization that my life was changing and there was nothing that I could do to stop it. It's one of the most personal tracks I have written as a lyricist. But it really felt like a story I had to tell to clear my head and give myself a chance to find a road to recovery."
He finishes, "I'll always look back on this song as the breakout moment for this album. It really feels like this paved the way for what would become COMA."
There is a palpable sense of loss that ties together COMA, the band's sophomore offering. TCIO tackle the passing of loved ones, relationships, personal sovereignty, and self-control head-on. However, juxtaposed against their vibrant, fresh, and pop-centric arrangements, which are expertly interwoven with infectious hooks and crushing riffs, COMA strikes a perfect balance. It radiates an underlying sense of positivity and resilience through an otherwise dark concept.
COMA TRACK LISTING:
"Does It Keep You Up"
"COMA"
"Death of Me"
"Violent"
"Regret About Me"
"Dangerous"
"So Sad"
"Body Count"
"Only Human"
"Madre"
"Barely Alive"
"Save You With My Love"

COMA was recorded, engineered, and mixed by long-time collaborator Oz Craggs (Feed the Rhino, Neck Deep) at Hidden Track Studios and mastered by Ermin Hamidovic (Architects, Periphery, Northlane) at Systematic Productions.
THECITYISOURS
is a five-piece metal band from London who quickly garnered attention and growing support for peers, industry, and fans alike, thanks to a high-octane live show and the success of their debut album.
LOW
(2019) smashed into the Top 5 of the iTunes metal charts with several singles appearing in editorial playlists of Amazon, Deezer and Spotify — including covers on New Core and Metal UK.
Following the departure of long-standing vocalist Sam Stolliday (read the full statement here), THECITYISOURS unexpectedly found themselves in unknown territory. Twelve months on, they are back with the introduction of new vocalist Oli Duncanson and ready to welcome a brand new era of TCIO.
Duncanson recounts, "I remember being shown some demos of some new songs prior to Sam's departure and absolutely loving the direction and progression of the band's sound. As soon as Mikey told me about the opening in the band, I knew I had to take a chance!"
Page adds, "Oli has been a part of our team for a long time. He is a very well-respected entity in his own right amongst the music scene. We'd seen snippets of his capabilities over the years, so when he registered an interest in becoming a part of CITY, we knew we had to explore. And we clicked instantly."
Welcome a brand new era of THECITYISOURS.

THECITYISOURS IS:
Oli Duncanson | Vocals
Mikey Page | Vocals/Guitar
Jamie Deeks | Bass
Stuart Mercer | Guitar
Louis Giannamore | Drums