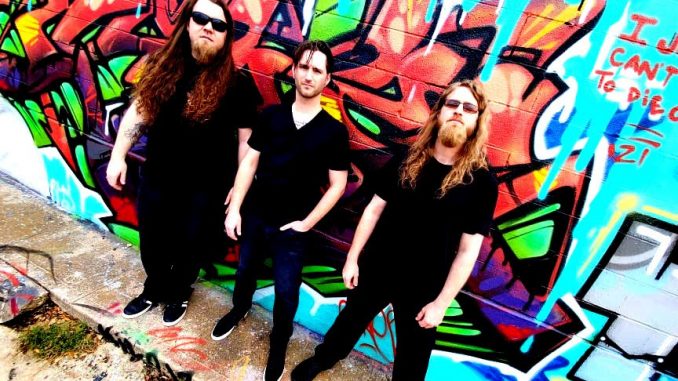 Oversoul Debut Available Now
Symphonic metal band NINTH SPHERE, featuring former members of The Browning, has revealed a new video for the single "Taken Home" to coincide with the release of the trio's debut album, Oversoul, available today.
NINTH SPHERE is the brainchild of Brian Cravey, former guitarist for The Browning and SRLSM, who has taken on vocal duties, as well as guitar and electronics, for the up-and-coming band. Rounding out the Dallas-based project is Travis Hampe (SRLSM) on bass guitar and Noah "Shark" Robertson (The Browning, SRLSM) on drums. Cravey and Robertson previously performed together on The Browning's critically acclaimed Earache Records debut, Burn This World.
"'Taken Home' was the first song in a long time that made me feel like I had broken through a barrier as a musician and writer," Cravey says. "We had been searching for a vocalist for at least two years and hadn't found our voice. I got tired of waiting and started teaching myself to sing and scream. Pretty sure the rest of the band thought I was crazy, and rightfully so. I would send them rewrite after rewrite, mix after mix, trying to get the structure perfect and trying to produce vocals that did the music justice. It finally came together and shows the different vibes we like to play and feel, all in one song. If I could only play one song from this album for the rest of my life, 'Taken Home' is it."
Oversoul track listing:
1. The Red Crown
2. Taken Home
3. Volition
4. Midhaven
5. Into the Sun
6. Oversoul
7. The Red Crown (Cinematic)
8. Taken Home (Cinematic)
9. Singularity (Cinematic)
NINTH SPHERE online: