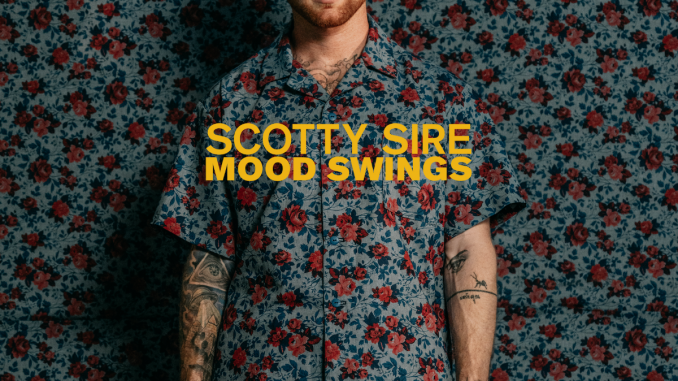 OUT MARCH 11 VIA FEARLESS RECORDS
SHARES "JUST US TWO" IN TIME FOR VALENTINE'S DAY — LISTEN
Today, musician, entrepreneur, and digital creator SCOTTY SIRE announces his upcoming album MOOD SWINGS is coming March 11. The album is his first via Fearless Records.
MOOD SWINGS is his most authentic project to date, and the 11-tracks find Scotty grappling with anxiety and the highs and lows of love, filled with his signature alternative pop and hip-hop sound inflected with his darkly ironic sense of humor. Pre-save it here.
Also out today is the album's final preview, the dynamic love song "JUST US TWO." Listen here.
The disco-inspired track centers around the intense desire to be around the one you love, and never wanting to let go of them and that feeling. Written by Sire and Jon Lundin (Sleeping With Sirens, Good Charlotte) and produced by Lundin and Bruce Wiegner (Katy Perry), the song is appropriately released just in time for Valentine's Day.
"'JUST US TWO' is a song meant to capture the feeling of having an insatiable appetite to be around the person you love," says Sire. "When you just can't seem to get enough of that person. When being around others and doing things separately may be great, but it could never beat the feeling of being together. Whether it's attributed to being in the honeymoon phase and you're just getting to know each other, or you've been together forever. It's just a feeling that you want to hold onto forever, and not let fade away."
Sire has already previewed the album's first three singles. The title track "MOOD SWINGS" is an alternative pop track detailing the full rollercoaster of emotions one feels throughout life, while "OUT OF MY SKIN" is a contemplative pop semi-ballad that strikes an emotional chord. "SUPER AVERAGE" is his "ode to the average Joe," and the music video features a flash mob of Sire's fans — watch it here.
Sire has successfully tread the transition from YouTube creator to alt-pop musician, and counts 11 million+ collective social followers, 390M+ YouTube views and more than 160 million Spotify streams to date. His "What's Going On" 30-city tour grossed nearly $1 million in box office and VIP revenues in 2019, and recently embarked on his successful "Close Friends Tour" in December 2021. In addition to MOOD SWINGS, the past year has brought a multitude of other creative ventures for Sire, including creating his NGMI Podcast, launching his exclusive Patreon, and co-founding his CBD brand, happyface.