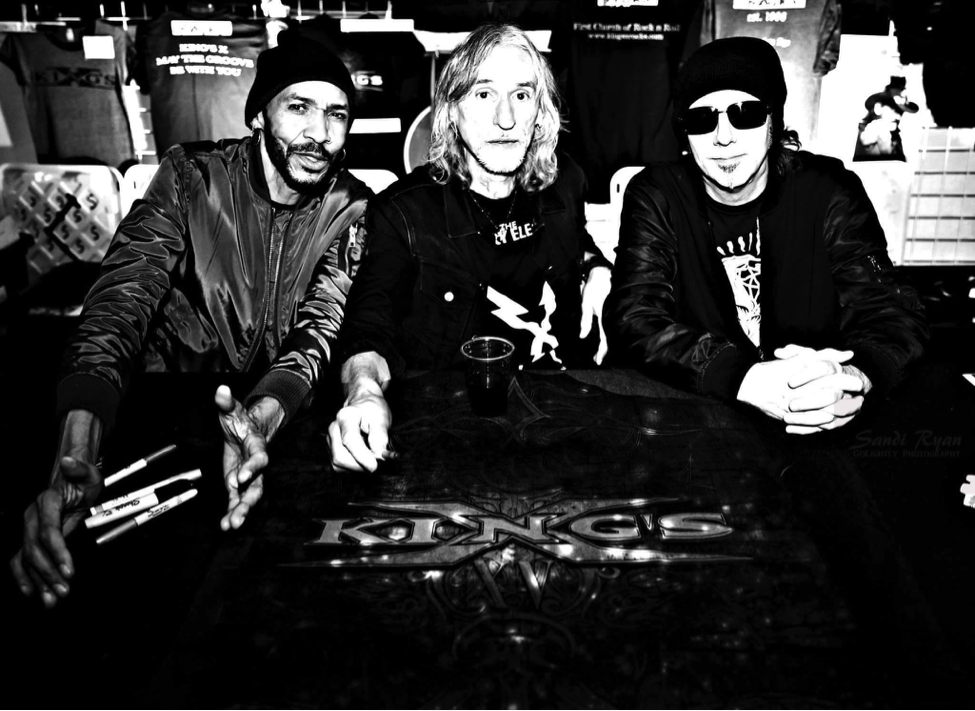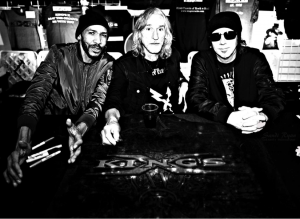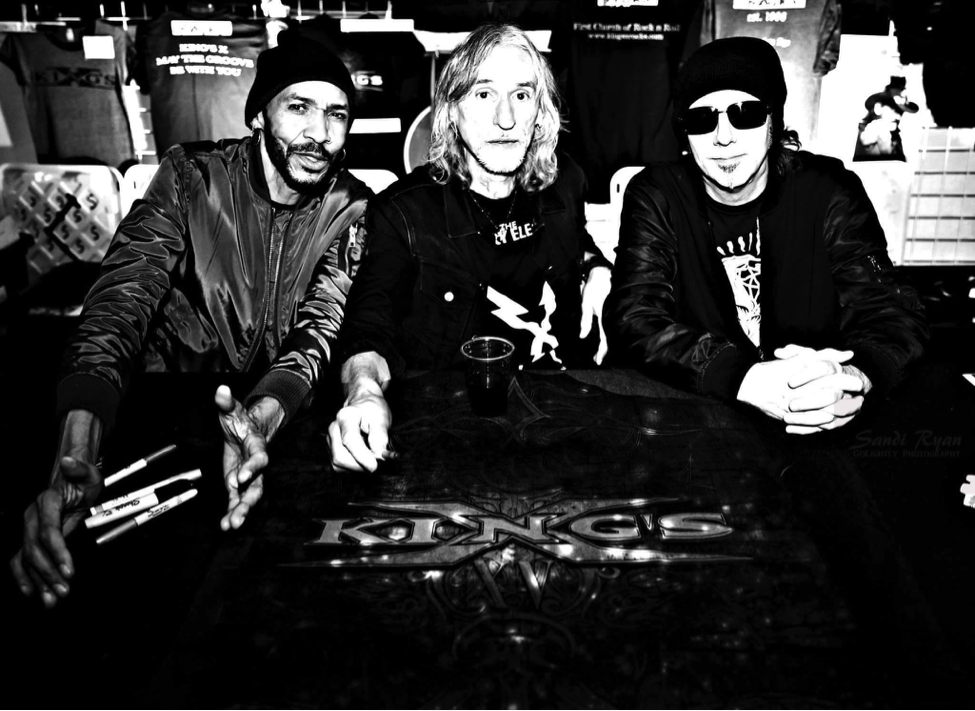 Rock Legends KING'S X Join Golden Robot Records, Set to ReleaseFirst New Album in Over a Decade in 2019
Australia's leading international independent record label, Golden Robot Records continues to grow at an unprecedented pace. The label is absolutely thrilled to announce that globally revered, Billboard-charting rock icons KING'S X are now part of their ever-growing international roster.KING'S Xrecently signed a global deal with Golden Robot Records which will see their long-awaited forthcoming new album released worldwide in 2019 via Golden Robot Records' partners in the U.S., Europe and Japan.
"I'm really excited to release the next KING'S Xalbum with Mark, Derek and the crew at Golden Robot! May the groove be with us all," says vocalist/bassistdUg Pinnick. Guitarist Ty Tabor adds, "I'm looking forward to working with Golden Robot Records!"
Drummer Jerry Gaskill adds,"It's been a while since we've made a record. During that time, I've been thinking, when and if we make a new record, I want it to be the best we can do. I want to believe in it. I want to make it great, whatever it takes. I don't want to just make another KING'S Xrecord. I think and hope that we are in that place. I think and hope its time and I feel good about the team we'll be working with at Golden Robot Records. I'm going do my best. Let's do this thing."
"When we started to talk to KING'S Xabout signing with Golden Robot in the U.S. and we met dUg in LA a few times, I knew 100% that we would end up working with them. I'm loving the fact they are still the original members and I really believe this new album will be there best yet! It's incredible how many people inside the industry – and I'm talking about very well-known musicians – love these guys and can't wait for a new album. We are all very excited indeed," says Mark Alexander-Erber, Group Founder and President.
"I am delighted to finally be able to work with one the most respected, creative rock bands of the past 30+ years. KING'S Xis not only a superb rock band with an ardent fan base, but are also a 'musician musicians' band.Golden Robot Recordsis determined to finally help KING'S Xreceive the worldwide recognition it fully deserves," says Derek Shulman, Executive Chairman of Worldwide Expansion.
Since the release of their debut record, Out Of The Silent Planet, in 1988, KING'S Xreleased a dozen albums that have seen them rightfully earn their place on the rock royalty family tree. Fusing progressive metal, funk and soul grooves with vocal arrangements rooted in blues, gospel and even the British Invasion era influences, KING'S Xcreated a style all their own which continues to be an inspiration for bands to this day.
Featuring vocalist and bassist Doug Pinnick, guitarist Ty Tabor and drummer Jerry Gaskill, KING'S X have never changed their line-up, a rarity in the music world and a testament to the band and musicians and friends.
Critically acclaimed from the start, KING'S Xare musician's musicians, name-dropped by everyone from Anthrax and Suicidal Tendencies to Iron Maiden and Blue Murder for their instrumental prowess. Pearl Jam's bassist Jeff Ament even declared that "KING'S Xinvented grunge". They also enjoyed a long life via the David Letterman Show with their track, "We Were Born To Be Loved" (from 1990's Faith Hope Love), also a favorite of the Paul Shaffer's CBS Orchestra to play during commercial breaks.
In 1992, KING'S Xsigned to Atlantic Records/Megaforce Records, released three albums and toured with bands as diverse as Scorpions, Type O Negative and Pearl Jam. In the early 2000's, KING'S X released three studio albums and their first official live album via Metal Blade Records. In 2005, the band signed to German-based progressive music specialty label, InsideOut Music, and released Ogre Tones, an album described as a return to the bands classic sound. KING'S Xforged ahead with new albums, DVD's and tours up until 2012, when drummer Jerry Gaskill suffered a major heart attack. The band then quickly compiled an exclusive live release from their archives entitled, Burning Down Boston. The proceeds of which went directly to assisting Gaskill with his medical expenses. They rolled on for two more years until Jerry suffered another heart attack, which resulted in him having a double bypass operation and ultimately led to the band taking an indefinite hiatus.
This break didn't last long, as they were back on the road in mid-2015, shortly afterward announcing they would begin work on a new studio album. This would be the band's first since 2008's XV.KING'S Xbegan meetings with Golden Robot Records management in Los Angeles in early 2017, eventually signing a global deal in October 2018.
While it's been a decade since KING'S Xhave released a new record, the wait has definitely been worth it! Watch this space for news on the forthcoming album in the very near future.
Golden Robot Records online:
www.facebook.com/goldenrobotrecords
www.twitter.com/goldenrobotrec
www.instagram.com/goldenrobotrecords
KING'S X online:
www.facebook.com/kingsxfanpage
www.instagram.com/kingsxofficial
About Golden Robot Records:
KING'S X are now part of a growing international roster that includes such iconic artists as Guns 'N' Roses keyboardist Dizzy Reed, Puddle of Mudd, Little Caesar and the all-star band A New Revenge, which features Tim 'Ripper' Owens, Keri Kelli, Rudy Sarzo and James Kottak. Plus, Golden Robot Records boasts an incredible line up of Aussie acts, led by Rose Tattoo and featuring Steve Kilbey,The Lazys, Palace Of The King, Jailbirds, Fyre Byrd, The Kids, Destrends, Flickertail and many more. Watch out for more incredible names who will be joining Golden Robot Recordsinternational roster in the near future!
Golden Robot Records now own four record labels and have teams in every major market in the world: Sydney, Los Angeles, New York, Hamburg, London, Tokyo and Auckland. With globally experienced music industry veterans heading up key roles in A&R, Management, Marketing and Publicity, Golden Robot Records are able to give their roster maximum exposure and support.
Press contact: Adrenaline PR, Maria Ferrero, maria@adrenalinepr.com, 732 462 4262