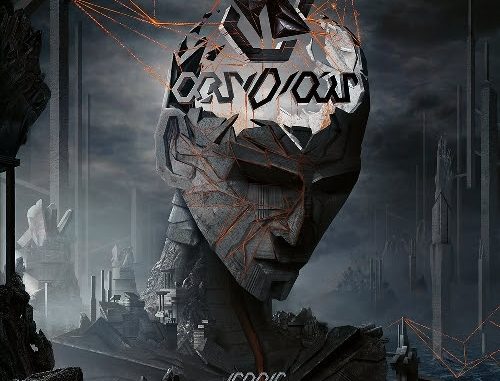 Modern progressive metal outfit
OBSIDIOUS
is now officially launching the pre-sales for their previously announced debut full-length, 'Iconic,' which is due on October 28 via Season of Mist! The album artwork, tracklisting, and additional info can be found below. In conjunction with the album sales start, the band is now revealing a brand new single, "Devotion," along with a full band play-through video! The clip is available at
THIS LOCATION
.
OBSIDIOUS comments: "This song is about cults, basing the story on one of the most controversial cases of the late 1970s. In this song there are two distinct voices that reflect the character of each of the protagonists: the raspy voice of the cult leader and the melodic, desperate voice of the follower trying to flee the place."
OBSIDIOUS, "Devotion" (Official Band Play-Through) 2022
The 'Iconic' cover artwork, which was created by Adrien Bousson, can be found below along with the track-list.
Track-list:
1. Under Black Skies (6:00) [WATCH]
2. Sense Of Lust (4:18) [WATCH]
3. Iconic (6:40) [WATCH]
4. Bound By Fire (5:12) [WATCH]
5. Iron & Dust (6:01)
6. I Am (6:56)
7. Delusion (4:55)
8. Devotion (4:59) [WATCH]
9. Nowhere (4:18)
10. Lake Of Afterlife (3:57)
Total: 53:16
Modern metallers Obsidious launch their wonderfully intricate and musically-accomplished new album, Iconic, via Season of Mist. The group—featuring Linus Klausenitzer (bass), Rafael Trujillo (guitars), Sebastian Lanser (drums), and vocalist Javi Perera (vocals)—come from distinguished and lettered origins in Obscura, Alkaloid, Eternity's End, and Juggernaut. Obsidious, however, are a different creature entirely. Iconic is technical but not officious. The album breathes intensity but expands upon it with mellifluent dexterity. With Obsidious, there's always a hook. The early release of and positive feedback from video singles "Under Black Skies," "Sense of Lust," and the title track illustrates these qualities well. Iconic builds upon a prestigious foundation, but its vision isn't restricted to its tenets.

"We consider ourselves the modern evolution of progressive and technical metal," bassist Linus Klausenitzer says. "To name a few bands: Dream Theater, Devin Townsend, Meshuggah, Opeth, Between the Buried and Me, Protest the Hero, Periphery, and Haken. As such, our music asks for many different moods and vibes. Javi's vocals reinforce that idea, adding meaning and drama to it. While we still work as session musicians, Obsidious is now our main priority."

Obsidious crystallized after Klausenitzer, Trujillo, and Lanser departed amicably from fellow German tech-metallers Obscura in 2020. Named after black volcanic glass, the group's moniker exudes something dark, of fiery origin, in a state of final transformation. Metaphorically, the name Obsidious offers a nearly limitless platform for expression and advancement. However, it was only when the trio brought on newcomer Perera—whose growls and full-toned voice are first-rate—were the multi-national outfit officially codified. Interestingly enough, the newly-joined frontman couldn't even meet his bandmates while the band wrote, recorded, and filmed videos for Iconic due to the pandemic. Yet, the technologically-apt foursome made it work.

Iconic is an album of manifold extremes. "Sense of Lust," "I Am," and "Devotion," for example, pivot on heavy rhythmic axes, their intense grooves seamlessly unifying with ample doses of atmospheric dissonance. "Under Black Skies," "Delusion," and the title track, on the other hand, are nimbly expeditious, with Perera's considerable vocal talents complementing Trujillo, Klausenitzer, and Lanser's angularly-involved, smartly-experimental songcraft. As for "Iron Dust," "Lake of Afterlife," and the massive chorus in the ferocious "Bound by Fire," they offer a more straightforward (yet ebullient) musical and aesthetic posture. Throughout Iconic, Obsidious impress with their artistic inventiveness and creative expanse.

"Seventy-five percent of the band members were part of Obscura, so we knew what most of our fans like and what they don't," says Klausenitzer. "When we decided to integrate clean vocals, we knew that the reactions would be controversial. But we like to push the boundaries. We don't like to stand still musically—we want to add something fresh to metal. This is why this band is so special for some listeners already."

Lyrically, Perera tackles human-relatable topics throughout Iconic. While his modern metal peers abstractly traverse the vagaries of the universe, the singer hits home where and when it matters. Disaster in any form is trauma-inducing, and this is at the heart of Under Black Skies, where a tremendous yet preventable calamity descends on a petty yet desperate populace. BDSM, an uncommon topic in metaldom, carries through "Sense of Lust." Here, sex and the power of and subsequent joy by the submissive are explored. The title track, "Iconic," discusses dementia. Perera's profession outside of Obsidious is in healthcare, and he's seen firsthand how the mental disorder traps and torments. Iconic is a showcase in multiplicity.

"This album does not have a concept per se in terms of lyrics or an underlying storyline," vocalist Javi Perera says. "The songs on this album touch on subjects of diverse nature, and there are even some songs that narrate personal experiences. But what I can consider as a common denominator in the album is the absence of constraints on a compositional or stylistic level, allowing us the freedom to shift between different musical genres as long as the song requires it. I always consider that we, as artists and musicians, are at the service of the music and not the other way around."

Extensive pre-production aided in Obsidious handling a pandemic-era recording process for Iconic. For the official sessions, the group spread out parts to several different studios. Firstly, Lanser kicked Iconic into gear by recording drums at Lanser Studios in Salzburg, Austria. The rest of Obsidious holed up in Woodshed Studios in Fürth, Germany, where producer V. Santura (Triptykon, Obscura) tracked guitars, bass, vocals, synths, and sound effects. Vocal overdubs and additional soundscaping were taken to TheRedHouse Studio in Cambridge, England. Obsidious then handed the finalized pieces back to V. Santura to mix and master. Even though Iconic was a non-linear undertaking, it sounds absolutely monumental.

"The pre-production was very professional," says Klausenitzer. "So, we already had an idea of what we wanted the songs to sound like—we had a specific sonic goal in mind. We had already worked with V. Santura before, so we knew what to expect in that regard. The recording sessions were, if anything, straightforward. When V. Santura completed the final master, we knew we had created something unique and special—the Obsidious sound!"

Obisidious are ready to deploy their unique brand of hooky neoteric metal on Iconic. From Trujillo's wickedly clever riffs and Lanser's artful drumming to Klausenitzer's superb counterpoint and Perera's soaring vocals/venomous spits, songs like "Under Black Skies," "Iconic," "Bound by Fire," and "Nowhere" brim with cool calculation and aggressive spontaneity. They storm normality not only musically and lyrically. The monolithic cover piece by French graphic artist Adrien Bousson (Rotting Christ, Khonsu) also transcends convention. Obsidious are poised for a breakthrough on Iconic. Prepare for metal's modern metamorphosis!

Genre: Modern Progressive Metal

Lineup:
Linus Klausenitzer – Bass
Rafael Trujillo – Guitar
Javi Perera – Vocals
Sebastian Lanser – Drums

Recording studios:
Drums recorded at Lanser Studios in Salzburg (AU)
Guitars, vocals, synths and soundeffects at Woodshed Studios in Fürth (DE)
Vocal overdubs and soundscaping at TheRedHouse Studio in Cambridge (UK)

Production, mixing, mastering: V. Santura (TRIPTYKON, OBSCURA)

Cover artwork: Adrien Bousson

Bio: Chris Dick

Links:
www.obsidious-band.com
www.facebook.com/ObsidiousBand
www.youtube.com/channel/UCYYfE8L7J0TDFpRPkCj7D4
www.instagram.com/obsidious_band
https://obsidious-band.bandcamp.com/

Pre-sales: https://redirect.season-of-mist.com/ObsidiousIconic

Pre-save: https://orcd.co/obsidious-iconic

Presskit: https://presskit.season-of-mist.com/Obsidious
Login: presskit
Password: Presskitofmist

Airplay: Mp3 versions of 'Iconic', 'Sense of Lust' and 'Under Black Skies' are available for airplay HERE.

Formats:
CD Digipak
Digital
2x 12" Gatefold (Black)
2x 12" Gatefold (Cool Blue)
2x 12" Gatefold (Orange)