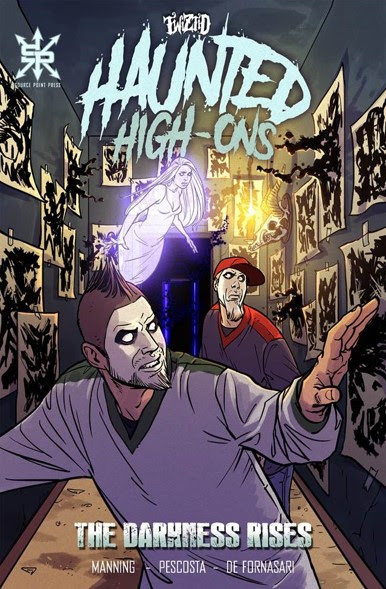 Comic book series Haunted High-Ons, featuring national recording artists TWIZTID, is the latest property from publisher SOURCE POINT PRESS to enter a production partnership for an animated series.
As announced this past weekend at the Astronomicon pop culture convention, which was founded and is run by TWIZTID, the sold-out comic book series has now entered into a production partnership with NightSky Productions, owned by Ken F. Levin, executive producer of comic-to-screen series Preacher on AMC and The Boys on Amazon Prime.
Says TWIZTID, "When we first heard one of the producers of AMC's 'Preacher' and Amazon's 'The Boys' was interested in what we have going on with 'Haunted High-Ons,' we were blown away. After finally meeting Ken in person at San Diego Comic-Con, we asked him to come to our show later that night in San Diego. He actually showed, stayed for the whole performance and spent an additional two hours talking comics and TV with us after. It was then that we knew this IS the guy we need representing our beloved independent comic franchise as we take this ambitious leap into what some would call the next level."
Haunted High-Ons, which features the duo as a pair of fake ghost hunters who find themselves dealing with real haunts, debuted with a one-shot comic at New York Comic Con 2017. The success of the one-shot prompted all involved to move forward with a full mini-series. When every issue quickly sold out in comic shops across the country and readers were left searching for copies, the team fast-tracked production of a collected edition graphic novel via Kickstarter, exceeding the pre-sale threshold by 300% in the 30 days it was available.
Haunted High-Ons is written by Dirk Manning with TWIZTID, illustrated by the Italian art duo of Marianna Pescosta and Alessandro de Fornasari and edited by Drena Jo.
On the success of the comic, Source Point Press Editor-in-Chief Travis McIntire states, "When you get to know TWIZTID, you quickly learn how funny, energetic and animated they are. They love what they do and they love their fans, and that enthusiasm is infectious. You wouldn't think it could be captured in the pages of a comic book, but enter Dirk, Marianna, Alessandro and Drena. This team gave us the script and the art for a horror/comedy book that truly captured the quirks, the weirdness, the humor and the love of TWIZTID themselves."
Producer Ken F. Levin is equally ecstatic about working with the whole team to adapt the comic in new mediums. "I'm very excited that my company NightSky Productions and I will have the chance to work with Twiztid, Dirk, and the rest of the team on developing 'Haunted High-Ons' for television or film. There's a reason TWIZTID's music gets more and more popular every year and this is now reflected in the success of the comics as well. I also enormously enjoy TWIZTID personally, and what Dirk has been doing with the comics is a joy to read, so we're grateful to make this partnership happen!"
TWIZTID's 2019 album Generation Nightmare continued to demonstrate the band's strong crossover appeal to a variety of audiences, with the album double-charting on both Billboard's Hip Hop and Alternative sales charts, an impressive feat for a band with 20 years of history and counting.
Series writer Dirk Manning credits the success of the series to not only the crossover appeal of the band, but also the content of the comic series itself. "The response to 'Haunted High-Ons' has been overwhelming due to the crossover appeal of a series like this," Manning says. "Horror fans like it, music fans like it and fans of adult humor like it. It's a series that has won over everyone who has read it due its fresh blend of so many often unrelated genres."
SOURCE POINT PRESS Art Director Joshua Werner agrees that an animated series is a logical evolution for Haunted High-Ons. "Both TWIZTID's and Dirk Manning's fan bases have been vocal in their desire for more 'Haunted High-Ons' content," he says. "The comics have built an exciting new universe of possibilities, something everyone involved with this production is enthusiastic about growing further."