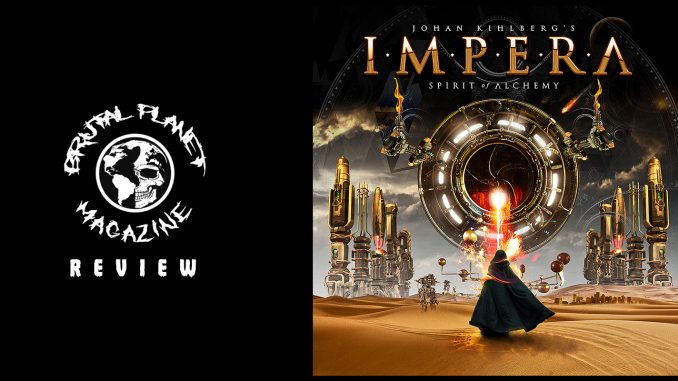 2021 has just taken a fantastic time warp back to the 1980s via Johan Kihlberg's Impera. Spirit of Alchemy is set to be released on April 9, 2021, but could have easily been released in 1987 with its impressive 80's like guitar riffs and vocals.
When Johan started to mull the idea of making this album, he went right to Lars Chriss (Lion's Share) for some help. Lars agreed to help and play guitars on the album. Johan then found a group of stellar musicians to help complete the masterpiece. The lineup Johan assembled on this album transforms what could have been a simple collaboration into a supergroup of Sweden's best. The lineup includes Jonny Lindkvist (NOCTURNAL RITES) on vocals, Lars Chriss (LION'S SHARE) on guitar, John Leven (EUROPE) on bass, Snowy Shaw (SABATON, KING DIAMOND) on drums, Kay Backlund (LION'S SHARE) – keyboards and a couple of others appearing as guests on the album.
When it comes to tracks on Spirit of Alchemy, one will find that there are no tracks that don't fit the feel of the album, and each slides right into place perfectly. As for individual tracks, I will have to say that "All About You" holds the bar pretty high for outstanding songs. It starts with a stellar drum opening from Snowy Shaw and then quickly moves into a guitar riff with Lars Chriss driving inspiration from his favorite guitar player George Lynch. "When Soules Collide" is another track that stands out from the rest because of its amazing sound. The guitar and beat have a sound that harkens back to the days of Metallica and the Master of Puppets era. When it comes to the best solo on the album, the honor is given to "In Heaven." If you are looking for an anthem on Spirit of Alchemy, look no farther than "Lost Your Life to Rock 'n' Roll." Musically and lyrically, this song has it all—a fast beat with great lyrics. The last song is a departure from what you might expect. "Battle" has the sound of a great movie score to it.
For those who harken for a better time, when the music told a story, and guitar riffs were king, Johan Kihlberg's Impera Spirit of Alchemy is just what you have been looking for in 2021. You can pick up Spirit of Alchemy on April 9, 2021, via Metalville Records.
You can also hear our interview with Lars Chriss about Spirit of Alchemy here: