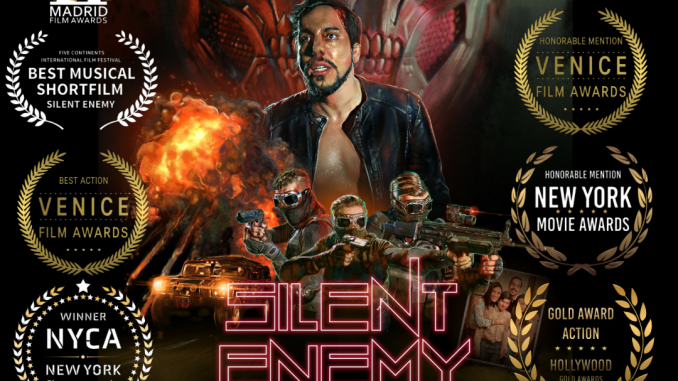 + "Terror Zone" features guests Henning Basse (ex-Firewind, ex-Mayan, ex-Sons Of Seasons)
+ New EP "Silent Enemy" Out Now!
+ EP guests include members from Sonata Arctica, Lordi, Battle Beast,
Thunderstone, Smackbound, Omnium Gatherum, Wintersun, Damnation Plan,
Arion, Firewind, Ensiferum, Norther, JF Aguirre Project
Well known in their home country of Ecuador and South America for supporting bands like Judas Priest, Kreator, Firewind (Immortals Tour 2018), Edguy, UDO, and more, heavy metal trio Black Sun unleashed their new EP "Silent Enemy" during September 2020 via Rockshots Records. The EP follows the band's three previous albums "The Pupetteer" (2017), "Dance of Elders" (2010), and "Tyrant From a Foreign Land" (2015).
During the production of Black Sun's new material, the band parted ways with their longtime lead singer. Under the guidance of the EP's producer Nino Laurenne (Emma Winner – Finnish Grammy, Hevisaurus, Amorphis, The Rasmus), Black Sun found ways to complete the EP with guest singers on all the tracks. Guests include Finnish metal legends and talents like Tony Kakko (Sonata Arctica), Lordi, Noora Louhimo (Battle Beast), Pasi Rantanen (Thunderstone), Elias Viljanen (Sonata Arctica ), Netta Laurenne (Smackbound), Jukka Pelkonen (Omnium Gatherum), Asim Searah (Wintersun/Damnation Plan), Topias Kupiainen (Arion), Henning Basse (Firewind), Petri Lindroos (Ensiferum / Norther) and JF Aguirre (JF Aguirre Project). All come together to create a powerful and catchy metal hymn.
Today, Black Sun is ready to reveal their latest music video "Terror Zone", which features guest vocals from Henning Basse (ex-Firewind, ex-Mayan, ex-Sons Of Seasons). The music video is an extract from their award-winning short film (total of 32 awards listed below from multiple film festivals), which can be found on the BluRay edition of "Silent Enemy".
Watch "Terror Zone" via Rockshots Records' YouTube channel:
https://youtu.be/hixUfpu_QEw
EP order (CD, Blu-Ray) – https://bit.ly/blacksun_cdvd
Spotify – https://spoti.fi/3d9ZLj8
Apple Music – https://apple.co/2NrsANm
BLACK SUN – Terror Zone (Official Music video)
The EP "Silent Enemy" is a concept release of seven tracks, three of them being special music scores (intro, interlude, outro). The EP also has got a special short-film based on its storyline out on its release day that was written by Black Sun and Topias Kupiainen.
The EP was recorded at Hi-NoiZ Studios and Sonic Pump Studios, mixed by Jens Bogren (tracks 2 and 3) and Nino Laurenne (tracks 1,4-7) and mastered by Svante Forsbäck.
TRACKLISTING:
Moebius
Resist
Terror Zone
Dark Mirror
No Return
Still Alive
Finale
ABOUT:
Since the band's creation in 2002, "
Silent Enemy
" is their first release without a lead vocalist to follow their three previous full-lengths. Their 2005 debut release "Tyrant From a Foreign Land" hit the Top 25 best-selling albums in their home country that year. Following that success, Black Sun toured the country while becoming a local sensation.
For their sophomore release "Dance of Elders", the band decided to cross the Atlantic in 2007 and record in Hamburg, Germany at High Gain Records, a studio owned by Kai Hansen of Gamma Ray at the time. The album was produced by Arne Lackenmacher and Drik Schlächter. After recording the album, the band underwent several lineup changes, which led to the delay of its release until 2010. During this time and to support the second album, the band formed an interim lineup with past members and techs until a final lineup was settled with Santiago Salem (bass) joining the band.Their 2017 album, "The Puppeteer", was recorded in Helsinki, Finland with a producing team of Timo Tolkki, Santtu Lehtiniemi, and Nino Laurenne at Sonic Pump Studios along with mixing done by Miko Karmila and mastering by Mika Jussila at Finnvox Studios. The release witnessed great success with singles 'Robert The Doll' featured on the New Metal Tracks editorial by Spotify along with winning an MBN (MIS BANDAS NACIONALES) Ecuador Award for Best Music Video and 'Let Me Be' landing a top 40 spot (#36) on the Ecuadorian music charts (radio + streams).
Band members:
Christopher Gruenberg (Guitar)
Santiago Salem (Bass)
Nicolás Estrada (Drums)
For more info:
Rockshots.eu
Blacksun.com.ec
Facebook.com/blacksunec
Instagram.com/blacksunec