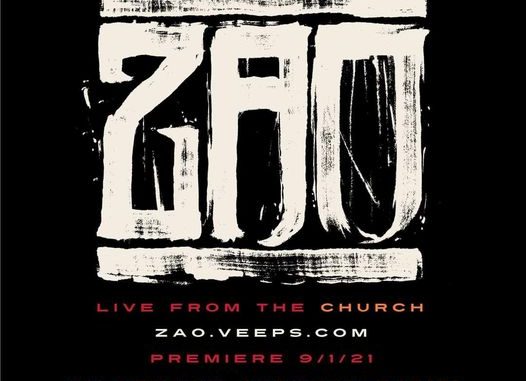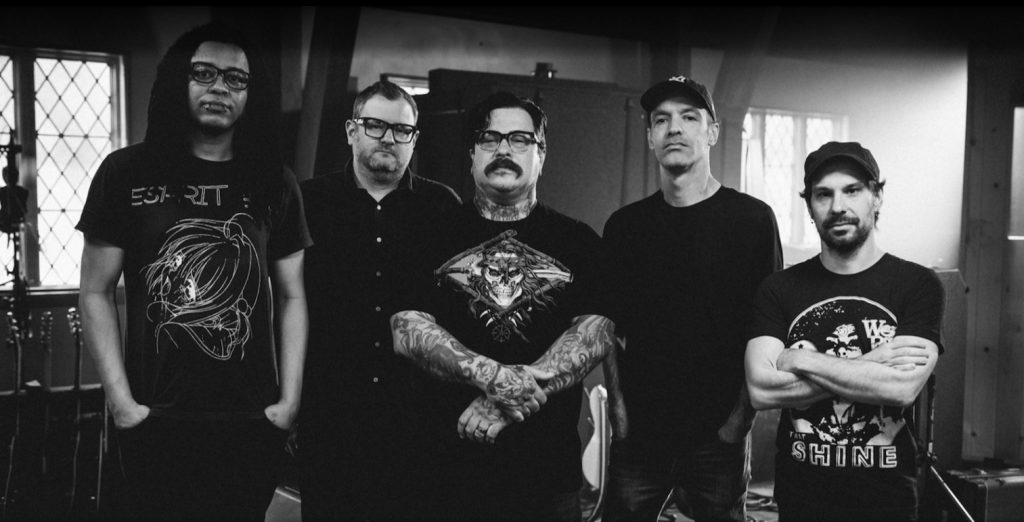 Over the last year and a half, in the midst of this never-ending pandemic, I have watched a handful of live stream shows. Of course, it's been great to have something to watch while we have been stuck at home, but I haven't seen a live stream show that has lived up to my expectations. That is, until now. Countless fans logged on to Veeps the evening of September 1st to watch Pennsylvania's best metal band, Zao, play live at The Church- the same location where the band's latest album, "The Crimson Corridor" was recorded.
The show opened up the way every fan was hoping- with the sorrowful chords of "Into the Jaws of Dread," followed by "Ship of Theseus." I think every Zao fan already knows what an incredible drummer Jeff Gretz is, but after watching him play live (again) I think we would all agree he is not human. Jeff is in his mid-forties but plays with the passion and intensity that would put most drummers to shame. I noticed several comments in the live stream chat that Gretz didn't even break a sweat. He's the real deal.
The setlist was the most unbelievable one Zao has ever put together. You need to remember this band has been together in its various forms for 26 years and has released twelve albums, and yet this evening we were treated to FIVE debut performances! I think we were all expecting "Into the Jaws of Dread," "Ship of Theseus," and "Croatoan" to make their debut, but no one, NO ONE, was expecting "How Are The Weak Free" or "The Latter Rain" to ever make a set. The former mentioned was from their 2002 album, "Parade of Chaos," and the latter (pun intended) dates all the way back to 1998. Songs from "Where Blood and Fire Bring Rest" have made it into regular setlists, but to get a deep track off of their (arguably) best album was something that nearly made me cry.
Every band member was on point and performing wonderfully. As I said earlier, Jeff Gretz is a beast in every song. His footwork is pure thunder. Marty, Russ, and Scott all sounded great and they all looked extremely comfortable- even playing the songs they had never played live before. Scott's clean vocals on "Haunting Pools," "Romance of the Southern Spirit," and "Croatoan" were phenomenal. He has always been recognized for his killer riffs and guitar work, but he has boldly been using his voice more on the last several albums, and I am glad he is finally getting the attention he deserves. Lastly, there's Dan Weyandt. Do I really need to say anything? Dan is a force. His vocals were so raw and powerful, I believe some of the earth's tectonic plates moved. His delivery on "The Ghost Psalm" put literal chills up my spine.
This live stream is available on-demand through Monday, September 6. If you are a fan of Zao, this is a must-watch. If you have heard some of the band's music but don't really know them well, PLEASE watch this! I am hoping that if enough of us speak up, Zao will decide to release this as a live CD/DVD. If not, this show will simply vanish. This was hands-down, one of the band's best performances. Fans were able to focus on things we couldn't have had this been a regular show. Normally, you would be distracted by dodging the knees and elbows in the pit, or making sure the sweaty belly of the shirtless fat guy doesn't bump up against you. Of course, I miss live shows and of course, I want to see Zao come to my city again, (I'd even deal with the sweaty belly if it meant Zao touring again) but it was truly special to just sit back and watch these musicians perform in all their glory. Tonight was truly legendary.

The link to the show is here. Merch can be found here.
Screenshots from the live stream by Andrew Eades