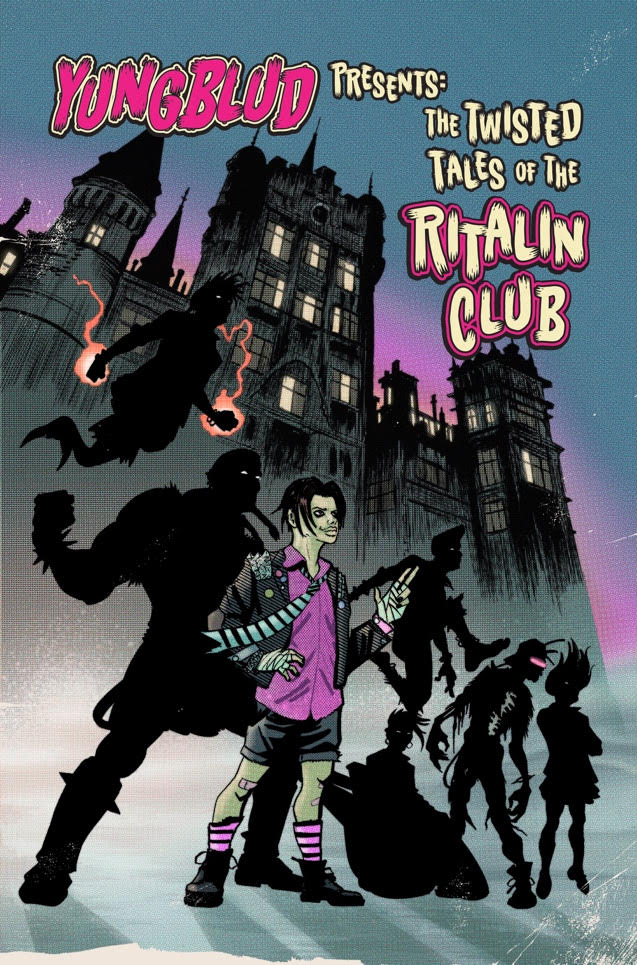 Z2 COMICS TO PUBLISH YUNGBLUD'S GRAPHIC NOVEL DEBUT ON OCTOBER 29
The World of Music and Graphic Novels Come Together for the Instagram Generation in "The Twisted Tales of the Ritalin Club"
NEW YORK, NY—Following up on the British rocker's appearance last week on The Late Show with Stephen Colbert and the release of his EP The Underrated Youth (now available everywhere) which debuted at #6 on the UK Official Albums Chart, Z2 Comics announce the publication of YUNGBLUD's debut graphic novel, The Twisted Tales of the Ritalin Club this week, which has already sold through the majority of its initial print run.
"Z2 were so supportive of everything I wanted to do creatively and elevated me so inspirationally that I was able to fulfill my vision in its complete entirety" says YUNGBLUD. "I can't wait to do the next one with them!"
From the beautifully eccentric mind of music sensation YUNGBLUD comes the Twisted Tales of the Ritalin Club! All pupils attending Blackheart's Boarding School must be punctual, masked, and heavily medicated. The displaying of superpowers is strictly forbidden. Any pupils encountering YUNGBLUD or any member of his so-called "Ritalin Club" are to seek a teacher immediately. Failure to comply with any of the above rules will result in execution.
"I wanted to build a universe that people can directly and literarily fall into. I wanted to tell a story and play on the imaginations of the people listening to my music and in this community. For me writing it, it was just another means of escaping. I used to read and love comic books when I was younger, so of course I was gonna write one," explains YUNGBLUD.
YUNGBLUD Presents: The Twisted Tales of the Ritalin Club is co-written by Ryan Sullivan (Turncoat, Void Trip), and is available in both the standard and limited deluxe edition, exclusively through Z2. This 9×15 oversized book comes packaged in a gorgeous slipcase with three exclusive prints. These gorgeous books are signed by the creative team and limited to a one-time edition of 1000 copies only. The standard edition releases in finer comic shops and bookstores everywhere on October 29!
YUNGBLUD's impact over the past few years not only as a musician but as a cultural icon is undeniable. Sticking a middle finger up to senseless oppression the tongue-in-cheek, genre bending British rocker has been a driving force in a worldwide movement that encourages people to be distinctively themselves, and proud of it.
With his electric mix of high-octane live energy and clued up social commentary he's sold out tours the world over and frequented some of the biggest festival stages on the planet, so it's no surprise YUNGBLUD is well versed in the art of live performance. Breaking down the barriers between audience and performer he raises an army with one common goal: to bind with unity and inspire hope in a world consumed by unjustified hate. Where do we sign up?
About Z2 Comics:
Z2 Comics have made a name for themselves releasing quality graphic novels in to the marketplace since 2012. In 2016, Z2 began collaborating with musicians to create graphic novels centered on unique stories and exclusive music. That ideal led them to work with the likes of Dan Auerbach (The Black Keys), DJ Paul Oakenfold, jazz trumpeter Dave Chisholm and others. 2018 marked another landmark year as Z2 partnered with Japanese metal band BABYMETAL on Apocrypha: The Legend Of BabyMetal, which is one of the biggest selling graphic novels Z2 has released. With the upcoming release of Andy Biersack's The Ghost Of Ohio in 2019 and other soon-to-be-named partnerships, Z2 Comics continues to push the envelope with their music and comics integrations.