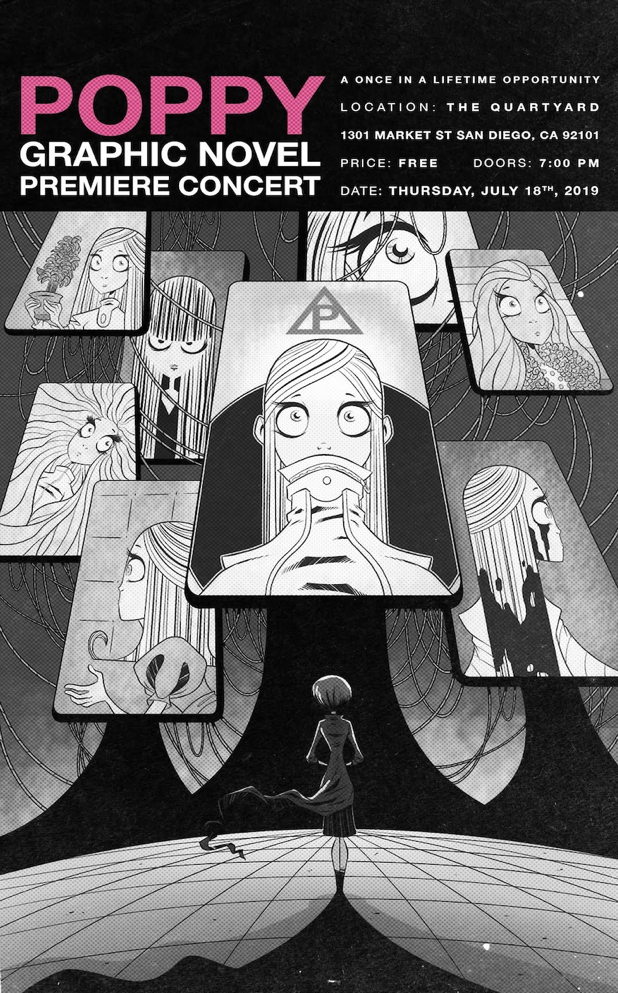 Poppy Live At The Quartyard on July 18th at 7:00PM
Interested Attendees Can Go To https://bit.ly/2LgzPnV For Free Tickets
As pop culture's finest creators descend upon San Diego next month for San Diego Comic Con, Z2 Comics is pleased to announce a free concert by the musical enigma Poppy. Poppy will be performing to celebrate the release of her first-ever graphic novel Genesis 1. The concert is scheduled for Thursday, July 18th at 7:00PM at The Quartyard (1301 Market Street). Fans interested in attending can go to https://bit.ly/2LgzPnV to sign up for free tickets. There is also a bundle that includes a ticket as well as a special pin created specifically for the event available at https://bit.ly/2LgzPnV for a small donation.
Genesis 1 is written by Poppy, Titanic Sinclair and Ryan Cady and drawn by Masa Minoura and Ian McGinty and tells the elusive origin story of Poppy. The story of the graphic novel is as much of a mystery as the icon Poppy herself is. Is she a girl? Is she a machine? Is she humanity's redemption, or its damnation? Don't be scared — either way, she is Poppy… and you love Poppy. The original graphic novel is bundled with an exclusive brand-new album and can be purchased via Amazon here: https://amzn.to/2IKMyOj.
About Z2 Comics: Z2 Comics have made a name for themselves releasing quality graphic novels in to the marketplace since 2012. In 2016, Z2 began collaborating with musicians to create graphic novels centered on unique stories and exclusive music. That ideal led them to work with the likes of Dan Auerbach (The Black Keys), DJ Paul Oakenfold, jazz trumpeter Dave Chisholm and others. 2018 marked another landmark year as Z2 partnered with Japanese metal band BABYMETAL on Apocrypha: The Legend Of BabyMetal, which is one of the biggest selling graphic novels Z2 has released. With the upcoming release of Andy Biersack's The Ghost Of Ohio in 2019 and other soon-to-be-named partnerships, Z2 Comics continues to push the envelope with their music and comics integrations.
About Poppy: Following a mysterious foray into music in which she declared "I'm Poppy" with repeated conviction, the enigma turned star has solidified herself as an industry mainstay no matter how absurd the project. Poppy made her critically acclaimed studio debut in 2017 with "Poppy.Computer," which Rolling Stone dubbed "one of the most surprising albums of the year that pushes against the written-by-committee blandness of Top-40's offerings with effervescent hooks and deliberate weirdness". The impressive debut, which aptly earned her the title of "the Warhol of the YouTube era" according to New York Magazine, led to the sold out Poppy.Computer Tour. In between the release of her debut album and her powerful sophomore follow up (2018's "Am a Girl?"), Poppy brought her infectious energy to red carpets across the world, landing her on best dressed lists during her first New York and Milan fashion week appearances. With such talent and intrigue, we're all left wondering, "What will Poppy do next?"