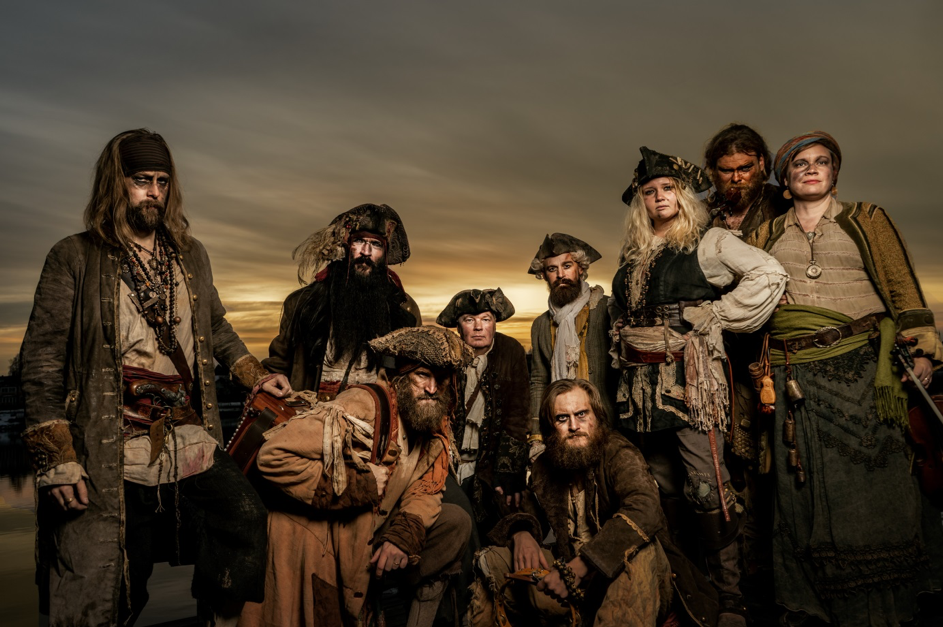 Order Hostis Humani Generis

HERE
Sail away with the most authentic pirate rock masterpiece since the golden age of the dreaded sea-pillagers!
Batten down the hatches! Swedish sea pillagers YE BANISHED PRIVATEERS will capsize your ship with their third single "Rowing With One Hand" from the upcoming album Hostis Humani Generis, to be released on February 7, 2020 via Napalm Records. Along with an atmospheric audiovisual, YE BANISHED PRIVATEERS present another snapshot straight from the pirate capital Nassau.
In the cinematic video, the Swedish pirates prepare the great escape from court and fight for their freebooter rights, clashing with the upscale bourgeoisie. Unmistakably folky, charming and with a bunch of drunken humor, YE BANISHED PRIVATEERS draws you into their maritime universe. "Rowing With One Hand" presents the hard life of pirates on the wild ride through the ancient times. This intense sing-along hymn and its catchy rhythm lets the listener take part in the ferocious side of the pirates and lets them flee in a cheerful frenzy from the clutches of decency. They find their way in the storm, setting course for the next adventure and keep fighting for their rebellious freedom.
Yo ho, hey ho – Hey all hands in a row
Man the pumps down below
Watch the new video "Rowing With One Hand"
HERE
:
Mirror, mirror on the wall – who is the maddest of them all? The social media rumors are true: The savage beast from the North YE BANISHED PRIVATEERS return in an unabashed metal guise to lead their listener astray. Just in time for the most foolish day of the year, the Swedish sea-pillagers have just released a new piece straight from the untamed sea via Napalm Records: "No Metal, No Pay" feat. Kris Olivius (Naglfar) along with a social statement, that they have ambitions to become the number one Power Thrash Pirate Metal Band in Europe.
YE BANISHED PRIVATEERS are well known for their singalong hymns and unmistakably folksy tunes, as can be heard on their latest pirate epos Hostis Humani Generis. As the true corsairs of hearts, they've taken the people's opinion very seriously and now leave the paths of folk behind: this time, it's either metal or die! With a stiff sea breeze, a clear wink of the eye and a lot of cheeky humor, the pirates metallize their trademark sound.
YE BANISHED PRIVATEERS on "No Metal, No Pay":
"With "No Metal, No Pay" we wanted to make fun of ourselves, and joke about the misconceptions that comes from being a folk music band signed to a metal label, and hopefully give people a laugh or two in these difficult times. For us, this April's Fools release is our way of saying that although we put a lot of effort into our music, we really don't take ourselves all that serious all the time. Reviewers and first-time listeners who expect us to sound like great Pirate Metal bands like Alestorm or Running Wild, are prone to be disappointed by the lack of distorted guitars and gut punching blast beats. We are proud and happy to be signed to Napalm Records, one of the worlds biggest metal labels, but we are sticking to what we know best – Pirate Folk."
Even if it's just for one day: Put the fiddle aside, strengthen your growls and get ready for YE BANISHED PRIVATEERS' metal banger!
Watch the video for "No Metal, No Pay"
HERE
:
This fall the Swedish sea marauders YE BANISHED PRIVATEERS will prove once again what they know best: honest and energetic Pirate Folk! They will present their new full-length, Hostis Humani Generis, live on tour. They offer more than enough audacious atmosphere, folk tunes and foul rambling to secure their unique position in the genre. Swedish marauders of the sea take you through the ups and downs of pirate life!
Catch YE BANISHED PRIVATEERS live:
w/ VISIONS OF ATLANTIS & AD INFINITUM
24.09.20 AT – Graz / Explosiv
25.09.20 DE – Weinheim / Cafe Central
26.09.20 DE – Munich / Backstage Club
27.09.20 IT – Milan / Legend Club
29.09.20 UK – London / The Underworld
30.09.20 FR – Paris / tbc
01.10.20 DE – Cologne / Helios 37
02.10.20 NL – Enschede / Metropol
03.10.20 DE – Leipzig / Hellraiser
04.10.20 DE – Erfurt / From Hell
06.10.20 NL – Utrecht / De Helling
07.10.20 NL – Tillburg / 013
09.10.20 DE – Hamburg / Headcrash
10.10.20 SE – Gothenburg / Valand
11.10.20 SE – Stockholm / Slaktkyran
13.10.20 CZ – Prague / Nova Chmelnice
14.10.20 DE – Dresden / Reithalle
15.10.20 AT – Vienna / Szene
16.10.20 CZ – Zlin / Masteres of Rock Cafe
17.10.20 SK – Zvolen / DK ZSR
YE BANISHED PRIVATEERS are:
Anders "Nobility" Nyberg – cembalo, pump organ and miniature piano
Anton "Quinton Taljenblock" Teljebäck – viola pomposa, fiddle, mandoline, cable cutting crashes and main chopper of the sloppy beats
Björn "Bellows" Malmros – squeeze box, hurdy gurdy and voices of madness
Eva "the Navigator" Maaherra Lövheim – violin, nyckelharpa and vocals
Frida "Freebird af Wærmaland" Granström – violin, viola and vocals
Hampus "Monkey Boy" Holm – the big drum and other floggables
Louise "Happy Lou" Gillman – feisty fiddle
Ina "Battery" Molin – cajon, marimba, pompous percussions and all things beatable
Jens "Wan Chou Zhong" Tzan Choong – obnoxious stringdrum, wee guitar, huge oriental fruit thing with strings and Chinese harpy harpy – aka Banjo/Guitalele/Sitar/Guzheng
Jim "Silent Jim" Sundström – mandolino, guitarra, irish tenor banjo, false chord-posing, wishful singing, wrong stage-whistle and mould infested clothing
Jonas "Hogeye McGinn" Nilsson – rusty old 5-string
Magda "Magda Malvina Märlprim" Andersson – blood stained lute guitar and cherry vocals
Martin "Scurvy Ben" Gavelin – cajon, percussions and vocals
Nick "Meat Stick Nick" Bohman-Ernhill – ukulele bass, double bass and bass trombone
Peter "Quartermaster Blackpowder Pyte" Mollwing – crude singing, sentimental lyrics, desecration of primary sources and debatable Brittish accent
Richard "Old Red" Larsson – them thick and them thin strings
Sara "Landmark" Lundmark – percussion and marching drum
Stina "Filthylocks" Hake –violoncell and fipple pipes
William "Shameless Will" Hallin -vocals, vanity, profanity, coin snatching and coat turning
Hampus "Bojtikken" Larsson – tight noose vocals and scrap percussion
More information and news on YE BANISHED PRIVATEERS: