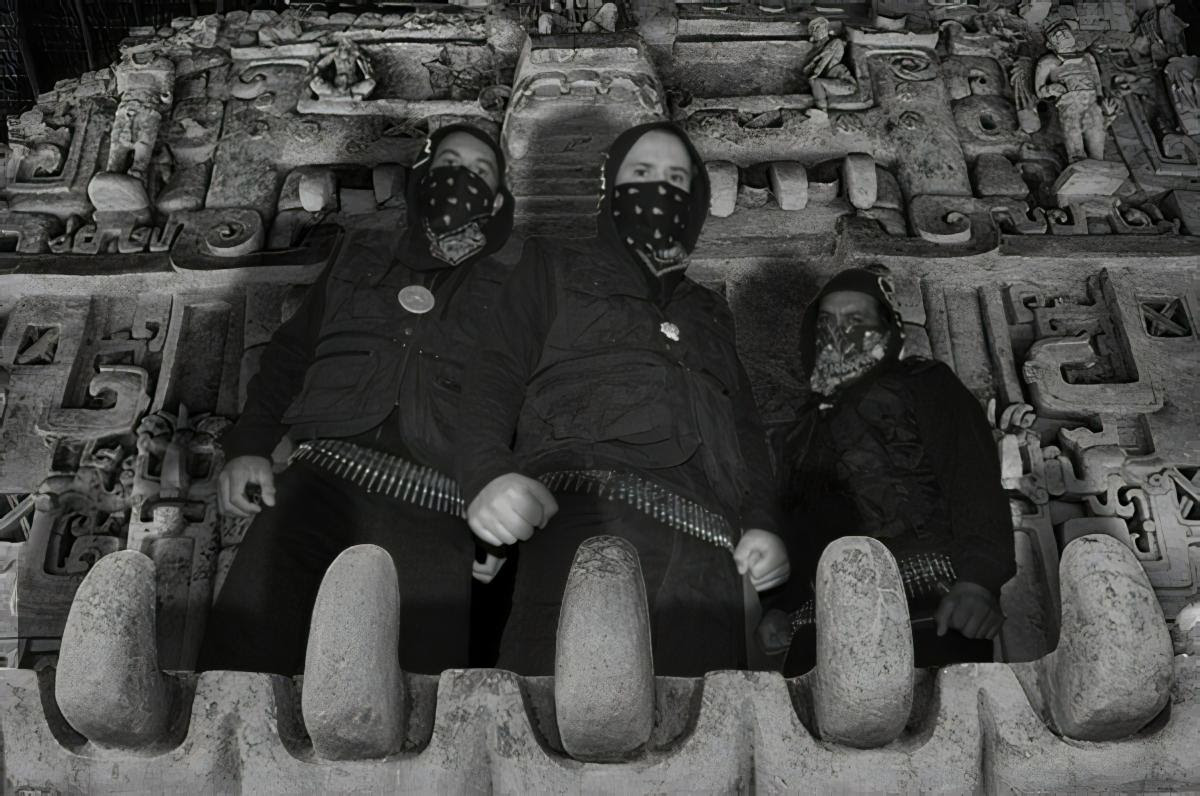 Via American Line Productions In October; "Nuevo Fuego" Streaming + Preorders Posted
Stream YAOTL MICTLAN's "Nuevo Fuego"
HERE
.
Salt Lake City, Utah-based black metal outfit YAOTL MICTLAN has completed their third album and is preparing to release Sagrada Tierra del Jaguar in late October through American Line Productions. The band has posted the advance single "Nuevo Fuego" for streaming alongside preorders for the record and more.
Sagrada Tierra del Jaguar shows YAOTL MICTLAN – which translates into "Warrior(s) from the land of the Dead" in the Mexican language Nahuatl – delivering their most epic material to date, focusing on an overall deeper Mesoamerican mysticism feel to the music. Eight expansive songs take the listener on a visceral journey with nearly fifty-seven minutes of the band's creative and cultural vision of black metal. Amid the searing riffs and hammering metal attack, beautiful auras and melodies meet with traditional and pre-Hispanic instrumentation, mentally transporting the listener to a different era in the members' proud bloodline.
Experience the first song to see release from YAOTL MICTLAN's Sagrada Tierra del Jaguar, "Nuevo Fuego," streaming at
THIS LOCATION
.
Sagrada Tierra del Jaguar will see release October 30th on CD and digital formats through Mexico City-based American Line Productions. Find digital preorders at Bandcamp HERE and watch for physical preorder options to post in the coming days alongside additional audio and more.
Sagrada Tierra del Jaguar Track Listing:
1. Entre lluvias Fuertes
2. Coatlicue
3. Ba'alche'o'ob
4. Tezcatlipoca – Espejo Relumbrante
5. K'inich Janaab' Pakal
6. Nuevo Fuego
7. Buho Lanzadardos
8. Sombra del Mictlan
YAOTL MICTLAN was formed in 1998 in a basement in Salt Lake City, Utah by brothers Yaotl and Tlatecatl. The brothers shared a mutual passion around their Mexica and Mayan culture. Their lyrics focus on the belief that after Christians colonized Mexico, their people lost their identity and succumbed to a colonized way of life; the lyrics are inspired by the unfortunate way in which at the present time their people live in extreme self-hatred. Ultimately, they would like to see the end of the colonized way of thinking and for their people to embrace their roots.
YAOTL MICTLAN's first song came after putting together a few riffs that they had been working on for some time they arranged the song called "Tributo a Huitzilopochtli" later renamed "Mexicas." The band recorded a few songs on a tape recorder and made two copies; somehow one of them landed in the hands of well-known vocalist Juan Brujo of Brujeria. He called the band to let them know that he wanted to work with the band and sent a check to cover studio time for what would become their 2001-released demo, A Batalla Vamos.
As the venture to forge this new outfit continued, the brothers found it difficult to recruit the proper members with similar pre-Hispanic ideologies and who would be able to play the same style of music, uniquely combining black metal and ancient Mexican instruments. The sounds blend and inspire the listener to imagine an ancient time where disciplined war rituals and sacrificial offerings were a way of life. The calling of the seashells mixed with blast beats and raw vocals capture the essence of the proud Mayan culture. In late 2004, Aj Ben joined what Yaotl and Tlatecalt called their "culto" and at that point decided they were ready to finance and record a new album, Guerreros de la Tierra de los Muertos. Mexico City-based label American Line Productions offered to release the album in 2006, which quickly increased the band's visibility in the international metal scene.
Due to the success of their first album, Candlelight Records approached YAOTL MICTLAN and signed a deal to release their second album. The band named the new record Dentro del Manto Gris de Chaac, emphasizing their interpretation of the mystical ancestral rituals of the Mexican and Mayan culture, transporting the listener into a foggy, backdrop filled with dark and mournful guitar riffs idolizing evidence of a glorious past. The album was released in 2010 to positive critical acclaim from fans and media outlets around the globe.
Following tours of Mexico and Europe over recent years, YAOTL MICTLAN began working on their third album, Sagrada Tierra del Jaguar.
Review copies of
Sagrada Tierra del Jaguar
will see release in the coming days. For all review and interview coverage of
YAOTL MICTLAN
contact
dave@earsplitcompound.com
.