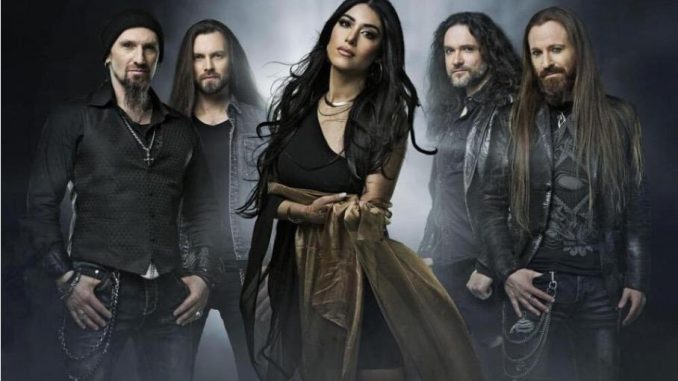 Watch the Video HERE!
Get their Latest, Top 10 Charting Album,
'The Wonders Still Awaiting', HERE!
North American Tour with Label Mates
KAMELOT
Kicks Off Tomorrow
Leading symphonic metal band, XANDRIA, have released a new single – a summery 80's style remix of hit single "My Curse Is My Redemption", featuring producer Canttias! The original track is taken from XANDRIA's latest and most successful album to date, 'The Wonders Still Awaiting', which peaked at #9 on the official German album charts.

The band came together to experiment with heavy 80's influences to find that it compliments the poppy nuances of talented new vocalist Ambre Vourvahis' multifaceted voice and creates one of the catchiest melodies. These nostalgic and playful vibes represent another musical color of XANDRIA's rich palette, fascinating their fans with the highly addictive version released today alongside the retro visualizer.

XANDRIA returned with an impressive new lineup, enchanting their fans with new songs during this year's spring European tour with labelmates DELAIN. Now XANDRIA looks forward to their North American tour with KAMELOT, kicking off tomorrow, and next year's debut appearance at the Wacken Open Air festival.

XANDRIA on "My Curse Is My Redemption (Summer 80's Remix)":

"It's summer, we just rewatched Stranger Things and some 80s movies, so all of this getting us in the mood for… hmmm… maybe doing an 80s retro version of one of our songs? Just for fun and for you fans to enjoy the summer mood with us!

"What about 'My Curse Is My Redemption'? It already has that 80s pop vibe. Well, you'll see how much more 80s pop it can REALLY get 😉

"Enjoy this amazing and wonderfully nostalgic remix made by Canttias, an artist whose specialty is these magical 80s synth sounds, and the equally nostalgic video clip for it created by Ingo Spörl (HARD MEDIA)!"

Watch the Visualizer for

"My Curse Is My Redemption (Summer 80's Remix)" HERE
XANDRIA opens an exciting chapter with the eighth studio album, 'The Wonders Still Awaiting'. Mastermind Marco Heubaum returns with a new lineup and leads the band once again into wonderful spheres, without renouncing their characteristic trademarks. The impressive vocal wealth of Ambre Vourvahis – ranging from rock grit, operatic highs and even death metal growls – opens the unit's sound to a wider palette of colors. Songs like the opening epic "Two Worlds", "The Wonders Still Awaiting" and "Ghosts"

manifest the thematic mood of the album while constructing incredible soundscapes of pure symphonic metal. XANDRIA addresses issues of social inequality and the quest for a just world. "Paradise" showcases some of the album's strongest hooks, captivating with great metallic pop melodies. The veil of various influences is lifted once more in "Illusion Is Their Name", dashing all deception with heavy power metal vibes. Tracks like "Your Stories I'll Remember" and "Scars" show the intimate side of XANDRIA on one hand, while combining rhythmic heaviness on the other. The latter is reminiscent of a James Bond theme, dressed in a heavy musical soundscape. The epic nine minute album closer "Astéria", featuring Greek lyrics written by Ambre Vourvahis, lands as the album's exclamation point, proving with a grand finish that the five-piece has fearlessly started a revolution in the symphonic metal genre – commencing an impressive new era of XANDRIA with 'The Wonders Still Awaiting'.
'The Wonders Still Awaiting' Track List:
1. Two Worlds
2. Reborn
3. You Will Never Be Our God
5. Ghosts
6. Your Stories I'll Remember
8. Illusion Is Their Name
9. Paradise
10. Mirror Of Time
11. Scars
12. The Maiden And The Child
13. Astèria
XANDRIA live 2023 – Awaken The World
w/ Kamelot and Battle Beast
17.08.23 US – Silver Spring, MD / The Fillmore
18.08.23 US – Worcester, MA / The Palladium
19.08.23 US – New York, NY / Webster Hall
21.08.23 US – Montreal, QC / Corona Theatre
22.08.23 CA – Toronto, ON / The Opera House
24.08.23 US – Chicago, IL / The Vic Theater
25.08.23 US – Minneapolis, MN / Varsity Theater
26.08.23 US – Kansas City, MO / The Truman
27.08.23 US – Denver, CO / Ogden Theatre
30.08.23 US – Seattle, WA / The Showbox
01.09.23 US – San Francisco, CA / The Regency Ballroom
02.09.23 US – Los Angeles, CA / The Wiltern
03.09.23 US – Phoenix, AZ / The Van Buren
05.09.23 US – Houston, TX / House of Blues
06.09.23 US – Dallas, TX / The Echo Lounge & Music Hall
08.09.23 US – Atlanta, GA / Center Stage (ProgPower USA)
09.09.23 US – Orlando, FL / Hard Rock Live
Festival 2023
03.11.23 NL – Apeldoorn / Brainstorm festival
Beyond Dark Waters 2023
w/ Delain
17.11.23 NL – Zoetermeer / De Boerderij
18.11.23 NL – Enschede / Metropol – Sold Out
19.11.23 BL – St. Niklaas / De Casino
Festival 2024
31.07 – 03.08.24 DE – Wacken / Wacken Open Air
XANDRIA are:

Ambre Vourvahis – Vocals

Marco Heubaum – Guitar

Robert Klawonn – Guitar

Tim Schwarz – Bass

Dimitrios Gatsios – Drums