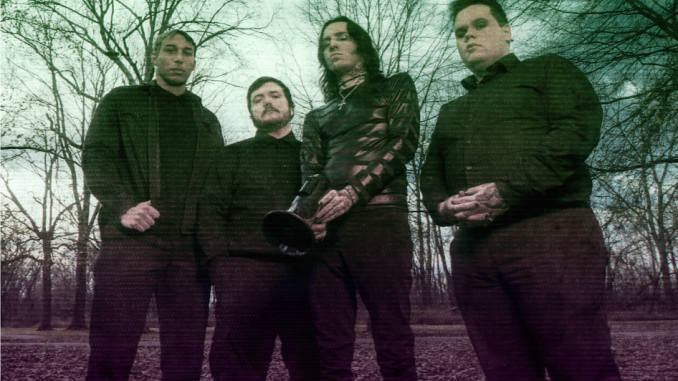 "Swings for the fences with a thrilling new take on metalcore that works in elements of '90s screamo, downtuned nu metal, bellowing gothic metal, and more" —Brooklyn Vegan

"Low-end riffs will liquidate your bowels if you play them loud enough" — Stereogum
"It's an intoxicating formula that's as focused on working its way under your skin as knocking out your teeth" — Kerrang!
"Nailing a blend between modernity and nostalgia is quite a challenge. On Replica of a Strange Love, WRISTMEETRAZOR are up to the task" — Distorted Sound
"..the best part about Replica of a Strange Love is just how smart and savvy this record is at conveying the best parts of a lost metalcore era" — New Noise
WRISTMEETRAZOR have released their second full length album, Replica of a Strange Love, today, June 11 via Prosthetic Records. The quartet's sophomore album serves to illuminate the darkest corners of their every nightmare and represents a nihilistic plunge headfirst into an intoxicating mix of death, sin, and romance. Listen to the full album via the visualizer here.
"It's been a long journey getting to release day," the band says. "We hope you enjoy the stream and hearing all of the songs within the full context of the record."
Replica of a Strange Love is a modern take on metalcore; building on the foundations of their past to leave a shimmering trail of visceral energy in their wake. Isaac Hale of Knocked Loose made his production debut on the album, and also made a cameo on the first single, "Last Tango In Paris." Read an exclusive joint interview between vocalist/bassist Justin Fornof and Hale over at Brooklyn Vegan. The album was engineered and mixed by Andy Nelson at Bricktop Recording Studios, before being mastered by Brad Boatright at Audiosiege.
Through his lyrics, Fornof deconstructs his own psyche in the wake of
Misery Never Forgets
, observing heartbreak through a philosophical lens.
Replica of a Strange Love
is introspective, utilizing the work of Nietzsche, Foucault, LaVey and more to make sense of human reactions and sociological phenomena specific to ongoing events. Hopeless romanticism is the past — personal philosophy is the present.
From their roots as a DIY band — Jonah Thorne started WMR as a solo project before joining forces with Fornof for his creative vision before later welcoming Bryan Prosser and Tyler Norris for their eclectic skill sets and artistry — WRISTMEETRAZOR have blossomed into a force to be reckoned with. Still driven by the desire to get down in the dirt in a live arena, expect to see this four-piece in a town near you as soon as is possible.
Still fashionably dead, now is the time to take note of WRISTMEETRAZOR.
The video for first single "Last Tango in Paris" premiered over at Revolver. Watch it here. Hale makes a guest vocal appearance on the song.
The band also premiered "Anemic (The Same Six Words)," with an accompanying visual by Errick Easterday, via Alternative Press. Read the exclusive interview and listen/watch here.
The "This Summer's Sorrow II: Growing Old In The Waiting Place" video premiered over at Knotfest. Watch it here.
REPLICA OF A STRANGE LOVE TRACK LISTING:
"Our Distress Entwined"
"Last Tango In Paris"
"Sycophant"
"Nietzsche Is Dead"
"Love's Labor's Lost"
"Anemic (The Same Six Words)"
"Eyes of Sulfide"
"Dies Irae"
"99 & 44/100"
"A Fractured Dovetail Romance"
"This Summer's Sorrow II: Growing Old In The Waiting Place"
"All The Way Alive"
WRISTMEETRAZOR ARE:
Justin Fornof — Vocals/Bass
Jonah Thorne — Guitar
Tyler Norris — Guitar
Bryan Prosser — Drum