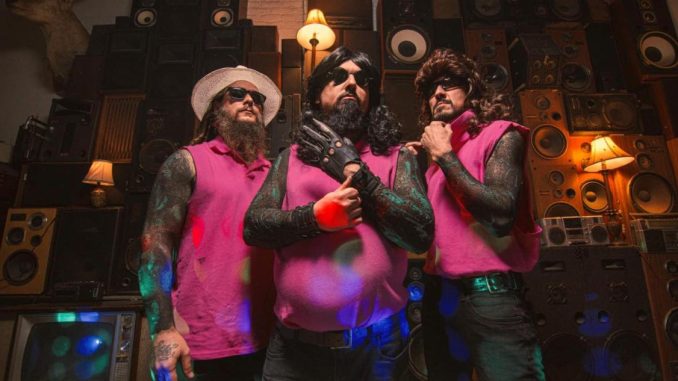 Watch the Music Video for
"Everybody Wants To Rule The World" HERE
LA-based hard rock/metal band Worldwide Panic have released their new, self-titled LP! The new record dropped last Friday (February 17), and features the singles, "I Tried", "Falling Apart', and "Less Than Nothing".

Speaking on the experience of filming the music video and the deeper message behind the album's lyrics, Lane Steele (vocals, bass) comments:

"The road to releasing this record has been challenging, long, and rewarding. We believe this body of work accurately reflects the meaningful industrial hard rock that Worldwide Panic is all about, hence the album being self-titled. We hope fans enjoy listening to this as much as we enjoyed recording it. Crank it up!"

The new album features nine original songs, along with a reimagined rendition of the Tears For Fears smash hit "Everyone Wants to Rule the World". Commenting on the experience of filming the video, Steele adds:

"This video was filmed in multiple locations in the Phoenix area, and it took a great deal of prep to make it happen. Also, this was my first time producing a video! I think we all let our hair down and had fun, and we hope fans get that vibe when they see the video."

Watch the "Everybody Wants To Rule The World" Video HERE
About WORLDWIDE PANIC:

Worldwide Panic is a hard rock/heavy metal band based in Los Angeles. The group was formed in 2016 with the aim of writing heavy music with catchy hooks and personal, meaningful lyrics. Giving a relatable take on everyday life, the songwriting approach focuses on a mix of clean and aggressive vocals and a guitar-driven sound.

At their shows, Worldwide Panic brings a unique theatrical experience packed with energy and excitement that can resonate with concertgoers and audiences all across the hard rock and heavy metal spectrum. The band has toured with the likes of Flaw, Smile Empty Soul, Hellzapoppin, Mushroomhead, and The Convalescence.

Worldwide Panic's eponymously titled new album was mastered by the esteemed Zeus (Chimaira, Hatebreed, Rob Zombie). The record's first single, "I Tried", charted at #26 on the Billboard 'Mainstream Rock Indicator' Chart, with the following single, "Falling Apart" peaking at #20 on the same chart. Now, fans can rock out to the LP 'Worldwide Panic' – which is out now on all platforms! Look out for the band. as they plan to deliver plenty of live shows and touring in the coming months.
'Worldwide Panic' Track List
1) I Tried
3) Everybody Wants To Rule The World
4) Falling Apart
5) Another Side Of Me
6) Wish I Was Dead
7) Shrapnel
8) Burn Letter
9) The Things That Are To Be
10) The Greatest Departure
WORLDWIDE PANIC is:

Alex Greenling – Drums

Carlos Alvarado – Guitar

Lane Steele – Vocals/Bass