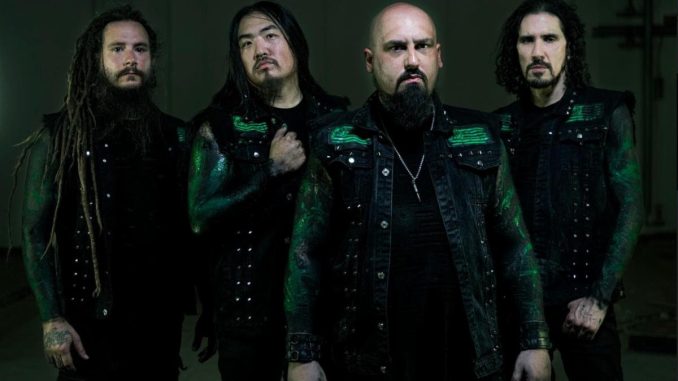 Watch HERE
Self-Titled Album Out February 17
LA-based hard rock/metal band Worldwide Panic have released the third single off their upcoming album. The unrelenting quartet has dropped a music video for the track "Less Than Nothing", which fans can check out at the link here. The band's self-titled LP will see an independent release on February 17.

Speaking on the experience of filming the music video and the deeper message behind the lyrics, Lane Steele (vocals, bass) comments:

"Making this video was absolutely insane! We were in an abandoned factory in the heat of summer. No A/C. The whole band and director were dying – including myself! Ultimately, it made for a really dark and gritty video that is really unique. As far as the song is concerned, it's about various people and the 'industry' throwing me away constantly and then wanting me back when it's convenient to them."

Watch the Music Video HERE
About WORLDWIDE PANIC:

Worldwide Panic is a hard rock/heavy metal band based in Los Angeles. The group was formed in 2016 with the aim of writing heavy music with catchy hooks and personal, meaningful lyrics. Giving a relatable take on everyday life, the songwriting approach focuses on a mix of clean and aggressive vocals and a guitar-driven sound.

At their shows, Worldwide Panic brings a unique theatrical experience packed with energy and excitement that can resonate with concertgoers and audiences all across the hard rock and heavy metal spectrum. The band has toured with the likes of Flaw, Smile Empty Soul, Hellzapoppin, Mushroomhead, and The Convalescence.

Worldwide Panic's eponymously titled new album was mastered by the esteemed Zeus (Chimaira, Hatebreed, Rob Zombie). The record's first single, "I Tried", charted at #26 on the Billboard 'Mainstream Rock Indicator' Chart, with the following single, "Falling Apart" peaking at #20 on the same chart!

Now, fans can prepare for 'Worldwide Panic' to arrive on all platforms on February 17, 2023, with plenty of live shows and touring to follow!
'Worldwide Panic' Track List
1) I Tried
3) Everybody Wants To Rule The World
4) Falling Apart
5) Another Side Of Me
6) Wish I Was Dead
7) Shrapnel
8) Burn Letter
9) The Things That Are To Be
10) The Greatest Departure
Worldwide Panic are:

Alex Greenling – Drums

Tommy Gibbons – Guitar

Carlos Alvarado – Guitar

Lane Steele – Vocals/Bass