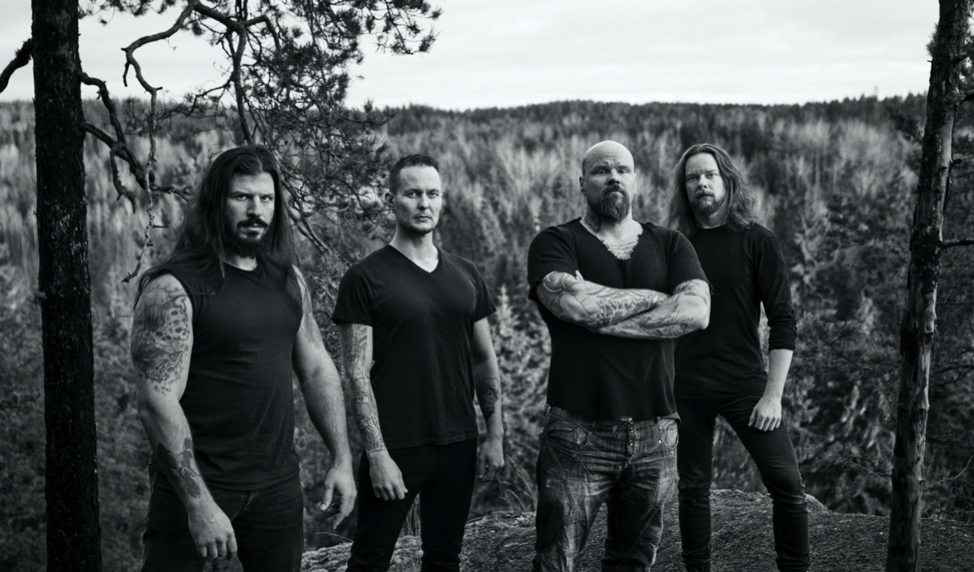 Last week, Finnish heavy melodic death metal band WOLFHEART released their latest full-length masterpiece, Wolves Of Karelia, via Napalm Records. Quickly following up on the album's successful release, the band has revealed a brand new video for the melodic head-swinger "Reaper". The video footage is cut from the band's exclusive multi-cam virtual concert, which was delivered to "virtual ticket" buyers last Thursday. Get a sample of the concert and witness "Reaper" below.
WOLFHEART frontman Tuomas Saukkonen says about the track and video:
"Footage for the video is taken from our exclusive virtual gig with few added camera angles. It was a very different experience and made us miss our fans in the flesh more than ever. Counting the days until we get back on the road, but in the meantime, the true meaning of the song fits well for this moment as well, as the whole world is battling against the virus."
"Facing an enemy
Greater in numbers
Superior in arms
Facing an enemy
Overpowering and grandeur
Superior in arms
But never in heart"
Watch the performance video for "Reaper"
HERE
:
Just as wildlife itself maintains harmony with a violent clash of beauty and unpredictability, Wolves Of Karelia explores the band's previously coined genre of "winter metal" – smoothly bridging a traditional approach of extreme genres while maintaining atmospheric and acoustic elements.
The album's lyrical and musical content is inspired by the Winter War waged between Russia and the band's native country, Finland, which took place during the winter of November 1939-March 1940. Finland ultimately managed to stop the Russian troops from invading their country. WOLFHEART mastermind and frontman Tuomas Saukkonen was inspired by the personal stories of local veterans, conveying the tales of what they experienced and survived from their perspectives. Somber, frostbitten and heroic, Wolves Of Karelia portrays these tales with stunning musical precision.
Watch Wolfheart Videos Below:
Wolves of Karelia Tracklist:
1. Hail Of Steel
2. Horizon On Fire
3. Reaper
4. The Hammer
5. Eye Of The Storm
6. Born From Fire
7. Arrows Of Chaos
8. Ashes
Wolves of Karelia is available in the following formats:
– 4 Page Digipack
– Digital Album
– Shirt & Digipack
– Black LP Sleeve
– Silver LP Sleeve – limited to 100 copies
"Rarely is melodic death metal played with the level of intensity WOLFHEART bring on Wolves of Karelia. There's no merry jigs, no dancing under the moonlight – just the triumph of battle."
– Loudwire
"…an absolute masterpiece…"
– Metal Temple, 10/10 review
"Wolves of Karelia now stands not just as WOLFHEART's best work yet,
but one of the finest releases of 2020."
– Outburn, 9/10 review
"…this album pleasantly punches you directly in the heart."
– Ghost Cult Magazine, 9/10 review
WOLFHEART will hit the road in North America early next year on their rescheduled Devastation on the Nation tour dates with Rotting Christ, Borknagar, Abigail Williams andImperial Triumphant! See below for all currently confirmed dates.
WOLFHEART Rescheduled 2021 North American Tour Dates:
Devastation on the Nation tour
w/ Rotting Christ, Borknagar, Abigail Williams and Imperial Triumphant
2/11 – Berkeley, CA – Cornerstone
2/12 – Portland, OR – Bossanova Ballroom
2/13 – Vancouver, BC – Rickshaw Theatre
2/14 – Seattle, WA – El Corazon
2/16 – Salt Lake City, UT – Metro Music Hall
2/17 – Denver, CO – The Roxy Theater
2/18 – Kansas City, MO – The Riot Room
2/19 – Minneapolis, MN – Skyway Theatre
2/20 – Chicago, IL – Reggies
2/21 – Detroit, MI – Sanctuary
2/23 – Toronto, ON – Mod Club
2/24 – Montreal, QC – Foufounes Electriques
2/25 – Quebec City, QC – Le D'Auteuil
2/26 – Manchester, NH – Jewel
2/27 – Brooklyn, NY – Saint Vitus Bar
2/28 – Baltimore, MD – Ottobar
3/02 – Pittsburgh, PA – Spirit Hall
3/03 – Lexington, KY – Cosmic Charlies
3/04 – Asheville, NC – The Grey Eagle
3/05 – Birmingham, AL – Zydeco
3/06 – Tampa, FL – The Orpheum
3/07 – Atlanta, GA – The Masquerade (Hell)
3/08 – Houston, TX – White Oak Music Hall
3/09 – Fort Worth, TX – Rail Club Live
3/10 – Austin, TX – Come and Take It Live
3/11 – El Paso, TX – Rockhouse Bar
3/12 – Phoenix, AZ – Club Red
3/13 – San Diego, CA – Brick By Brick
3/14 – Los Angeles, CA – 1720
WOLFHEART is:
Tuomas Saukkonen: Guitar, Vocals
Joonas Kauppinen: Drums
Lauri Silvonen: Bass, Backing Vocals
Vagelis Karzis: Session Guitar
More info: